Twitch is undoubtedly one of the largest & most popular streaming platform in the world. On twitch, you can literally find everything right from tons of gamers streaming their games to even teachers streaming educational content to the viewers out there. This easily makes it the most diverse streaming platform in the world.
Irrespective of the platform you are on, followers are everything. They are the ones who drive you to grind those hours on the streaming platform and encourage you to do it more.
Recently, there have been many people on the internet looking for ways to view your followers on twitch after the redesign that happened in late 2020. Twitch definitely allows you to view your followers' list and in this article, we will be guiding you on how you can view your twitch followers list to know and build your twitch community. Not just that, there are some interesting statistics included as well!
How to view your followers on twitch
Most of the people who stream on twitch either use a laptop or desktop to stream or watch streams on twitch. Initially, the mobile app was specifically designed to access the users you follow and watch their streams. But twitch's official app on smartphones & tablets has been evolving quickly bring in tons of features one of which is to stream directly to twitch from your smartphone.
If you're wondering, How is this related to viewing my twitch followers? Then you have to know that not only the PC Twitch streamers but also the mobile twitch streamers also have the same query on how they can check the twitch followers on their smartphone. The main difference between the PC version of the twitch dashboard and the mobile version of the twitch dashboard is the availability of options & features. The desktop version definitely has more features than a couple of basic features available in the smartphone.
But don't worry. In this part, we will show you how you can view your twitch followers both on desktop and on your smartphone. Let's go one by one –
How to check twitch followers on the app
The mobile version of the twitch app is pretty basic and there's not much you can check on it. But don't worry, we will show you one simple way to check your followers on the Twitch mobile app –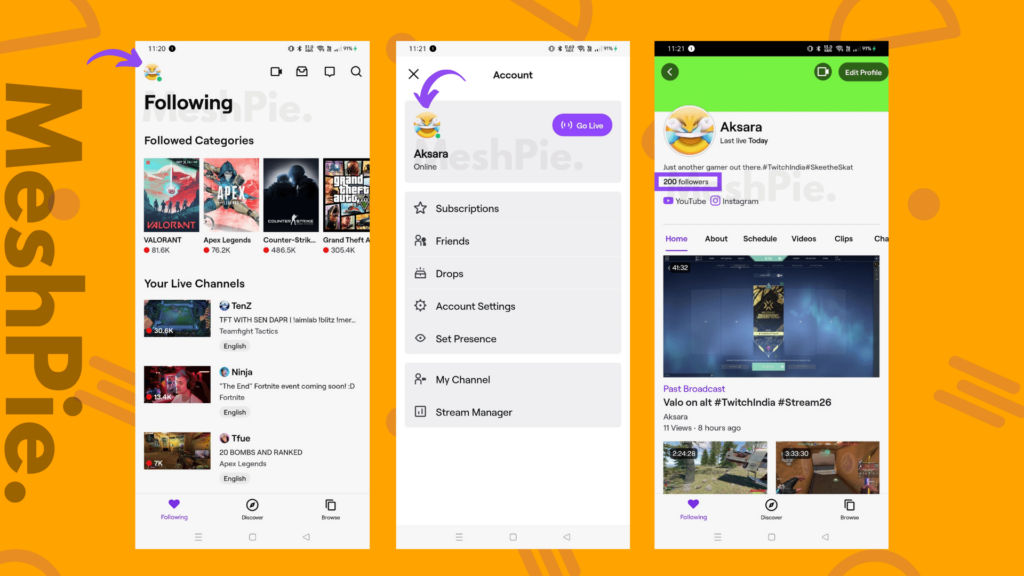 1. If you haven't already downloaded the twitch mobile app, then download it first. Here's the link to Android PlayStore and Apple iOS versions of the app.
2. Once downloaded, log in to your account and head over to the profile icon on the top left corner and tap on it.
3. Tap on your profile icon again and it will take you to your twitch profile where you can see your follower count.
Twitch's mobile app is limited on features and you cannot see no more than the follower count. If you want to check the follower's list, then continue reading the article and we will show you more ways to check your twitch followers list.
How to check twitch followers on PC or Desktop
As mentioned earlier, twitch's desktop version is pretty comprehensive and you will be able to find all the details you need including your list of twitch followers. FYI, Twitch has its own apps for Windows and macOS. And let me tell you something, the twitch app and the browser versions are the same. If you have slow internet, avoid downloading it as it is the exact version you will see on the browser.
Here's how you can access your twitch followers list from windows, macOS desktop browser
1. Open the twitch desktop app or go to twitch.tv & sign in to your account
2. Go to the top right corner and click on your profile picture icon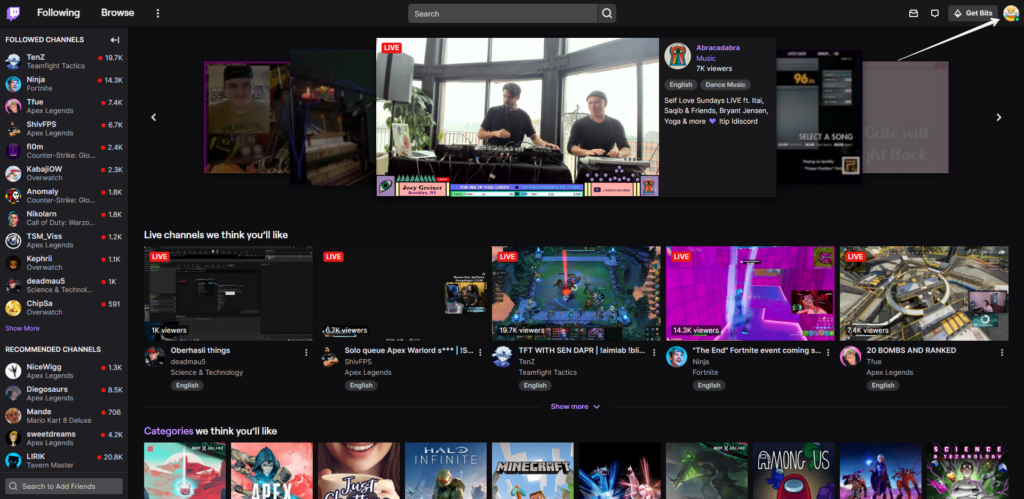 3. Under the dropdown, select "Creator Dashboard"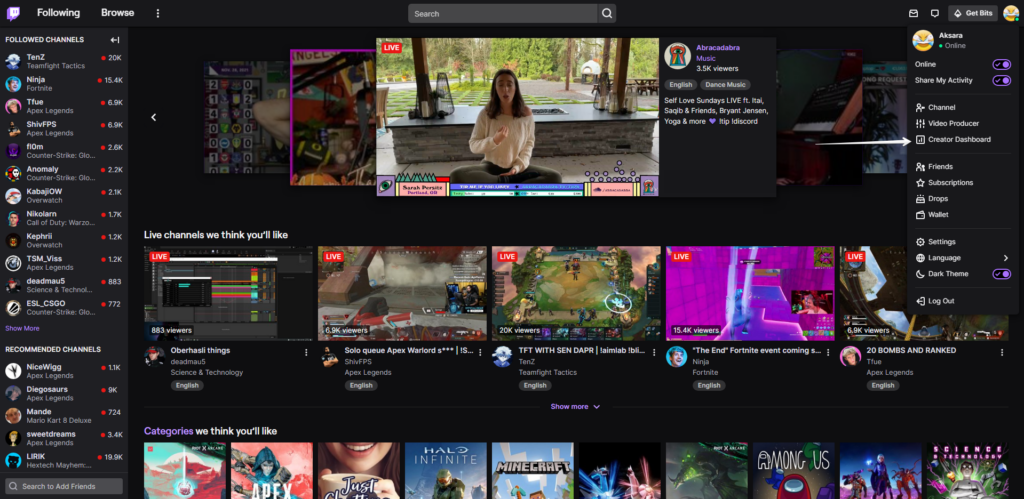 4. Once you are in the creator dashboard, click on the 'Community' and under the Community tab, click on the Followers list.
5. Under the Followers list you will be able to see the list of all the followers you have on your channel.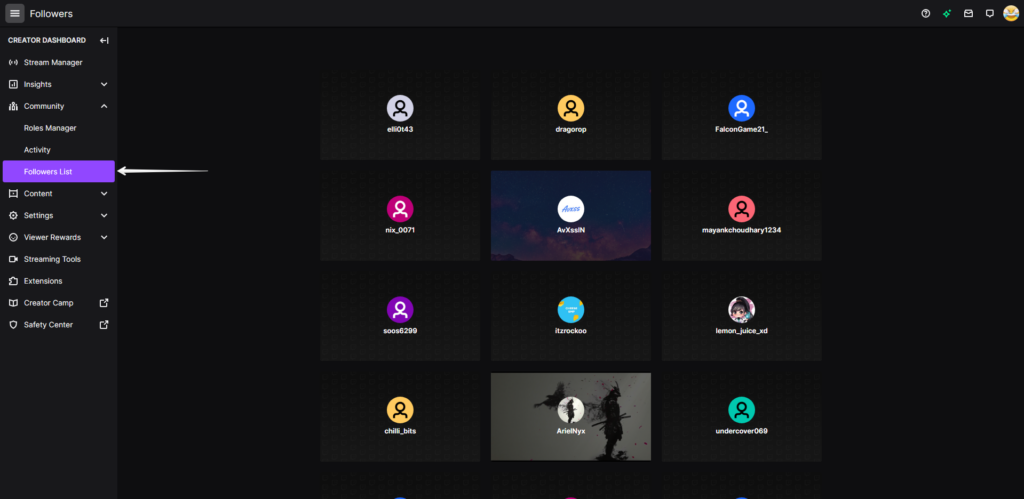 Twitch Tools by CommanderRoot
A very useful tool created by @CommanderRoot is one of the simplest way you can check twitch followers, twitch follow age, twitch bot follow and more in a single click. The best part is that you don't need to login to your twitch account. Here's everything you have to do.

1. Go to Twitch Tools website by clicking here -> Twitch Tools by CommanderRoot
2. Enter your Twitch username in the channel column
3. Click on show followers
As simple as that, you don't need to login to check your twitch followers.
Why it is important to pay attention to your followers
When you have those hours grinded on twitch and put your hard work & sweat to build a supportive Twitch community, there might be a good chance for your channel to easily get twitch botted. Basically, it means computers & bots are following and viewing your twitch channel. And Twitch TOS is strictly against Twitch View Bots and Twitch Follow Bots as it can lead to anything to your channel, even to the point of getting your twitch channel deleted. Thereby, it's important to look into your twitch follower list and report the Shady twitch accounts.
The second reason is to keep up with your small community and regularly engage with them and understand the liking of your audience. This will also give you a good idea on when your followers have stopped following you and what kind of content they like. This can be demotivating and motivating at the same time as it gives you an opportunity and a solution on what you can do to improve your Twitch channel.
Avoid Follow for Follow Twitch & buying twitch bot followers
Every small streamer would have gone through this phase where you'd have thought, having a small follower base would prompt the audience to follow and would eventually help my channel grow better. But no, that's not true. This can turn upside down and can even lead your channel to get deleted. At the end of the day, those followers don't help you make money or they don't subscribe to your channel. Basically, they are of no value.
The people at twitch (Click here to read the official article on twitch) have clearly mentioned "Fake engagement is artificial inflation of channel statistics, such as views or follows, through coordination or 3rd party tools. This behavior is characterized by the creation of incidental or duplicitous views or follows. One common form of this activity is often referred to as view-botting. Another, when done in a coordinated manner, is sometimes identified as "Follow 4 Follow" (F4F), "Lurk 4 Lurk" (L4L), or Host 4 Host (H4H), which involve a mutual exchange of interaction intended to increase visibility of both channels over those with legitimate interaction. Using services that promise higher visibility in exchange for lurking in a large number of channels or viewing streams on pages with several unrelated, active embedded streams, is considered a form of fake engagement and is not permitted on Twitch services."
Growing a small follower community by engaging with fellow followers would help you grow your channel organically and naturally. Similarly, when you are not streaming, you can also engage with smaller streamers and be active on their chat. This will motivate them and also be a reminder to check your stream when you are live on Twitch. At the end of the day, organic followers and people who genuinely care about you matters the most.
How to get more followers on Twitch
Everyone wants to live a dream of a streamer. This allows people to earn living by what they actually love doing i.e gaming and streaming it. All that is fine, but one single mistake that every streamer makes is actually caring about the number of followers on twitch. The actual focus has to be on promoting your streams without fail and creating content that actually drives people to your Twitch stream.
Irrespective of the content you stream on twitch, the main goal is to create content that people would actually watch and follow rather than doing something that nobody cares about and worrying about it. Start using other platforms like YouTube, YouTube Shorts, Instagram Reels, TikTok to your advantage. These apps have an insane amount of audience and your clips can make the user check out your Twitch stream and follow if they like it.
More FAQs on Twitch
How many followers are good enough?
There's no specific count but anywhere between 50 to 100 followers is enough for you to get started. To become a twitch affiliate, you'd need to broadcast for at least 30 days with 3 concurrent viewers and should have a minimum of 50 followers. 
Should I buy Twitch followers?
It is a big no. Never buy twitch followers as it is against twitch's TOS and would lead to deletion of your twitch account. Growing organically is 100x better than simply paying for your followers. 
How can I view my twitch followers on mobile?
Open the browser on your smartphone and change the view to desktop view in the settings. Once done, headover to twitch.tv/dashboard > Click on community > Click on followers list. There you will be able to see all the twitch followers. 
Also read :