Have you ever dreamed of becoming a YouTuber as a passion or a way to generate passive income on the side? The Idea might seem good but it requires lots of effort and time. But don't worry, we will be discussing some awesome ideas to run your YouTube channel without showing your face. Not just some ideas but 10 different faceless YouTube channel Ideas.
The idea of starting a Youtube channel comes to the minds of a lot of people. The prospect of entertaining and/or educating people through your content is very captivating. Many people have made youtube a source of their livelihood and provide employment to thousands of people.
Many people do not act on their plan due to the fear of showing their face to billions of people. For some reason or the other related to filming their face, people decide to pursue other avenues in life.
Today we will look at different Youtube channel ideas without showing faces for 2022.
Does showing face affect the channel?
If you decide to not show your face in your videos for any reason, the chances of monetization on your channel will not be hampered. There are many famous channels that do not show face and are nicely monetized. As long as your content is relevant and people come back to your videos again, you will be able to monetize them.
But there is a catch, you have to use your own voice for narration. If you decide to not show your face and use an automated voice for narration then monetizing videos will be a tedious task.
There are stiff guidelines for monetization on YouTube and it gives no-face creators equal opportunities to earn money.
If you feel confident to show your face, you can always switch. Although this might take some time and get used to the workings of the platform.
Use Presentation Slides
You can put presentation slides with voice-over as your video on YouTube. Apps like Microsoft PowerPoint and Keynote will come in handy whilst creating such videos. You can also use Google Slides if you do not happen to have the former apps.
The "How-To" genre on YouTube is quite famous and there are thousands of videos that educate viewers about a range of topics.
These videos garner billions of views each year and you can leverage the widespread popularity of these videos to create an audience.
Microsoft PowerPoint also has a separate feature to record slideshows and voice over to export them together as a video.
These videos can be a great starting point if you do not wish to show your face.
A YouTube channel by the name of India UI/UX has 172k subscribers and the creator uses presentation slides in their videos to explain concepts.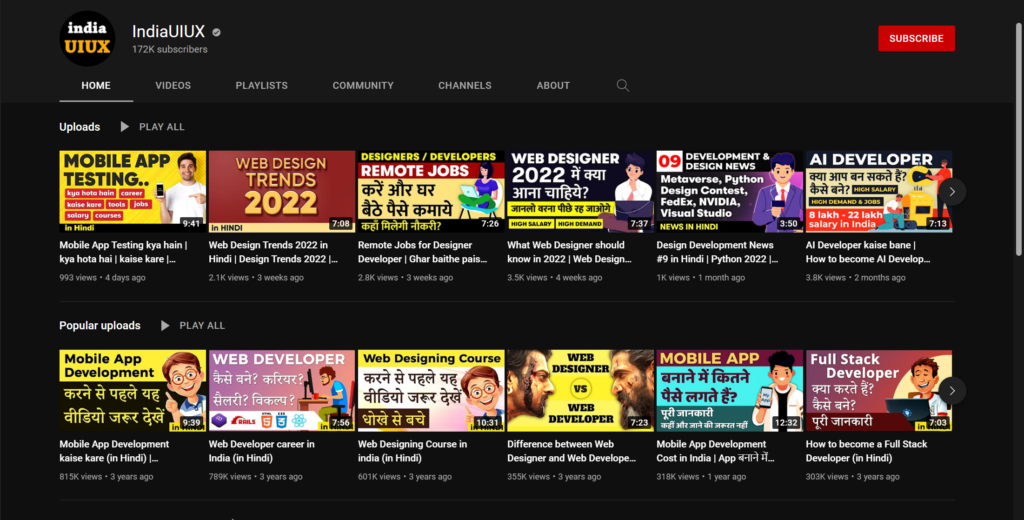 Screen Recording Videos
There are many 'How-To' tutorial videos on YouTube that show you the process step-by-step through screen recordings. They are easier to follow and are more sought after than written tutorials.
The process of creating such a video is easy and you can get started with pretty much your phone/PC. There are a plethora of screen recording software present for every device, you can download and install them to proceed further.
Camtasia is a very famous screen recording app for PCs. If you have seen a screen recording tutorial, there is a good chance you'll see a 'Camtasia' watermark on the screen. The app is paid but you can find many free apps that do pretty much the same for free.
The screen recording youtube channel ideal are endless, below are some examples:
-How to install/configure/uninstall an app
-Registration on a site
And many more!
Create Whiteboard Animations
One of the easiest and best ways to start a YouTube channel is by posting videos with Whiteboard animation.
Applications like VideoScribe or Doodly can be a good starting point and you can master the operation by watching tutorials.
If you wish to create informational videos that include a lot of visual information then whiteboard animations will be the one for you.
They can also serve as means to create marketing and educational content.
You can have a look at Draw Their Life to get an idea of how you can make your Whiteboard animation videos to entertain the viewers.
Gaming Channel Or Create Videos With Game-play videos
Gaming videos are a cheat code for YouTube success. If you have a look at the biggest creators on YouTube, you will come across many gamers. Pewdiepie, the biggest creator on the platform started out by streaming his gameplay.
Gaming videos make a very beneficial situation for creators. You can stream your gameplay, or create montages of your best moments. If you do not prefer that, you can use the videos of your gameplay to talk about other things. There are plenty of videos of each of the 2 categories on YouTube. Both choices are great and your videos might pick traction early on, depending on the content.
Player walkthroughs are watched in large numbers by viewers and there are many channels that take you through the gameplay of various games.
The RadBrad on YouTube has almost 13 million subscribers and his channel includes gameplay footage of the latest games.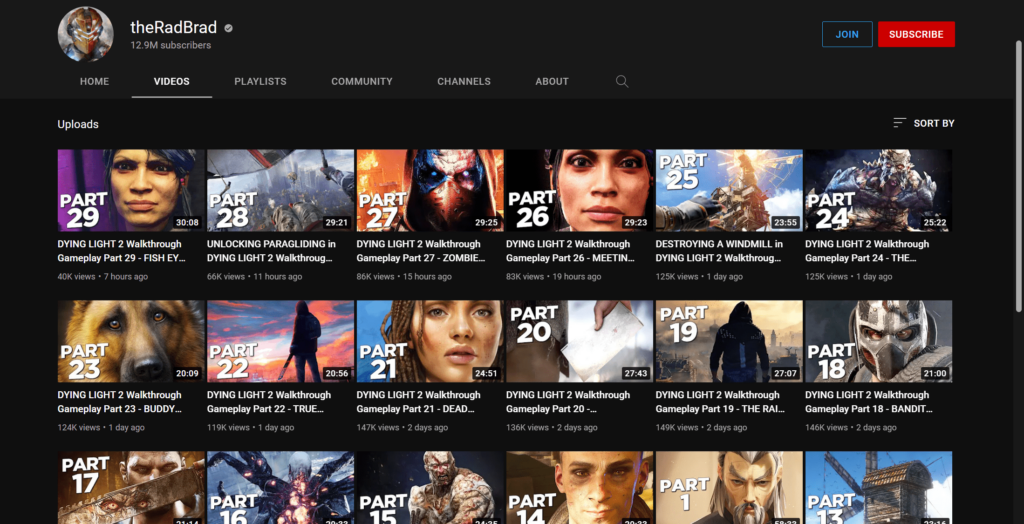 Product Reviews and DIY videos
Millions of people flock to YouTube every day to watch reviews of the products they wish to buy. There is a diversity in the product range too, there are unboxing and product reviews of things ranging from a Mobile phone to a microwave.
If you do not want to review the products, you can still make a buck from doing unboxing videos. These types of videos are easy to make and you can start your YouTube journey with them.
DIY (Do It Yourself) is another great niche if you want to remain faceless, there are channels like 5-minute crafts that have a significant audience.
FunToys Collector Disney Toys Review has more than 11 million subscribers and the creator uploads toy reviews without showing their face.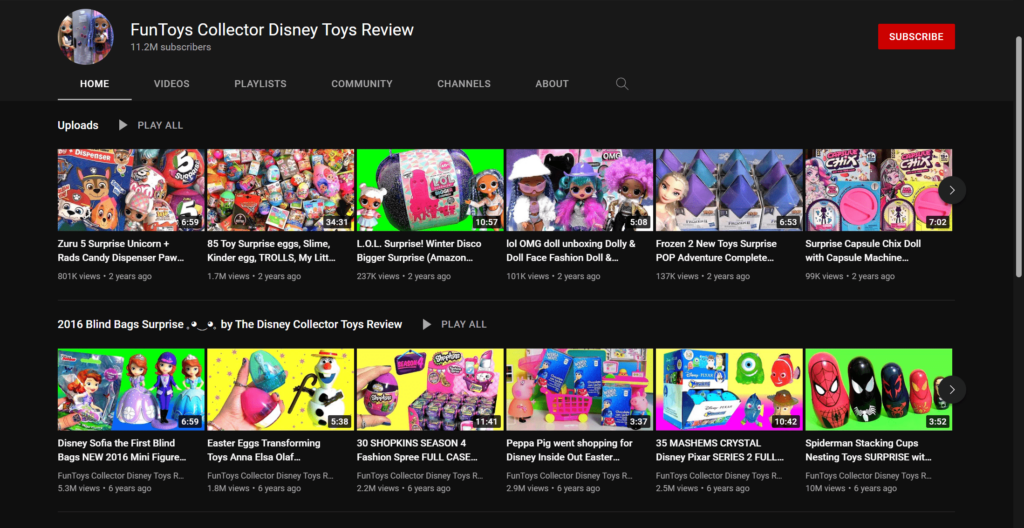 Stock Footage
Stock footage can come to the rescue when you do not want to show your face but wish to create a great video.
There are 2 ways to obtain stock images and videos, one is to buy them and the other is to find them on a website like Pexels, Coverr, and Pixabay. If you want free images, head over to UnSplash and find the right one for yourself.
But for you to get successful with making videos using stock footage, you'll need to learn Video Editing and get good at it.
Podcasts
Do you have something interesting to share with the world? something people will get entertained listening to? If yes, you can start your own podcast for YouTube.
Podcasts are meant to be listened to, not seen. Although there are many podcasts that have a video too, you can get away with putting an image also, as long as your content is engaging.
You can start a podcast about anything you want, be it cars, fashion, finance, cooking, sports, etc. There is an audience for every niche on YouTube. Some niches have lower competition than others, but you'll be able to carve some success for yourself if you're good at it.
If you think an image will be too boring, you can always use moving graphics.
The channel YouAreCreators2 on Youtube has more than 700k subscribers and they post podcasts without showing their faces.
Cooking Videos without showing face
Cooking videos gather millions of views every day from foodies all around the world. Cooking is one of the most followed niches on YouTube today.
One great thing about cooking is that there is no need to show your face, at all. Set the camera to focus on the stove for the viewers to see the process in full detail and observe the steps carefully. No matter where you belong, there are delicacies in every country and your video can be a tutorial or a medium of information. A food channel by the name Yummy Food World has close to a million subscribers and the creator does not show their face.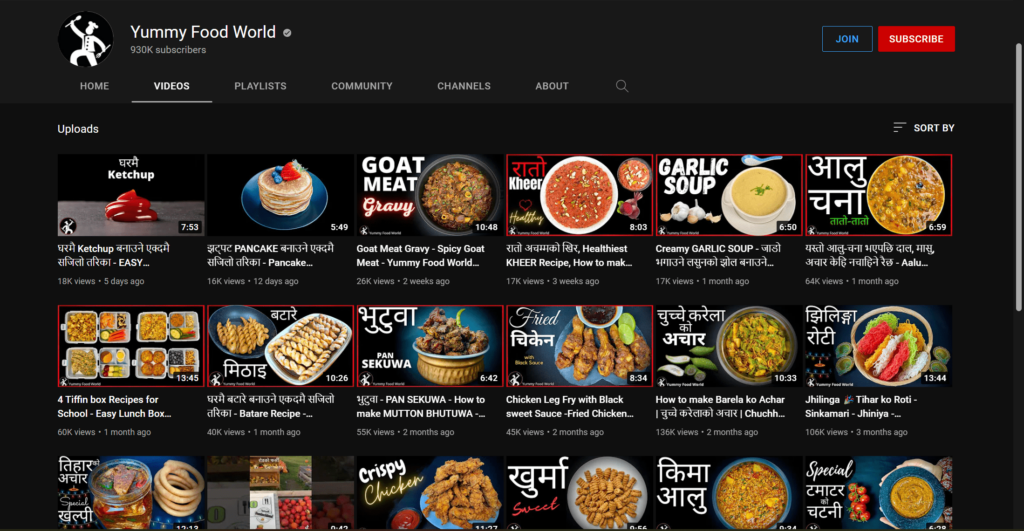 Music Videos
Stock footage can come to the rescue when you do not want to show your face but wish to create a great video.
There are 2 ways to obtain stock images and videos, one is to buy them and the other is to find them on a website like Pexels, Coverr, and Pixabay. If you want free images, head over to UnSplash and find the right one for yourself.
But for you to get successful with making videos using stock footage, you'll need to learn Video Editing and get good at it.
You can find plenty of channels that post lyrical videos of songs and gather 100+ million views every month. One of the biggest channels for music is TrapNation that posts music videos of Trap House genre everyday.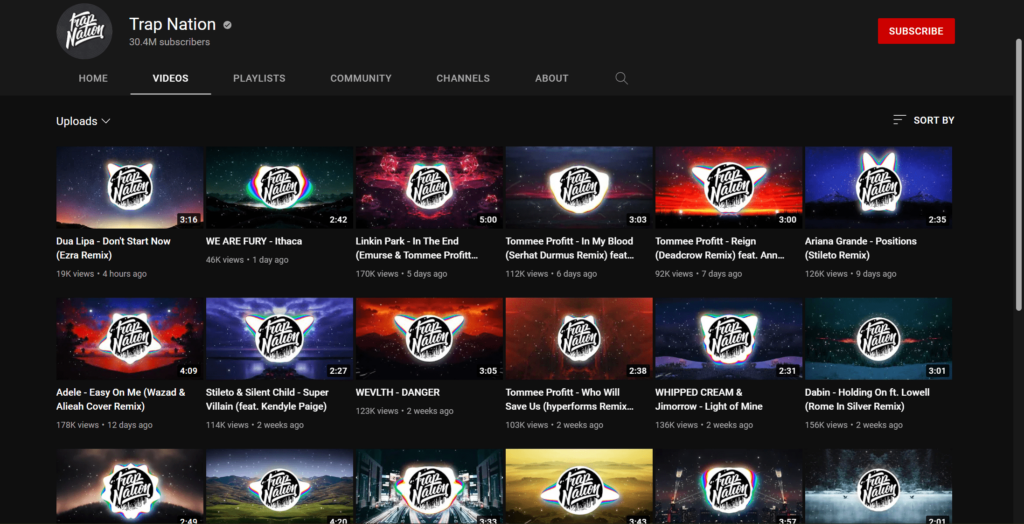 Facts YouTube channel
Do you like knowing about different things? From history to modern-day technologies. If yes, then you might have seen some informative videos filled with facts and stats.
Videos like these do not need a face, you can gather pictures (Licensed or Free-to-use) and put as much information as you can in a creative way that keeps the viewer hooked.
There are many channels that have educational content about various matters and the creator does not show their face.
Travel Videos
Travel videos serve two purposes, they are an introduction for the people planning to visit the place, and for others, it is a way to know a place in detail without visiting.
For these reasons, travel videos get a lot of views on YouTube.
Pick up a camera to document your journey to places and tell people as much as you can about the sites. An informative travel vlog sure attracts a lot of views.
Channels like J Utah provide simple driving through the city type of videos and if you want to see something more engaging then Hugo Moussy will provide you an inspiration.
Educational Videos
If you feel that you have mastered a concept and you can impart the knowledge to others then an educational video is a great bet.
You can make a video by recording what you write on a piece of paper, it is as simple as that! The good thing about educational videos is that they are less likely to be obsolete. Such videos continue to educate people years after they get posted. If your explanation is easy to grasp then millions of learners will flock to your videos to learn about the concepts you teach.
The biggest example of a succesfful Educational channel is Khan Academy that boasts more than 7 million subscribers and has videos of up to K12 level.
Create Time Lapse Videos
Almost everyone has seen some kind of time-lapse video in their life, it may be the sun rising or a plant growing from a seed, etc.
A time-lapse video is easy to create and does not need heavy editing very often. You can set your camera to record whatever process you wish to film and then upload the clip to YouTube.Temponaut Timelapse creates a time-lapse of food degradation. You can film the time-lapse of anything you want, from the moving sky to the snow falling.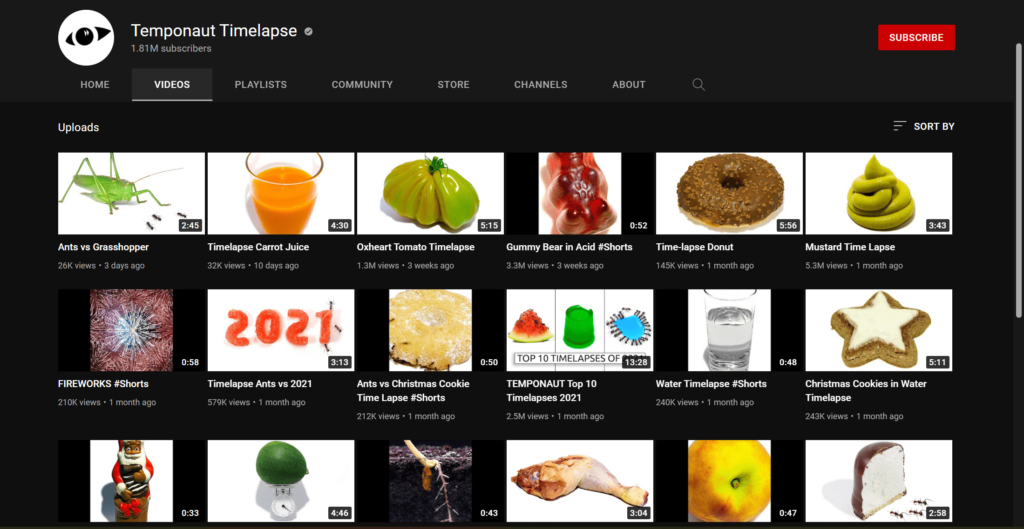 Listicles
YouTube is filled with videos that contain lists of things, for example, "Top 10 fastest cars" or "Top 10 tastiest pizza", and they garner a lot of views.
Another great segment of videos where the creator does not need to show their face. Although the presence of a face does add realness to it.
You can get pictures or stock footage of the items you are going to include in the list and combine them with a voice-over to make your own video.
Dark5 has 2.5 million subscribers and is known to create very interesting listicles of various types.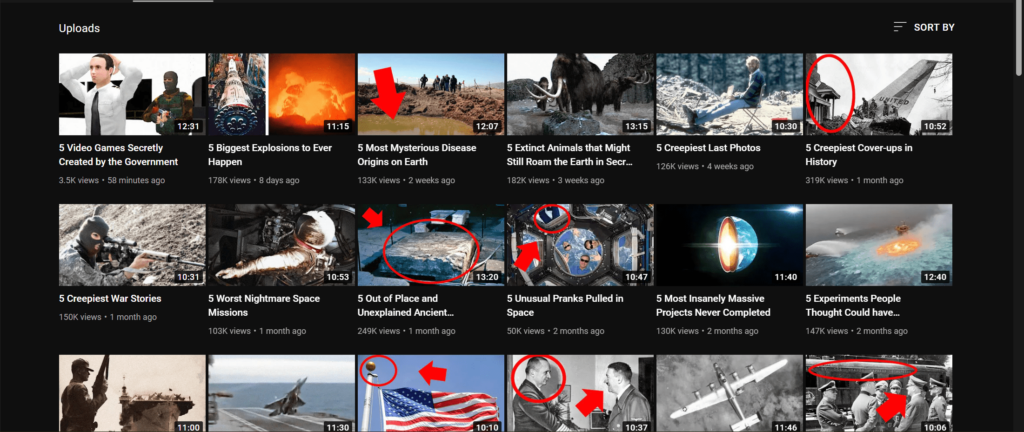 Create Animated Videos
If you know animation or are remotely interested then animated videos are a great way to venture into YouTube.
Even if you are not interested in making them, you can always hire someone to make them for you if you have the idea of what you want. A channel named Angry Prash has around 5.5 million subscribers and the creator started with using images made in MS-Paint. You can get away with basic animation quality as long as the idea behind the video is good and you are able to entertain the viewers.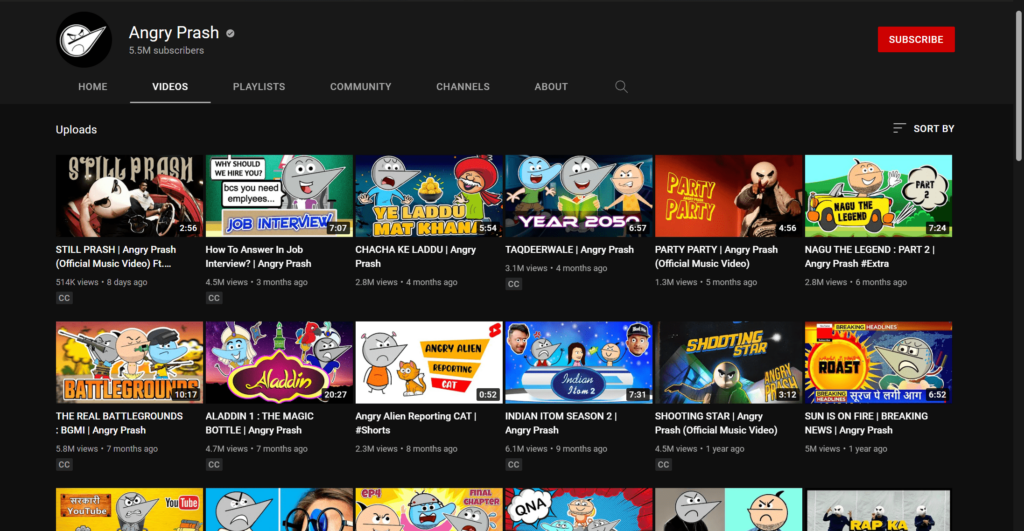 /
Conclusion
It is now clear that not showing your face does not mean you cannot make it on YouTube.
You can make videos without showing your face and gather a significant audience on the platform. These were a few of the many kinds of videos that you can make without showing your face and we hope that our article sparks some interest and hope in you to kick start your own YouTube channel. Goodluck 🙂
Can I start a YouTube channel without showing my face?
Yes, YouTube does not restrict monetization for creators who do not show their face if quality content is being uploaded.
What are good YouTube video ideas without showing your face?
The list is vast, you can make educational, infographics, cooking, vlogs, animations, and many other types of videos without showing your face.
How do I start a faceless YouTube channel?
You have to find a niche for yourself to get started and then start recording your videos with the help of your camera!
What are good YouTube channel ideas?
Photography and Videography, Educational, Gaming, Vlogging, Tech, Fitness, Political News, and Comedy are amongst the best ideas for a YouTube channel.
How do you make faceless videos?
If the nature of the video needs you to be in front of the camera then you can point the camera to the thing you want the audience to focus on, for example, if you want to showcase your pottery skills then you can point the camera down to your hands to show the process.
Also read :
Best Play-to-Earn Cryptocurrency Games in 2022
Top 10 apps to create animation online in 2022
Motion Graphics 101 – How to create beautiful motion graphics online