Animation that may have been an esoteric concept a few years ago is present everywhere nowadays. Product advertisements, How-to videos, Social media posts, etc., and the reason for such widespread popularity of animated videos is that they keep the user engaged for a longer time and increase the reach and the effect of the advert/post. Today we will look at the top 10 animation maker online where you can create your next animated videos. A huge advantage these sites offer is that they do not require you to download any sort of software, you can sign up and get to work. So here are the top 10 apps to create animation online.
Animaker
There is a reason why Animaker is one of the top choices when it comes to online animation tools and this time also it provided an experience that cemented its place in one of the best tools for making animation. The interface is really easy to use the nearly limitless range of templates makes sure that where is the template for every single idea. Plenty of customisation options with Full or Light customisation modes (depending on the level of knowledge the user has about animation, the full option provides you with the whole Arsenal of customisation while light allows users to edit what are necessary and leaves out by owner details that the eye might have skipped.) make the experience very pleasurable. A very easy process to make the animation and HD 720p video output with a very short render time makes Animaker must try if you wish to create animations. The paid version allows up to 4K video export, if you want to make the best possible videos a paid subscription is highly recommended.
Explee
It has over 6000 images in its library from where you can take inspiration or insert them. Bringlife feature makes the process of animating pictures very easy. Explee also has a library of animation effects and a timeline where you can easily manage all of your shots and other video elements including voiceovers with a range of languages and gender(s).
Setting up was very easy, Explee requires the user to sign up with an email to get started. Before you start with making your first animation, explee also insists that you see a video on how to create animation if you are new to the concept of animating. However, if you choose to skip it they also have a step-by-step tutorial on how to make animation. It had a plethora of templates, huge range of sounds to add to your animation to make it more interactive and it offered export quality of up to 720 pixels without the watermark covering a lot of space which in my opinion is a great thing. Explee also offered to put the users' logo at the bottom of the animation rather than its own.
Renderforest
Renderforest packs quite a punch for the free version with thousands of templates with their own sub-templates so you never run out of ideas for your next animation. Just like others, it also offers the user a step by step tutorial to learn the basics of animation in case the user is not acquainted. You can change pretty much everything, from the effects to the background and the text colour and then preview and export your animated video. The only problem is that the free version allows a 360p video quality with a watermark and approximately 2 minutes of export time. Also in order to save your animation, you will have to right-click on the file and select save video because forest strangely does not provide any button to save your video.
This alone puts Renderforest in the back seat when it comes to the first choice of online video animation and it is not recommended unless you wish to buy a subscription.
Wideo
Wideo seemed like a great animation tool in the beginning but sadly the lack of good templates on the basic/free version is not satisfactory and even if the process of animation is easy and the built-in feature to search images on Unsplash, pexel or Google is good and the sound library has good music for every type of animation. Wideo does not allow the user to export the animation in MP4 format on the free version, the user can only share the video on social media or embed them on their website. This tool is only worth using if you opt for a subscription-based account otherwise you are better off using other options mentioned in this list.
Wave Video
Wave video is also an online tool that joins the ranks of one of the best video editors available today. Armed with a wide variety of customization options ranging from pictures to music to effects, HD templates, stickers, watermarks, captions, and audio, and is definitely packed when it comes to features. One very unique thing about wave video is that it asks the user about the aspect ratio of the video that they wish to create and the three main options are rectangle, square, or the igtv aspect, this feature is a first and will help a lot of people. Audio handling and caption feature were only there in wave video which in my opinion make-or-break feature not present in other tools. Sadly, the option to download video was not present however the user can video link and embed them on their website or get a shareable link, which takes you to video on the way video site when opened. Another drawback of wave video which is rather surprising is the lack of proper Optimisation in the website, the interface was Laggy and it took a few clicks to select anything. Overall, wave video falls behind the competition albeit Arsenal of features due to the lack of a good user interface and long render times.
Moovly
While Moovly does not offer anything out of the box, the new window that gets opened when you click on create 'new animation' gives it a downloaded and installed software kind of look. Unlike every other that is mentioned on this list, moovly provides you with an empty board to work on where you have to put every part of the animation from the effect to the text to music on your own. As far as these mentioned features are concerned there is no dearth of content that is available on the platform pictures categorized by types and divided by the provider give the user a lot of headroom to work. Sadly hair also the user cannot download their creation on the free version however they can post them on social media websites.
MotionDen
If there is one app that has consistently impressed across all the aspects whether it is the interface or the ease of creation it is Motionden. After you have signed up with your email you can quickly choose the template of your choice and unlike others, motionden does not love templates locked for the free version. The process of editing the video is a piece of cake. Motionden has been very successful in simplifying the otherwise complex steps for the user to give a novice user quite control on their creation. Rendering time so very low and you can download your video with the lower resolution and a made with motion den mark on the top left and bottom right corners. Overall a great tool and highly recommended.
Powtoon
Powtoon is a great tool to create animations, the templates are grouped according to their types and while some of them are free to use most of them are only available with a paid subscription. Finding a free-to-use template is a difficult process and takes some time to get your template right. When it comes to editing the process is nearly flawless the layout is very aesthetic and when you are adding any media powtoon also has an inbuilt option to go directly to Fiverr to hire a designer which is a first among its contemporaries. Following the suit of others in this list, powtoon requires a paid subscription to download the animation in the MP4 format but allows the user to download the animation as an image or a gif. The time that was lost in finding a free-to-use template was made up in the editing process and whole the layout is a huge plus, powtoon lacks firepower.
Flipanim
Among all the tools that I tested, flipanim was hands down one of the best. First, it did not require any sort of signing up to begin. Second, it decided to go with the very basic idea of animation that is together a set of frames continuously to create a motion graphic and it has nailed it. Has all the control of how the motion graphic comes out to be, and while the other tools go into the complexities and the aesthetics of the video, flipanim is aimed at the people who still enjoy Doodle animation, including me. The experience of using the tool was so good that even after being the least aesthetically pleasing tool I spent the most amount of time on it and had the most fun working on it. After you have made animation you can download it or upload it on the server. Hair is the only drawback comes to light which is the capability of flipanim to Export videos only up to 360 p. Otherwise the tool is the best if you are into Doodle animations.
Jitter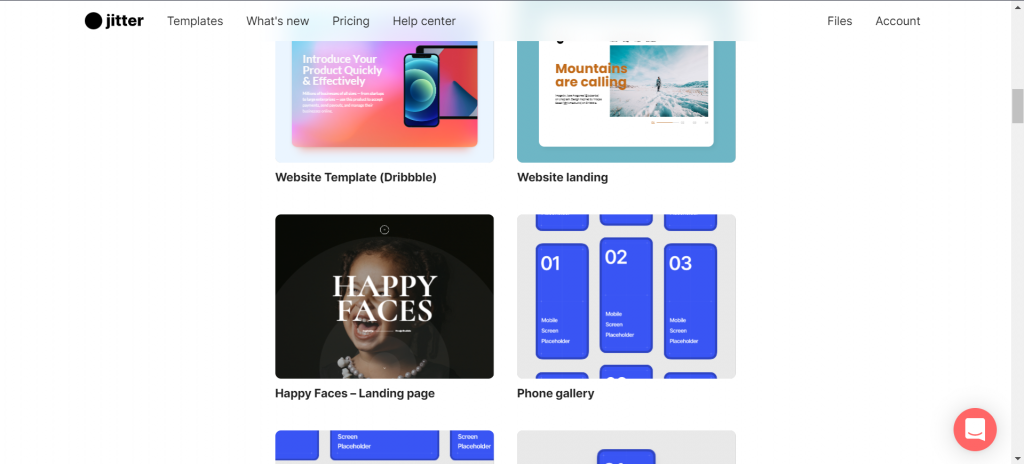 We have already covered Jitter in-depth in our previous article. In a niche that is dominated by tools like animista, jitter almost acts like a new wave that is set to change the way people have seen and worked with animation. With a very easy-to-use user interface and an army of tools, jitter is ready to take on any other tool (free or paid) by its horns. Offering a very serious bang for the buck and a range of templates that will satisfy the appetite of almost anyone, jitter should be on everyone's list.
Bonus : FlexClip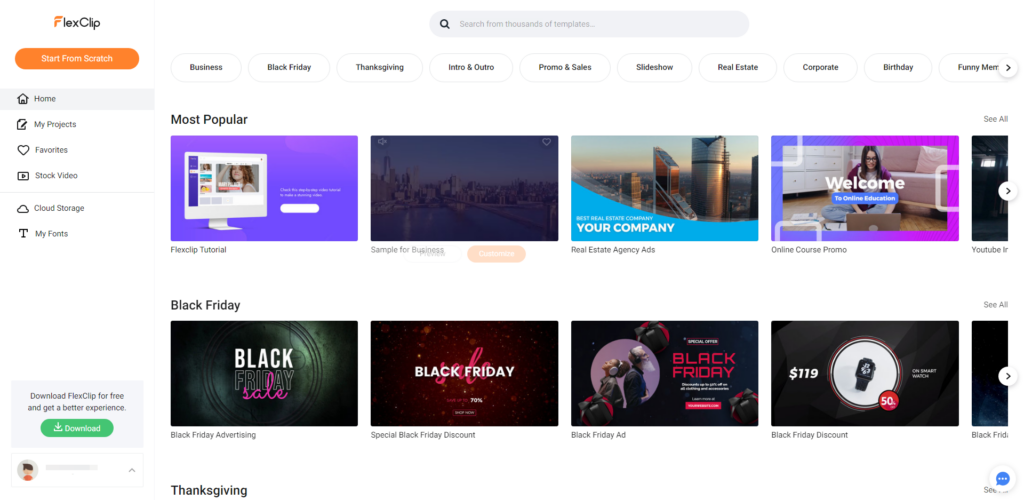 FlexClip is an online video maker that lets anyone create professional videos in no time. With a simple user interface and tons of templates in the library, you're set. You can literally create any type of videos you want right from basic animation videos to live-action videos. The free plan is more than enough for you to explore this tool, but the only limitation is the 480p resolution and the watermark that comes along with the free plan. You can also upgrade to one of their paid version to avoid these limitations.
Conclusion
These were the top 10 apps that you should check out if you want to make animated videos online. In retrospect, these apps do provide a great bang for the buck when purchased. Some apps like Animaker offer amazing features in the free version as well. Another advantage of using online video animators is the elimination of the need for good PC specifications to create and render videos and thus the time saved.
FAQs
What is the best online animation app?
The best online animation app has to be Animaker, the features that it offers in the free and subscription put it at an advantage over its competitors.
What are the best animation websites?
The 11 Second Club, Line of Action, Women in Animation, Cartoon Brew, Screen Directors Guild of Ireland, StoryboardArt, The Art of Animation are all among the top websites for animation.
Can I animate online?
Yes! you can now create animated videos online using the apps mentioned above. Each of them offers some unique feature that makes them worth checking out.
What is the best free animation smartphone app?
1. FlipaClip – Cartoon Animation (Android, iPhone, iPad)
2. Adobe Spark (Android, iPhone)
3. Animation Desk Classic (Android, iPhone)
4. PicsArt Animator – GIF & Video (Android, iPhone, iPad)
5. Animoto Video Maker (iPhone, iPad)
What is the best website for 3D animation?
Almost all the websites mentioned above provide the option to make 3D animations, Renderforest, MotionDen, Moovly, etc. all are good options.