Bored of the same new tab look and want to try something new? Here we bring you the best new tab chrome extensions to play with. All these extensions are free to use and you can experiment as you see fit. 
The new tab can be quite boring sometimes and you can either have a custom theme installed on chrome or you can have a custom theme for the new tab. Google doesn't give you a default option to customize the new tab but there is a chrome web store where you can get some exciting extensions to work with and make your browsers more interesting. 
Having a good theme or a new look to your browser can always lighten up your mood and get you on that work mode. Not only new theme helps you restore your work balance, but it can also sometimes help you relieve the stress you're in. This depends on the kind of extensions you're already using on your system. You can also have a look at the best VPN extensions for chrome which might come in handy.
Chrome RAM is already an issue and installing themes for new tab might result in even more RAM consumption. 
Install these extensions at your risk. We're not responsible for any damage they may or may not cause you. 
Best New Tab Chrome Extensions
Toby for Chrome
This is the best choice for the best new tab chrome extensions because of the interface it has. It is has a minimal UI which is quite trending in the market. Toby has one of the most unique saving formats for a user. Along with this, you get a direct search option to search for the website shortcut you saved on the new tab.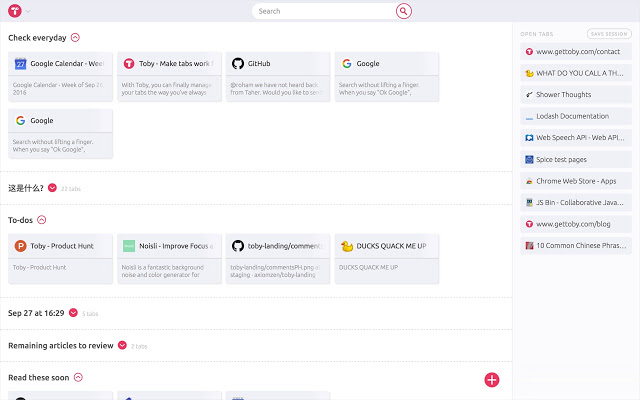 After installing Toby in your chrome browser and open a new tab, all the active tabs with details will be listed on the right side of the new tab. You can create a collection from the left main new tab page where you can drag and drop the active tabs to save them to view further. One of the most interesting things about this is unlimited collections and you can save them by category. If you're a designer and coder, you can save your favorite site for resources in both categories under different names. This extension has a huge following for more than 200,000 users. 
Momentum
Another popular extension with surprisingly millions of users. This has a different concept than the others as it helps you be more goal-oriented. The background can be changed from the settings in the top left corner but the default one seems to do the job.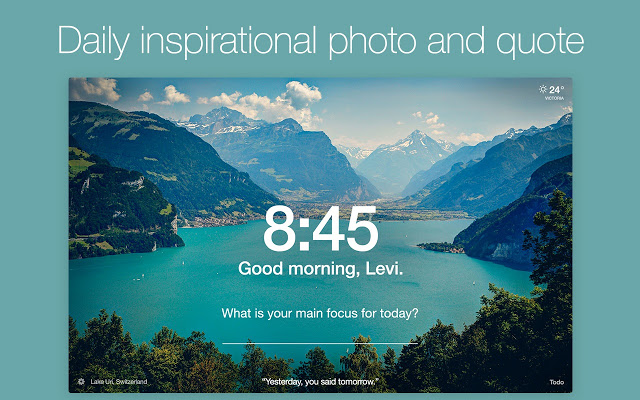 The theme begins by asking your name, email, and setting up a new password. After that, your account will be created and there are tons of things from here on you will be greeted within your new tab. One of the best parts is the daily goal which can be set on the new tab screen. You can edit or delete it once it's complete. You get a direct search option onto multiple search engines including Bing and DuckDuckGo directly from the new tab. You will be greeted by a motivational quote below your daily goal section. One the top right corner you will get weather information in your location. This new tab might not give you the recent tabs or best tabs but it gives you the next best thing. 
Speed Dial 2
As the name says, this is a themed new tab that puts all your favorites on the speed dial. The developer launched Speed Dial and this is the second version of the same. The extension offers a lot to the users and you can do multiple customizations. You can try it out and remove it if you're not enjoying it.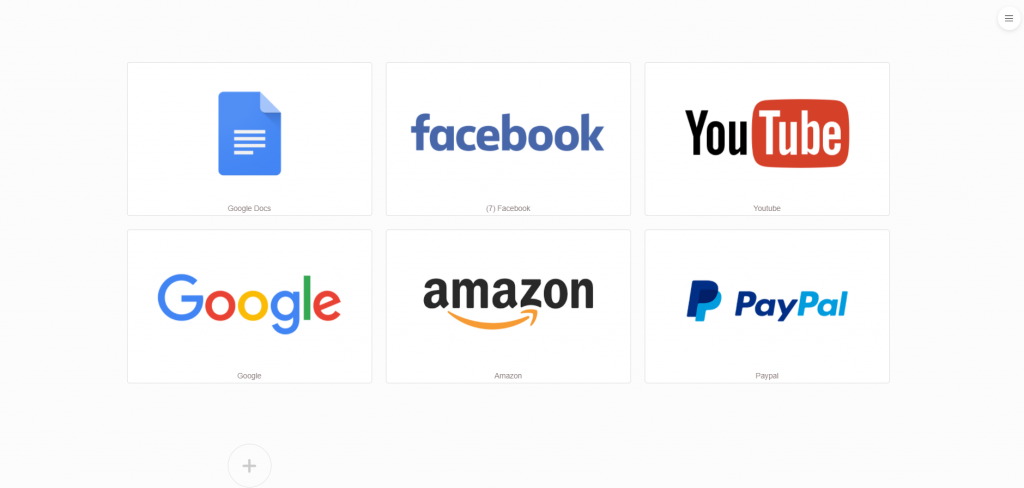 The UI is minimal and you can customize background from the settings after activating the extension. One of the most interesting things about the extension was the sidebar which can be activated by going to More options in the settings. The sidebar gives you information about the recent tabs that you closed and the bookmarks along with the applications to access directly. Rest all the features are kind of like the other ones but since the design is minimal, this theme will be perfect for people with a silent vibe.
Dayboard
If you're a workaholic and like to stick to a routine, this is perfect for you. This extension will help you by reminding you of the tasks you need to complete every day. Since this will be the first thing you see when you open the new tab, you'll be reminded even if you forget.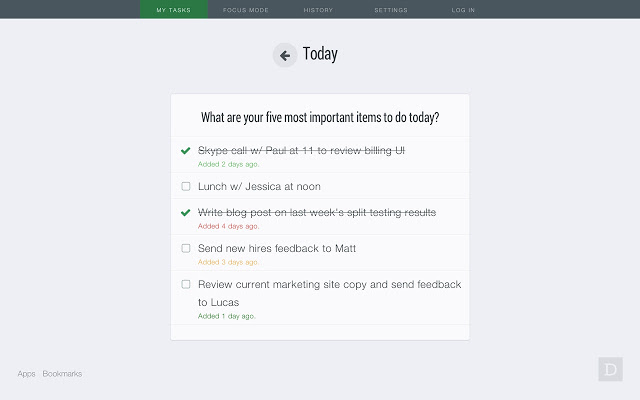 You can enter the 5 most important tasks you need to complete in a day. This is possible for the current day and day after. Yes, you can enter your tasks for the day after too. You can edit or delete them once you complete them and add more. One of the best features was the block mode which can be used to set a time limit for using social media sites on the web. Accessing the recent tabs will be an issue but the goal of this extension is different. Helps you be more goal-oriented without having many distractions. 
Start.me
This was a useful yet weird extension that has some good results with irregularities. One of the best things about this was the organization where u get everything at a single place. You don't need to type every URL to visit the website as everything is arranged for you on the new tab page.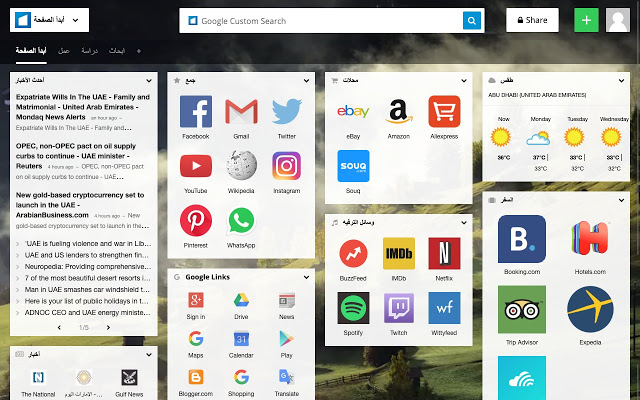 The new tab for this extension probably has the best arrangement we've seen so far. The cluster or collage of all the widgets has been placed perfectly as to not cause an issue for you. Some people might have an issue with too much information on the new tab. Another feature you get is the option to search directly on Google or other search engines like Bing and Yahoo. You can also enter the URL of a custom search engine you need to save there. You can also add widgets of your choice from the selection they have. 
Do note that this extension runs online and the resources will take time to load if you don't have a suitable internet connection.
Muzli 2
While using this theme, we found it more targeted for graphic designers. The options it has for the designers are just immense. Muzli has an official website where you can find tons of graphic design resources. Coming to the extension, there are some of the good options directly target for the type of audience.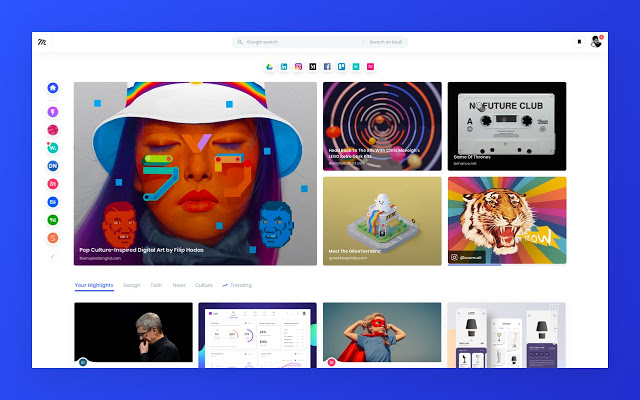 Starting with the setup, you can choose the setup of the browser for 4 types of audience – Design, Technology, News, and Culture. There is a small sidebar that can be edited accordingly. By default, it has a list of websites related to the topic you selected. You can access all these websites with just a single click. The extension has built-in dark mode support to reduce the eye strain while using it. You will be greeted with news and other resources every day on your new tab which means it requires an internet connection. The extension has over 300,000 users and tons of positive reviews.
Tab for a Cause
This new tab extension is not fancy or feature-rich like the others. As you smell by the name, this has a different concept and story behind it. There's a cause for this tab and it is used to help people throughout the world.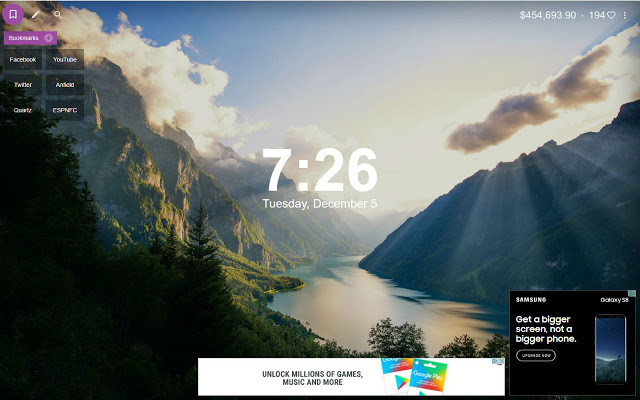 By installing you are helping the organizations by donating. Every time you open a new tab, you earn a heart that can be donated to the list of organizations listed on the page. This is indeed good as even the new tab page has a small ad at the bottom right corner. All the earnings are sent to organizations to help thousands and millions of people worldwide. Other features are included too in the extension such as bookmarks, notes, and to-do lists. You can also change the default background from the settings of the application.
Earth View
Another learning new tab extension on the chrome web store. This one is officially from Google and gives you some of the best wallpapers too along with the location. If you're a fan of Google Earth, this will help you know some of the best places in the world.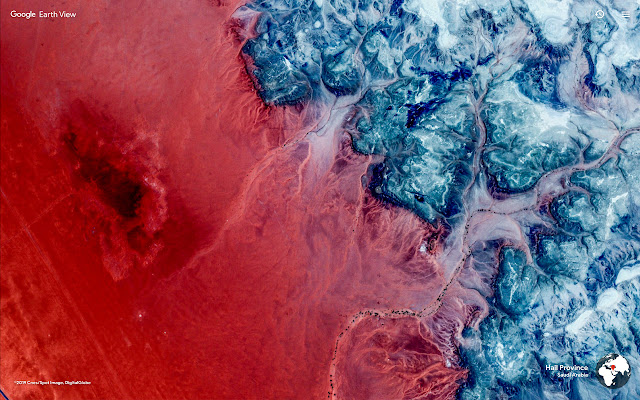 There's nothing too fancy about this extension except for the fact that it uses Google Earth API to fetch the information and gives you some of the best places in the world. You can also see the exact location on Google Earth by clicking on the bottom right corner which will take you to the Google Earth page. You can download the wallpaper from the new tab page by clicking on the icon at the top right corner. Also, you can check the history of the locations you saw every time you visited the new tab.
Blank New Tab
If you like your new tab page blank white, this is the extension you're looking for. It has nothing. Not even a time on the new tab page. For people who are bored with the design and fashion elements on the new tab, they can install this to get a change of scenery. This tab is used by thousands of users and has hundreds of positive reviews on the app store.
This is it. That's all the theme is about. Its just plank white color and nothing else. If you're looking for some other features, you can look into other extensions that have minimal designs and whatnot.
Markdown New Tab
Need something quick to note things? No need to install and external extension or an application in your system. Your new tab will cover this for you. The UI and colors could be improved but the coders will love it. Since the dark mode is too popular these days, people would have no problem using it but being a little light for a notepad concept would be an improvement.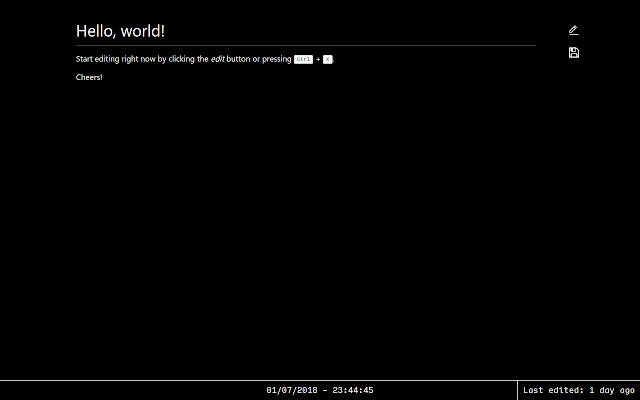 The extension has nothing extraordinary except for simplicity is carries. You can enter any type of information which will save automatically whereas you also get a manual button to save and edit your text. While everything's just black and white, you get a custom CSS tab in the setting panel to add something or change something you don't like over there. The new tab gives you an update in the bottom footer about the Date, Time, and last updated time of your text. There's also a power editor feature that has a unique animation while typing. This feature seems to be non-optimized as of now but we can expect something soon. 
Tabby Cat
Are you looking for something just to look at in your new tab? This is it. This the best minimal wallpaper based theme we spotted on the store which has the best color balance and design.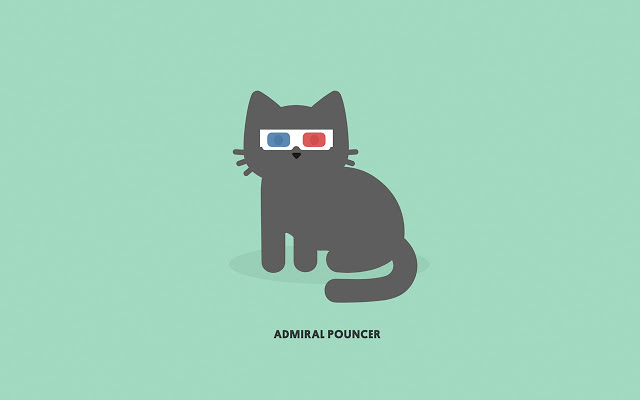 The theme has no features except for the cat which comes by default. There are options of other pets to use as wallpapers but each pet would cost you 1$. This is the only drawback of the theme where a user needs to pay to use wallpaper. If your a cat freak, using this theme won't be a problem as your beloved animal wallpaper is free without any charge. You get other customizable options like putting on a hat over the cat. You can also take a screenshot of the wallpaper which will be uploaded on the main website server for you to see.
FlashTabs
Another extension for people looking to learn easily without having to install heavy applications. You will be notified with a set of questions that you need to feed into the settings of the extension. This is one of the most useful applications where you get all questions al your tips without using external URLs. Since it doesn't have any advanced features, you can't expect too much of it.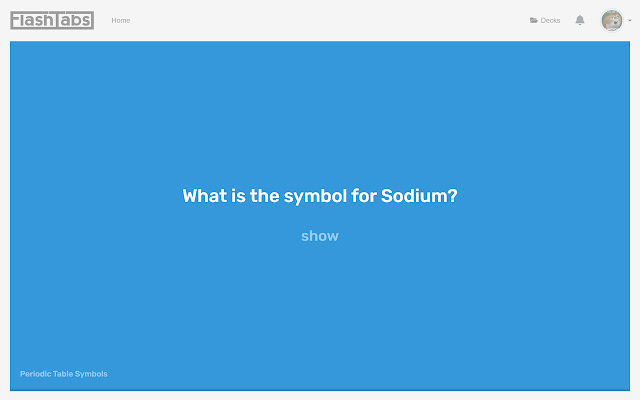 You can go to the Deck section to create new decks and put some questions in there in the form of cards. You can put your question in the card on the front section and the answer on the back section. After activating the Deck, you will be notified about the questions every time you open a new tab. You need to guess the answer as quickly as possible and then rate how fast you were able to get in on the next page. This exercise can be a quick brainstormer and will help you memorize things fast. You can as many cards and questions as you want. You can also import questions manually if you have them downloaded from somewhere. This is one of the most productive new tab extensions so far. 
Similar Articles:
Free Ad blocker extensions for Chrome
Best Chrome Extensions for Marketing