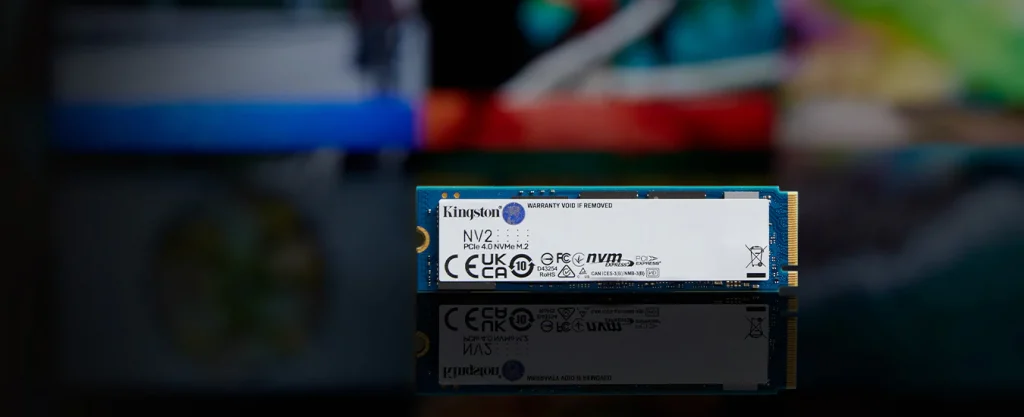 First, Kingston is a well-known and trusted brand in computer storage. Their NV2 2 TB M.2 NVMe SSD is no exception. This SSD boasts incredibly fast speeds, up to 3,500MB/s read and 2,800MB/s write, making it an excellent choice for anyone looking for performance and value. Additionally, the drive is designed with a slim form factor to fit thin laptops and Ultrabooks, further increasing its value. In this Kingston NV2 2 TB M.2 NVMe SSD Review, we'll take a closer look at the features, performance, and value of this drive.
Second, the Kingston NV2 is a great choice for anyone looking for speed and reliability. The drive utilizes 3D NAND technology, giving it the ability to read and write data quickly and reliably. This technology also makes the drive more energy efficient, allowing it to run cooler and last longer than other drives. Additionally, the drive comes with an advanced heatsink to help keep the drive cool.
Third, the Kingston NV2 is also great value for the money. It offers fast speeds at a relatively affordable price point. Additionally, the drive is backed by a 3-year warranty, so you can rest assured that your data is safe.
Finally, the Kingston NV2 2 TB M.2 NVMe SSD is an excellent choice for anyone looking for a fast and reliable driver with good value. With its fast speeds, advanced heatsink, and 3-year warranty, this drive is sure to provide you with reliable performance for years to come.
Kingston NV2 M.2 NVMe SSD Specifications
| | |
| --- | --- |
| Form factor | M.2 2280 |
| Interface | PCIe 4.0 x4 NVMe |
| Capacities2 | 250GB, 500GB, 1TB, 2TB |
| Sequential read/write1 | 250GB – 3,000/1,300MB/s500GB – 3,500/2,100MB/s1TB – 3,500/2,100MB/s2TB – 3,500/2,800MB/s |
| Endurance (Total bytes written)3 | 250GB – 80TB500GB – 160TB1TB – 320TB2TB – 640TB |
| Storage temperature | -40°C~85°C |
| Operating temperature | 0°C~70°C |
| Dimensions | 22mm x 80mm x 2.2mm |
| Weight | 7g (all capacities) |
| Vibration operating | 2.17G (7-800 Hz) |
| Vibration non-operating | 20G (20-1000Hz) |
| MTBF | 1,500,000 hours |
| Warranty/Support4 | Limited 3-year warranty with free technical support |
Crystal Diskmark speed test
Coming to the benchmarks, we tested the Kingston NV2 SSD with a B450 motherboard running a Ryzen 5 3600. The board we tested is the AsRock B450 Steel legend and has an inbuilt heat sync for the M.2 sockets, so that's a huge plus.
Installing the NV2 NVMe SSD is simple and straight forward just like any other M.2 SSDs out there, simply unscrew the heat sync from the motherboard, insert the M.2 Drive in the slot, and screw it back.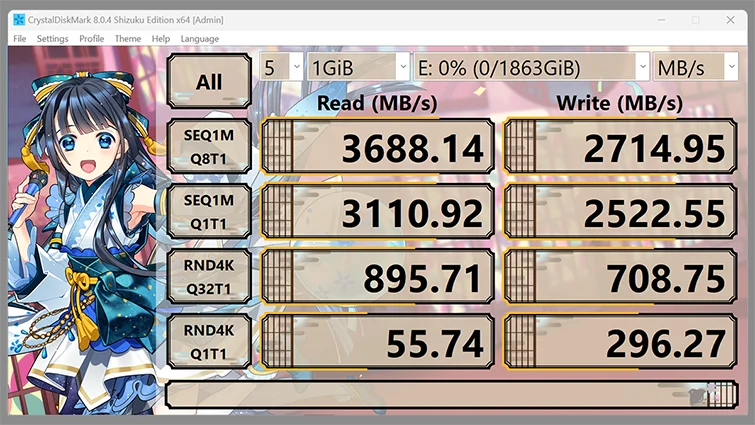 We've used the CrystalDiskMark benchmarking app to test our NV2 M.2 2TB SSD and to be honest, at its price point, it performed really well at a maximum read speed of 3688 MB/s and maximum write speed of 2714 MB/s.
At Rs.13000 or $161, the NV2 is considerably one of the cheapest considering it is 2TB. You can purchase this NVMe SSD from most of the online & offline retailers easily.