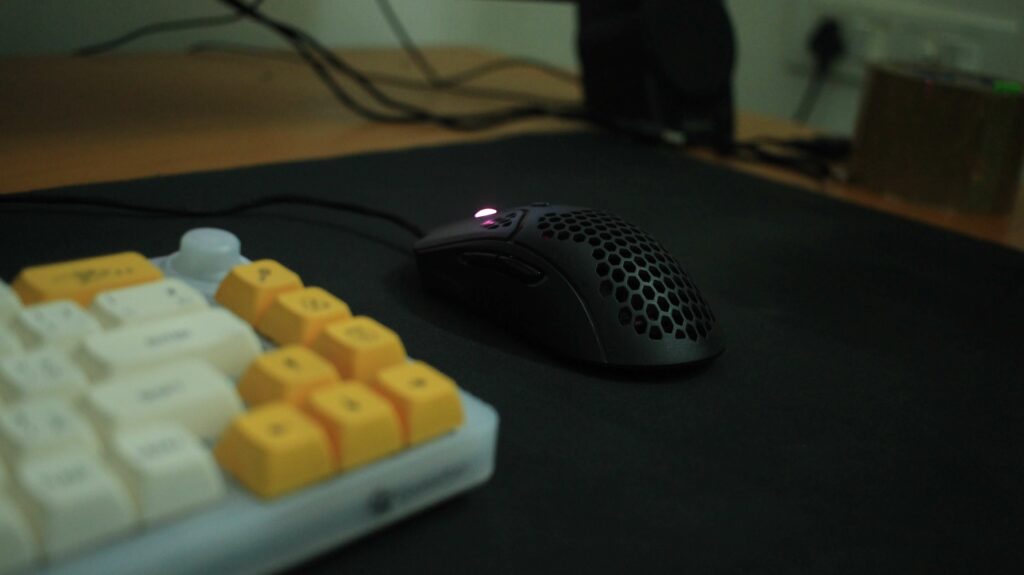 HyperX is a well-known brand in the gaming industry. Their gaming mouse series had been on and off for a while now but with the introduction of the HyperX Pulsefire Hatse.
At just $49 globally or around ₹3100 to ₹3500 on Indian retailers, HyperX's pulsfire Hatse is an in insane value for money competitive gaming mouse. This mouse comes with a honeycomb design that makes it stand out and get along the trend of similar design mice that we can find in the Glorious mice series.
With an eSports perspective and trending design, this mouse provides a great balance as it is lightweight and also has one of the best sensors a mouse can ever have. So, let's see what this mouse has got for us.
Pros
Super light
A very good sensor for the price
Onboard memory support
Honeycomb design
Cons
Tech specs –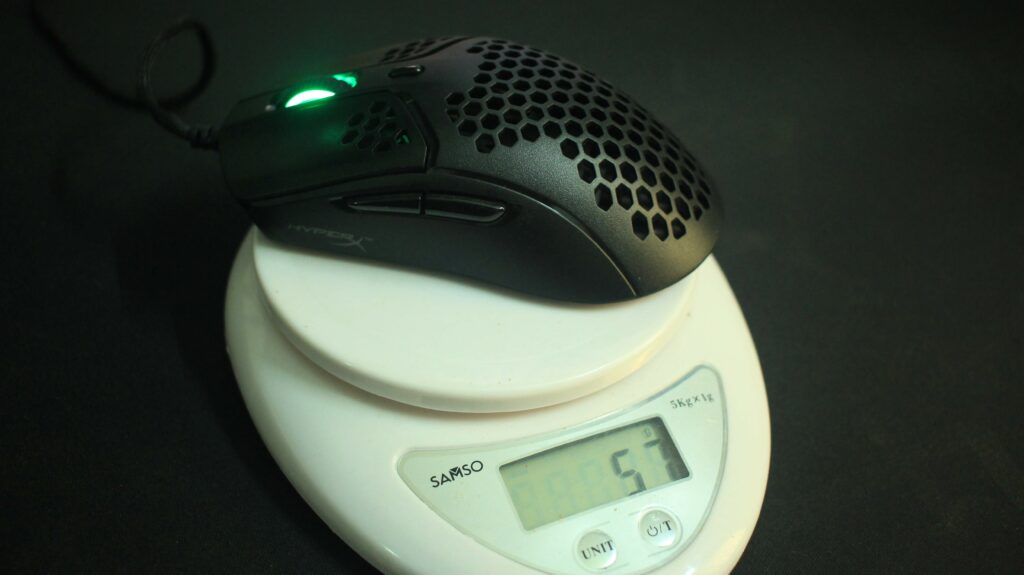 The HyperX pulsefire Hatse is a simple and light esports mouse.
This mouse is designed for right-hand users as it has two programmable buttons on the left side of the mouse for right-handed users.
The mouse measures 1.44 x 2.59 x 1.44 (Height x width x diameter). The holes across the mouse get its weight down to as low as 58 grams which is one of the lightest mice I have ever used.
The ambidextrous design with the mini design makes it perfect for the claw style grip users and all it took for me to get used to this mouse was to switch the DPI and play some aimlabs.
Under the hood, this mouse packs in a Pixart 3335 sensor that can go up to 16,000 DPI and still be accurate on such high DPI as well. The switches used in this mouse are TTC Golden Micro switches which are known for their dustproof coating and are rated for up to 60 million clicks.
The HyperFlex USB cable is light, flexible and is made of a paracord design thereby there's no feeling of drag or resistance while you flick or move the mouse.
Talking about flicks, the mouse is preinstalled with PTFE skates which are 100% low friction skates to make your flicks & movements more responsive. Additionally, there's also an additional set of skates in case the default ones wear out.
If the mouse doesn't feel grippy, you can also find a grip tape included inside the box for both the left & right switches and the sides of the mouse.
Here are the technical specs of Pulsefire Hatse according to their product page:
| | |
| --- | --- |
| Shape | Symmetrical |
| Sensor | Pixart PAW3335 |
| Resolution | Up to 16000 DPI |
| DPI Presets | 400 / 800 / 1600 / 3200 DPI |
| Speed | 450ips |
| Acceleration | 40G |
| Buttons | 6 |
| Left / Right buttons switches | TTC Golden Micro Dustproof Switch |
| Left / Right buttons durability | 60 million clicks |
| Light effects | Per-LED RGB lighting1 |
| Onboard memory | 1 profile |
| Polling rate | 1000Hz |
| Cable type | HyperFlex USB Cable. |
| Connection type | USB 2.0 |
| Skate material | Virgin-grade PTFE |
| Weight (without cable) | 59g |
| Weight (with cable) | 80g |
| Dimensions | Length: 124.2mmHeight: 38.2mmWidth: 66.8mmCable length: 1.8m |
HyperX NGENUITY software –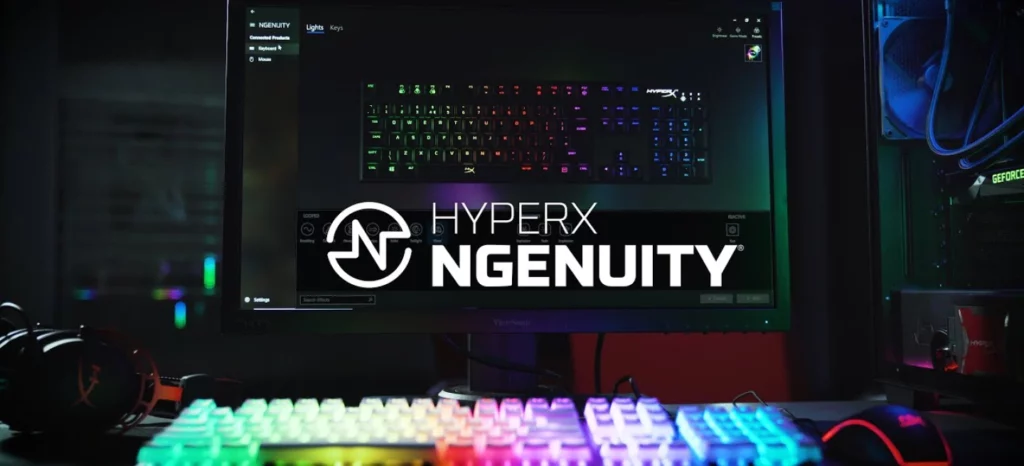 The customization is limited as there's not much you can do. With my usage, I used this software once to configure my settings and saved it to the mouse onboard memory. Then its just plug and play irrespective to the device you use.
The brains behind the mouse is the HyperX NGENUITY software. This lets you customize the mouse RGB, DPI, Acceleration, polling rate and remap your buttons according to your needs.
HyperX Pulsefire Hatse – Big W or Big L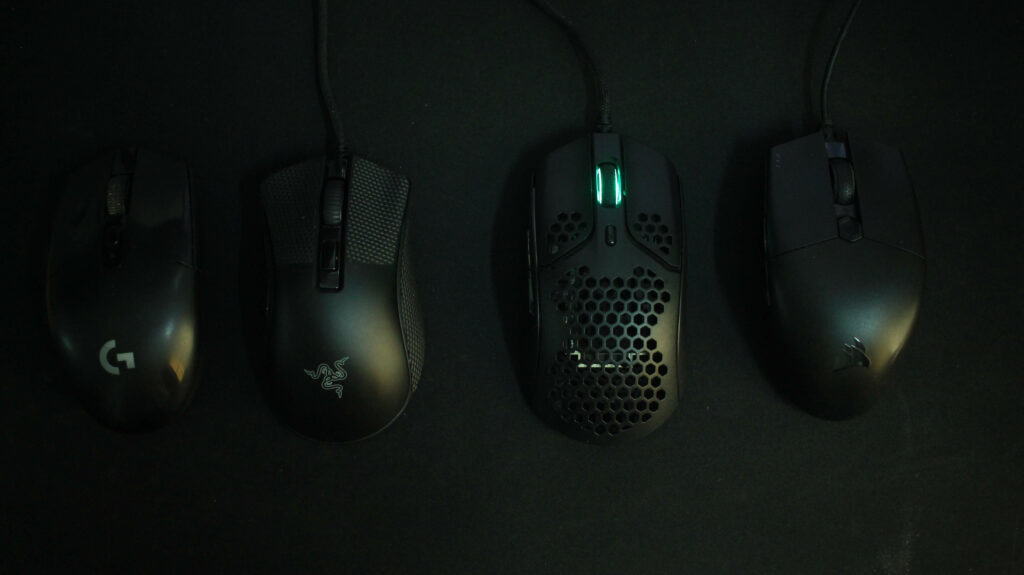 In my opinion, this is one of the best mouse you can get for $50 or under ₹3,500 rupees in India. The only esports grade mice around the same range is the Glorious model D, otherwise there are not many options in the market.
There's the Razer Viper that retails at ₹5,199 or $69. The only compromise you get is with the size as it is in the smaller compared to the other mice around the same range.
If you are looking to get a decent esports grade mouse on a budget, undoubtedly the Pulsefire Hatse is the best option. 
Also read:
Gamakay LK67 Keyboard Kit Review