What is Motion Graphics?
Motion graphics is animation but with a focus on the text. Motion graphics, when paired with the right sound can exponentially enhance the video attract attention, and add depth. It is one of the most effective ways to convey a message.
Five creative ways to use motion graphics
Animated Social Media posts
Almost half of the world uses social media and it is rapidly becoming one of the best ways to advertise yourself or your product, reach and engage people, and ultimately build your Brand. By the virtue of motion graphics, you can make your post in such a way that it grabs maximum attention and reaches as many people as possible. Your post can be as good as your creativity allows it to be. Humans have an attention span of 8 seconds so you have only 8 seconds to create an impact and motion graphics will help you nail it. Studies also say that people retain messages more when they see a video as compared to a photo or text. Your next post should have motion graphics, no matter what!
Beautiful Intros & Outros
Almost everyone has seen the introduction video of the Apple iPhone 10 that made very liberal use of motion graphics to enhance the overall appeal and to talk about their product in a different but at the same time interesting way. Like their other products, the trailer was a different approach and the same type of animation has been adapted by others as well.
Animated Product demonstrations
Motion graphics can help you show how your product looks and how it works in one of the most illustrative and aesthetically appealing ways. Motion graphics are more effective than live-action explaining video and give you the ability to simplify and explain an otherwise complex idea. Companies like ZocDoc, Canon, IBM, and Netflix use motion graphics to make their product videos short, crisp, and engaging.
Stunning Stories for Instagram, Facebook, Snapchat, WhatsApp
As mentioned earlier, you can use motion graphics to enhance your content and increase your visibility and reach.
Logo Animations
Brands that integrate videos into their website are shown to have a better conversion rate than those that do not. The pandemic has forced everyone to sit at their home which has made the internet even more important in our lives. An animated logo creates a lasting impression in the consumer's mind. They also create and increase brand awareness they are also more recognizable than static logos. The logos also player role contributing to the brand's overall narrative and play an important part in video storytelling.
How to create motion graphics online?
We have already discussed a lot about what are Motion Graphics and how can you use motion graphics to your advantage, but how do to create motion graphics?
There is a plethora of software that can help you create motion graphics like Photoshop, Illustrator, After Effects, etc. But the thing about them is that they are heavy on your PC they use a lot of resources. That is why you are always better off using an online motion graphics creator like Jitter.
Jitter is an online motion design tool that is very easy to use, incredibly fast, and makes creating motion graphics fun! It comes with a set of animations from where you can choose the type of animation you wish to create and then work on it.
The interface is very easy to understand and navigate through. All the customization options you need are present along with the template you are working on. You can change absolutely everything on the template very easily which saves a lot of time and makes the experience good.
Render times? What's that? Make your animations and save them quickly! You can download them in Video or a Gif form up to full HD resolution. You can edit on the go and save your work for easy access later.
One of the problems with motion graphics software like Adobe Illustrator or Premiere Pro is that they demand a PC with good specifications because they consume resources. Jitter, on the other hand, is web-based it can run very smoothly on an old PC as well. The PC that the tool was tested on is from 2014 featuring dual-core 4th generation i5 which would not float by today's standards.
Free vs Paid?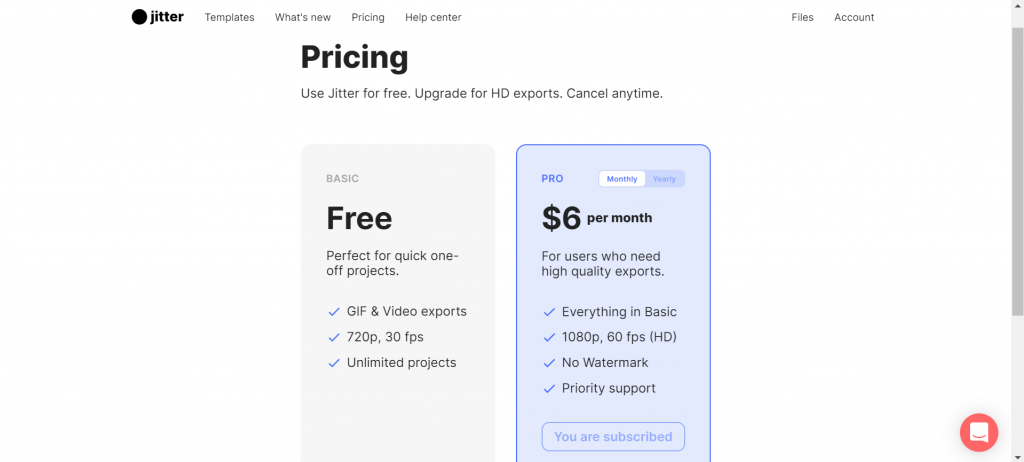 Jitter comes in 2 versions, Free and Pro which is billed at $6/month or $36/year. Both of them support an unlimited number of projects but the Video Resolution and Frame rate for the free version are capped at 720p 30fps which goes up to 1080p 60fps in the pro version. The free version always has a watermark while the Pro does not, and the Pro also offers priority customer support.
The user may be confused about which version should they choose? If you want the best tool for motion graphics animation for just one project then you should go for the Free version but if the nature of your work requires you to create the best possible motion graphics at all times then the Pro version is for you.
How to create Animated graphics online using Jitter?
Now we'll make an animation on Jitter, fast and easy!
Login to your to your account and go to Templates on the top left corner.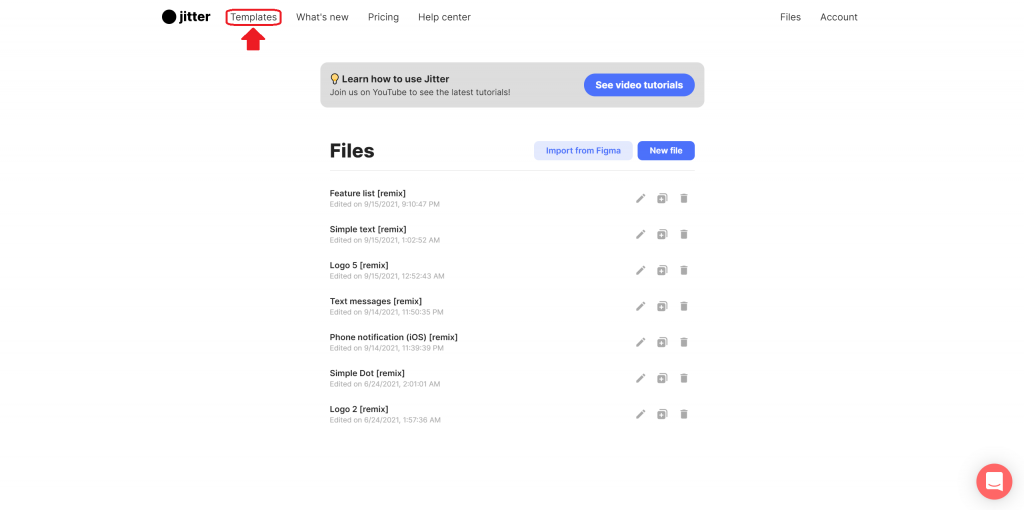 Select the template of your choice which will then open it up on the screen. On the left side, you will see a box containing all the information about the types of animation that are on your artboard and text. In our case, we can see four rectangles and four different texts written on them respectively. Under 'Scenario' we see names and the types of animation that are present on our board. In our case, the animations are 'lines in', 'lines out' and 'texts in', 'texts out'.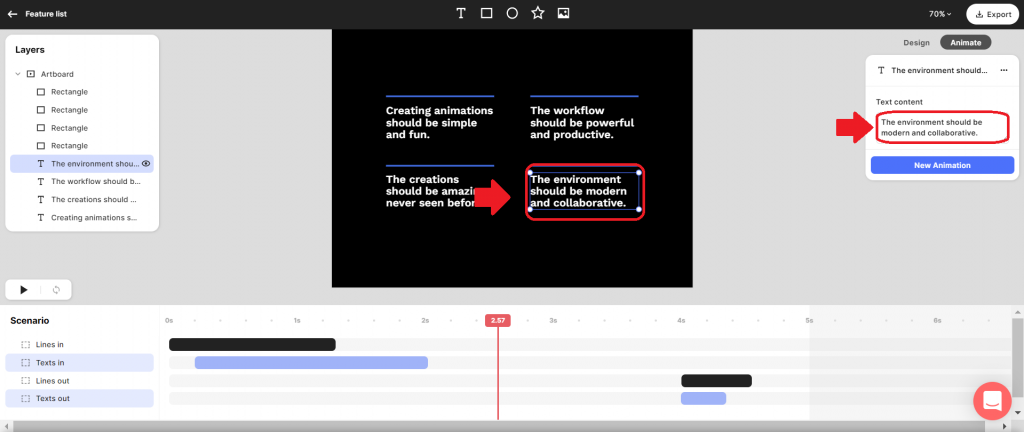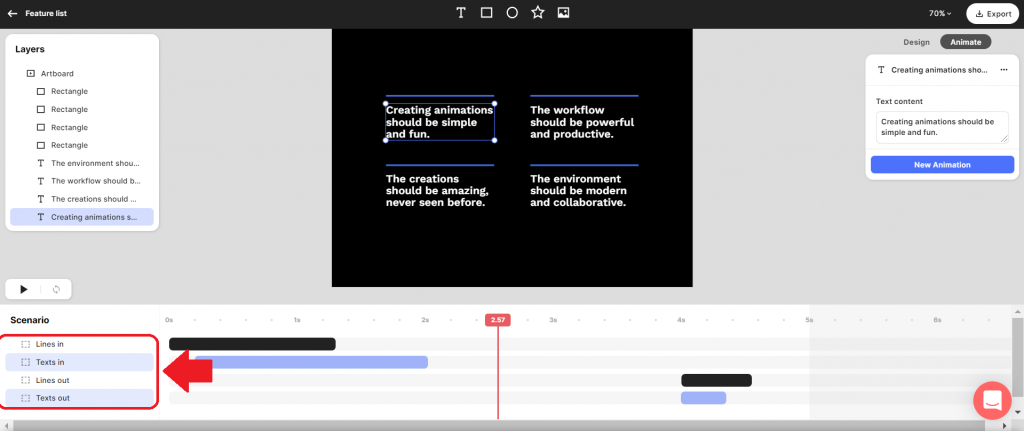 If you select any text that is written on the board, on the right-hand side you can see and edit the text quickly. We'll Write "This is how an easy to do, quick, and visually appealing animation looks!" and voila! We have a short and minimalistic animation ready. After you have made your animated video, click on 'Export' on the top right-hand corner which will show you all the types of video and gif formats that you can download your artboard animation in. We will take the video format of 1440x1080p resolution, it only takes a few seconds to render and export the video.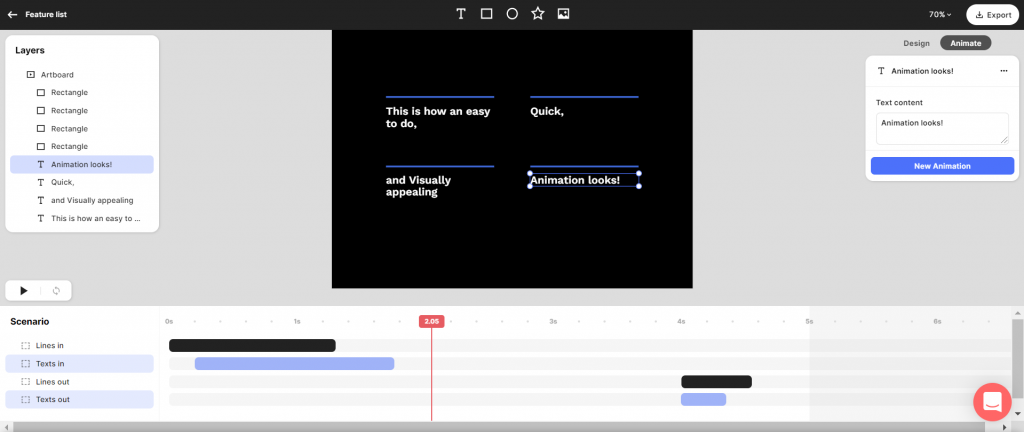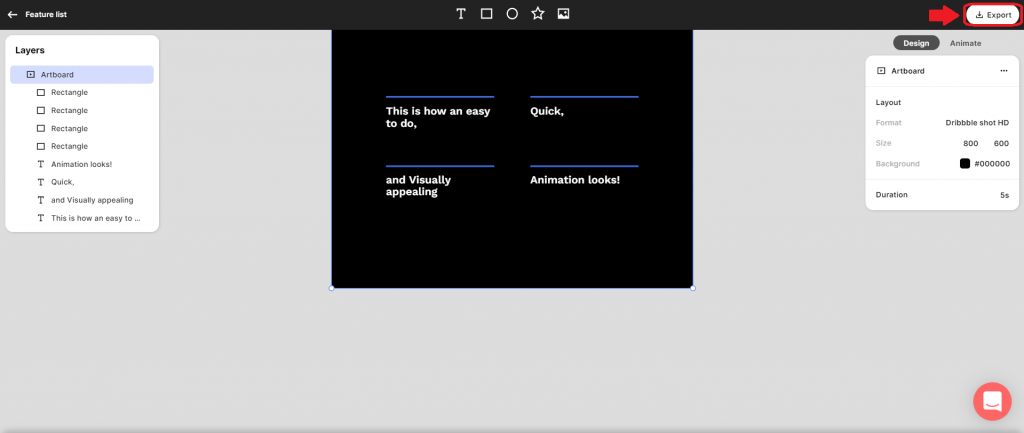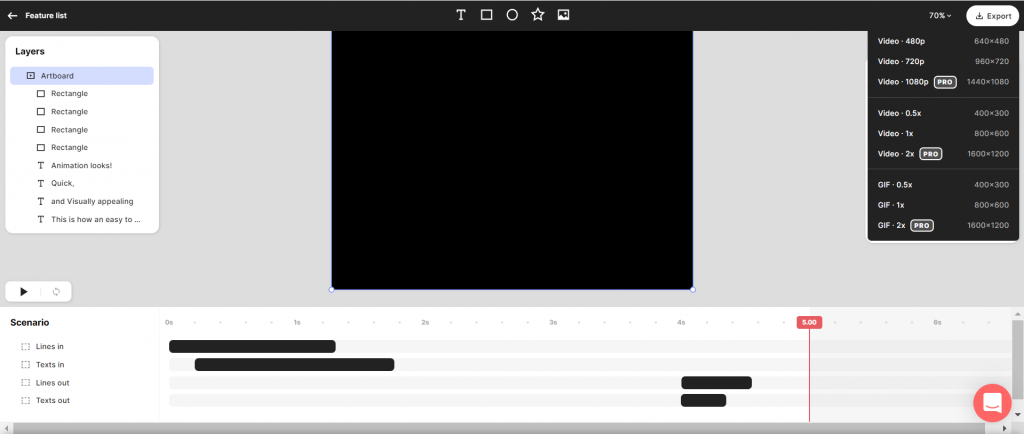 This was an example of a very easy animation and Jitter allows you to be as creative as you can! how good your animation comes out depends on how creative you are!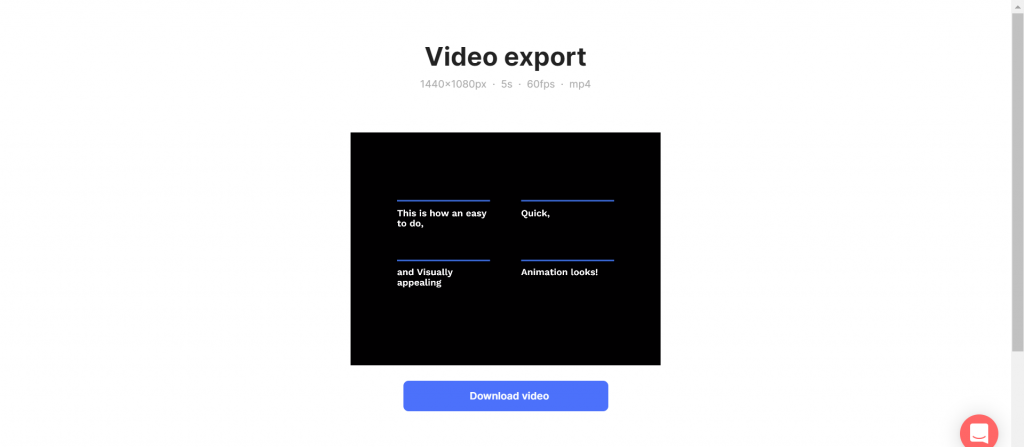 Conclusion
Jitter is an easy-to-use, no-fuss tool that does what it says. A simple interface and the default templates make the process of creating motion graphics a cakewalk and a beginner can make make a respectable motion graphics animation without putting in a lot of time. So where does it put Jitter then? In my books, it puts it above the ranks of software that you have to download and have a longer learning curve, Jitter also has a Youtube Channel where they have provided video tutorials of how to use the tool and make the animation to the best of your capabilities.
Is Jitter the first to do it? Or the only one?
No, Jitter is not the first motion graphics tool. It aims to make name for itself in the niche that is dominated by the likes of Animista, Haiku Animator, Artboard Studio Animation, Cavalry, and Loaf. Animista is a great tool that is loved by a lot of people and Jitter will have to make constant improvements to be able to penetrate the Animista user demographic.
But then again, all of these names mentioned formerly fail to match Jitter when it comes to what they have to offer. All of them could take time to get used to, exposure to such a wide array of features at once could overwhelm some users and they have to be downloaded.
This is where Jitter really shines, just log in and start using it, no download, no other hassle, and there are a few reasons why using an Online Motion Design platform actually makes a lot of sense. First, no need for matching PC components to run the software, the tool is web-based so all that you need is a working internet connection. Second, Instant render times so 'waiting for the animation to render' is a thing of the past. And lastly, the shareability of the animation is very easy. Once you're done you can share your work, embed it, etc. easily.
Is Jitter worth it?
If you are just starting out in the domain of Motion Design and want to learn things quickly then Yes. Jitter has almost every tool and a guide that teaches you how to use that tool properly. A very short learning curve can make you acquainted with things quickly which will help you to make good content without putting in a lot of time. A lower price than the competitors ensures that you get the most bang out of your buck. The free version lets you access the full palette of the templates but caps the animation resolution and fps. As compared to the competitors, Jitter still has quite room to improve but it is still one of the best tools for Motion Design as it is.