Sony has officially announced their next-gen console the "PlayStation 5". This showcase has given us gamers the first look at the PS5 console and it does look very bold, unique and futuristic, Sony also showed off the PS5 titles that are under development along with all the Dualshock5 controller and the PS5 accessories. The announcement also gave us some footage of Unreal Engine 5 games running on the console. Buckle up! we're bringing you all the information you need to know about the next-gen PS5!
If you've missed the LiveStream here's a link to watch!
Editions
The next-gen PlayStation 5 comes in 2 editions namely the Standard Edition and the Digital Edition. They both have identical hardware specs except that the Digital Edition does not have a Blu-ray disc player. This means that the Digital Edition will be slimmer and rely entirely on streaming/downloads and will also be priced lower than the Standard Edition. Recently Sony announced that the PS5 will come with a very optimized SSD, stating that games will load faster and be able to handle much more content.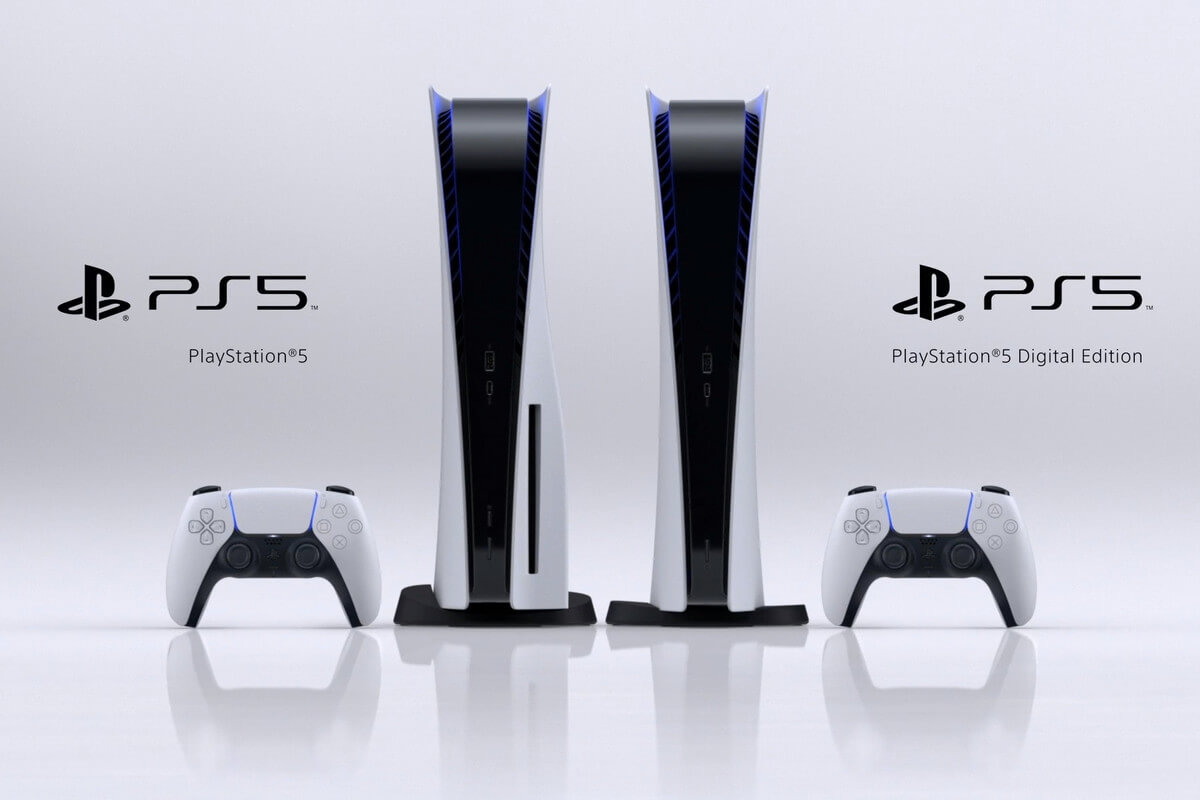 The Digital Edition of the PS5 looks better without the bulk of the optical drive but this should not be that offputting as the overall design of the console is very modern and clean. For those wondering if the console can be laid horizontally, Yes it can.
Features
The PlayStation 5 is coming loaded with hardware for the next-gen console wars. Sony has partnered with AMD for the custom Ryzen CPU's and Navi GPU's meaning that consoles are finally going to get the FPS boost they've always needed, 30FPS can finally be put to rest and we can now expect 60FPS with significantly improved visuals on the PS5. A new 4k Blu-ray player will be included in the Standard Edition which can allow the support for disks up to 100GB, considering that most recent releases are taking up a lot of storage the console is set to use a custom 825GB SSD that is going to be heavily optimized.
The PS5 uses the new PCIe 4.0 standard since it is the only way to beat out the competition while offering the best performance without any bottlenecks. Other notable additions are that there is going to be a new 3D Audio engine which is the tempest Engine which will first work with the PULSE 3D™ wireless headset for immersive audio but will eventually come to speakers and soundbars.
The new PlayStation 5 will also offer support for 4k 120Hz, 8k, and VRR (Variable Refresh Rate), even if it works you should be ready to sacrifice quality for performance.
Hardware Specs
| | |
| --- | --- |
| CPU | AMD 8x Zen 2 Cores @ 3.5GHz (variable frequency) |
| GPU | 10.28 Teraflops, 36 CUs @ 2.23GHz (variable frequency) |
| GPU Architecture | Custom RDNA 2 |
| Memory/Interface | 16GB GDDR6/256-bit |
| Memory/Bandwidth | 448GB/s |
| Internal Storage | Custom 825GB SSD |
| IO Throughout | 5.5GB/s (Raw), Typical 8-9GB/s (Compressed) |
| Expandable Storage | NVMe SSD Slot |
| External Storage | USB HDD Support |
| Optical Drive (Standard Edition) | 4K UHD Blu-ray Drive |
Controller
Although we've already known about the PlayStation 5's controller for a while now, let's start from the beginning, The new PlayStation 5 controller will be called the DualSense™ Wireless Controller. It comes with an entirely new design, a rechargeable battery, a built-in microphone, a headphone jack, and better haptic feedback.
The main vision for the PS5 controller was to bring in more immersion to the controller. DualSense will now feature haptic feedback instead of Rumble meaning that feedback for different situations will be completely different. The trigger buttons (L2/R2) can be programmed to offer resistance depending on the circumstance, providing a much more immersive sensation. Also notably the Share button has been removed and replaced with a "Create" button.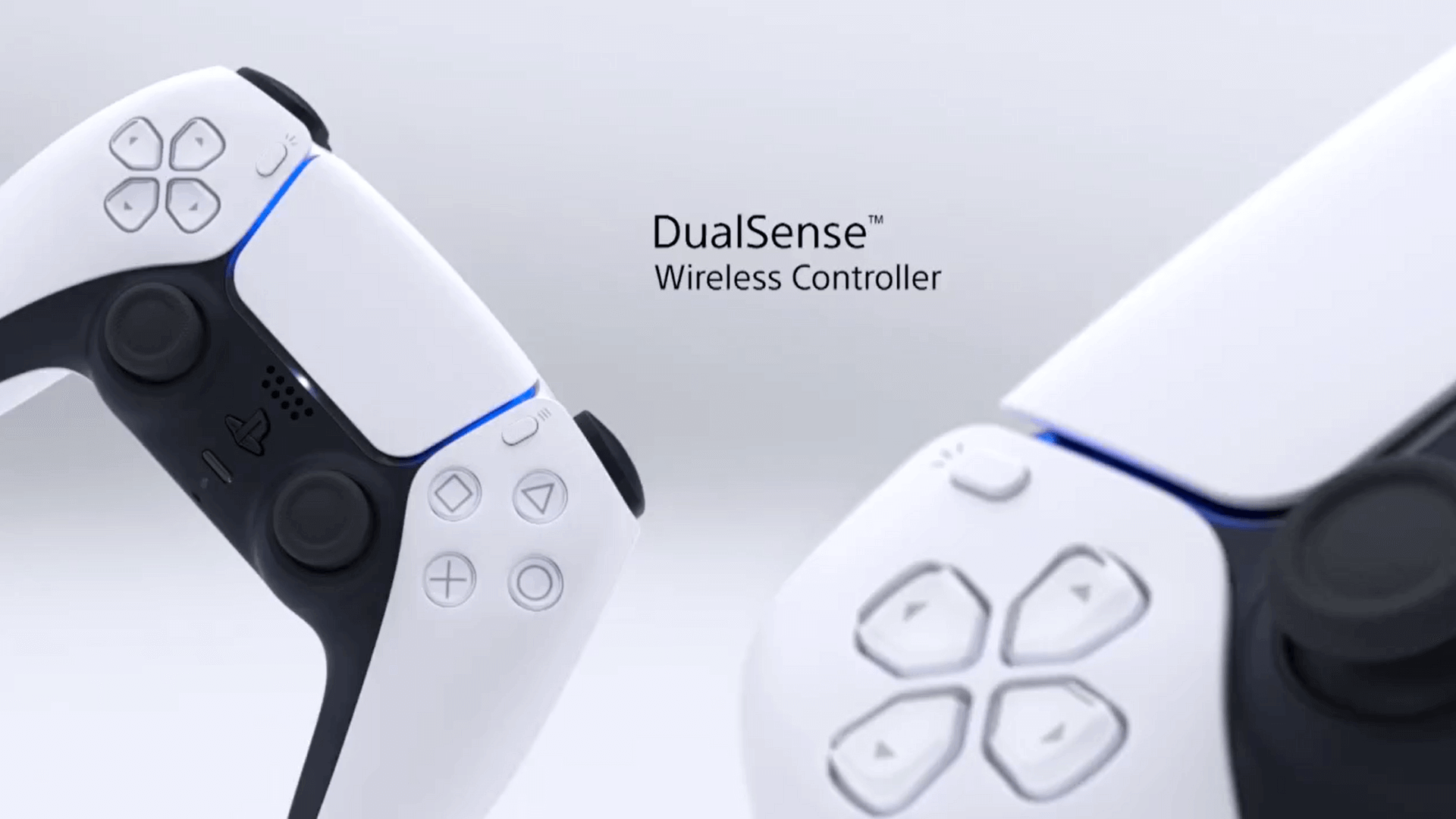 Accessories
Along with the reveal of the next-gen console, Sony also announced several accessories for the PS5 that will be available alongside the console. Here is the list of accessories so far.
DualSense™ Charging Station – for charging two DualSense™ Wireless Controllers
PULSE 3D™ wireless headset
HD Camera – with Dual 1080p cameras.
Media Remote – Remote control with a built-in microphone for navigation.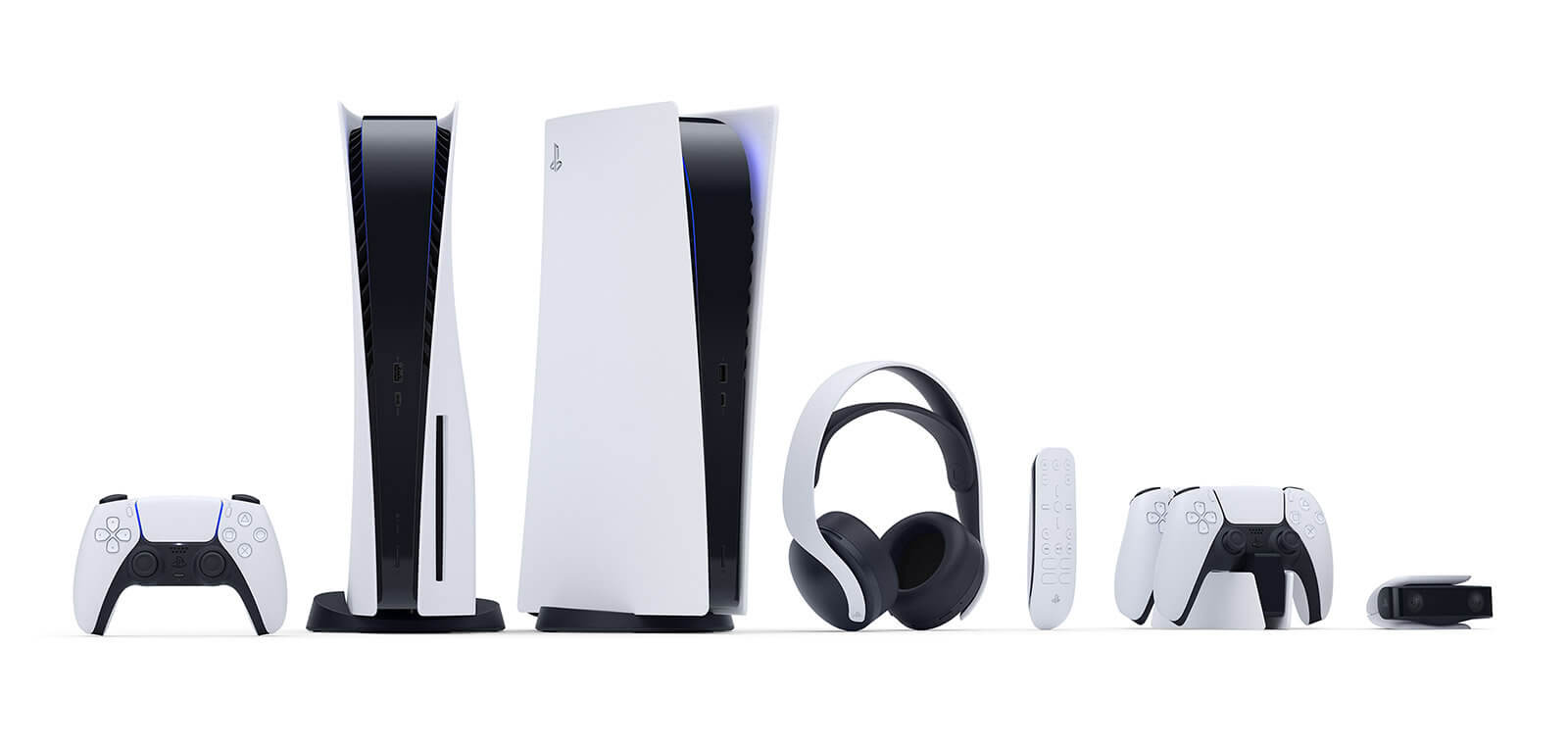 Sony has not declared the price of these accessories, So we'll have to wait for the announcement.
New Games
Along with the announcement of the new console, Sony has also announced 26 games coming to the PS5 including PS5 exclusive games. Here's the list of games revealed during the live stream.
Grand Theft Auto V
Marvel's Spider-Man: Miles Morales
Gran Turismo 7
Ratchet & Clank: Rift Apart
Project Athia
Stray
Returnal
Sackboy: A Big Adventure
Destruction Allstars
Kena: Bridge of Spirits
Goodbye Volcano High
Oddworld: Soulstorm
Ghostwire: Tokyo
Jett: The Far Shore
Godfall
Solar Ash
Hitman 3
Astro's Playroom
Little Devil Inside
NBA 2K21
Bugsnax
Demon's Souls
Deathloop
Resident Evil: Village
Pragmata
Horizon: Forbidden West
The full list of games has not yet been announced, but most of the upcoming PC releases like AC Valhalla, Destiny, Fortnite, and many more titles are confirmed for release on the PS5.
Backward Compatibility
Rejoice! Sony has finally confirmed that most PS4 games will be compatible with the upcoming PS5 since both consoles are architecturally similar. Although not all games, the majority of PS4 games will be compatible upon release. Sony has said that they have to check every game to make sure that it works as the game has to be optimized to take advantage of the improved hardware on the PS5, this means that PS4 games will eventually get PS5 support.
Pricing & Release
The real question everyone is asking now is: when will the PS5 release? Sony has not announced any specific release date but has confirmed that it would be sometime in November. Pre-orders will be unlikely until a release date is confirmed.
Sony was very tight-lipped about giving out additional information as they just wanted to show off the next-gen console to start the hype train and keep all the fans excited. We all know how the PS3 struggled when it was released for an exorbitant price. Hopefully, if sony wants to satisfy gamers and maximize profit around India they'll have to price it affordably and also compete with Microsoft's Xbox series.
The expected price tag seems to be $450 or around ₹40,000. One of the PS5's lead architect Mark Cerny stated "I believe that we will be able to release it at an SRP (suggested retail price) that will be appealing to gamers in light of its advanced feature set".
Conclusion
The next-gen PlayStation 5 package looks extremely promising, it looks like Sony is going all out for the next-gen console wars with the number of exclusive titles and hardware specs. But we'll have to wait for the final pricing to seal the deal. Stay tuned to Meshpie to get the latest news and updates about technology!