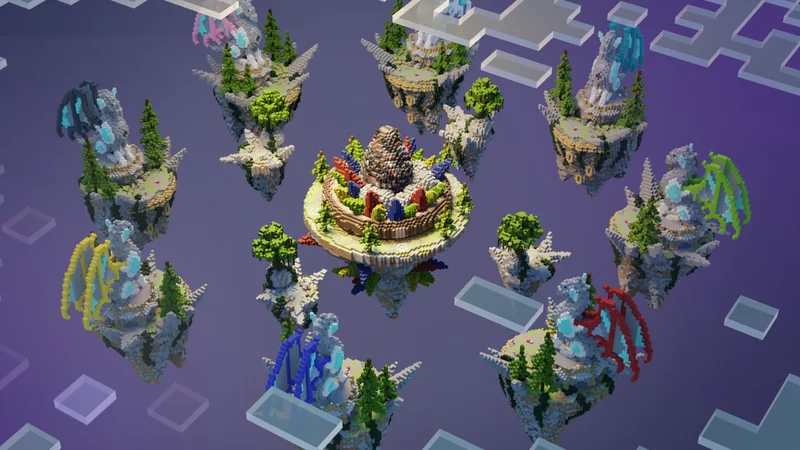 In Minecraft multiplayer servers, Bedwars is becoming the most popular gamemode (after survival) of Minecraft players . This gamemode came to life very recently around 2021 and is already taking the spotlight from any other gamemode. Day by day this game is gaining more and more popularity.
This gamemode is fully based on the teamwork of 2 or 4 players and their only motive is to destroy one another's bed to get the victory. There are 10+ maps for Bedwars that people like to play. Every map has a different appearance to enhance the experience of playing. 
Minecraft's most popular server, Hypixel (The no. 1 Minecraft server in the world), is famous for Bedwars. Hypixel(Ip:hypixel.net) has pioneered and popularized the modern Bedwars game mode and dominates all other servers in 2021 today. Hypixel's investment in Bedwars is the most. It is the most popular Minecraft server to play Bedwars on, the only problem is you need a premium account to play on it. So, for Bedwar players there are many cracked servers of which the top 5 are listed below.
How to Play Bedwars in Servers?
In this game, players spawn in eight (Solo/Doubles) or four (3's/4's) teams of up to four players (1 team gets 1 color island), collect resources to get stuff from the provided shop in that island, and can also upgrade their armor and all. They need to protect the bed with blocks available in the shop.
As long as the bed is there they can respawn at their island but once the bed is broken by other teams, players can't respawn after they die, and they will have spectator mode. To upgrade gears players need diamonds which they can collect from side diamond spawning islands by bridges. The last to last player who can protect a bed or manage to destroy another's bed and kill gets the "VICTORY". 
But players manage to stay alive with their beds, then the final round of the deathmatch round starts where beds are broken automatically and players just have to duel with each other and win.
Top 5 Minecraft Bedwars Servers 2022:
Blockdrop Network
Blockdrop server is one of the best Bedwars servers. Besides having other different gamemodes like survival, Skyblock, prison, etc., the Blockdrop server specializes in Bedwars. This server works hard on anti-lag gameplay which also makes it one of the best servers. It has various lobby divisions so that it can reduce entity cramping. This server provides the players with almost all the variety of Bedwars maps available. 
Players can also try its Survival or Skyblock which is pretty amazing and adventurous, although they offer vanilla survival.
BlockDrop Network has also recently added a new Sims-inspired game mode called City Life, which can be something new for players to try as well in the game, where you need to grind for money by doing jobs and get a house and live a city like life.
Ip: superepicgaming.club
Tags: BedWars  Cracked  Economy  Faction  Prison  Skyblock  Spigot  Survival

Herobrine
One of the most popular servers Herobrine is also famous for its Bedwars and Survival mode. Besides having a beautiful lobby, this server also provides its players with other gamemodes like Survival, Skyblock, Factions, Earth Towny, Sky Wars, etc. This server is one of the spectacular-user bases for Bedwars. This server also provides the players with almost all the variety of Bedwars maps available.
Recently they are working on their anti-lag and anti-cheats also to prove the gameplay of the players. Players interested in joining this server can use any version of Minecraft to connect. Even there are PvP options in their lobby which makes the players more competitive.
Herobrine offers two types of survival modes, with active mobs and without active mobs. So people can have a different experience. Joining this server for Bedwars or any other mod is worthy.
Ip: mc.herobrine.org
Tag: KitPVP Skyblock Skywars BedWars Minigames Towny PvP Oneblock Faction Creative Survival
PikaNetwork
The Pika Network exceptionally well-known cracked server for its Bedwars gamemode. They also offer other modes like Survival, Skywars, Skyblock, etc., but their Bedwars make them one of the top servers on the list. Besides having a few already known Bedwars maps, they also offer some handbuilt, unique Bedwars maps. This feature enhances the experience of gameplay and also showcases their extreme creativity. 
Also, unique to the server are the in-game Bedwars powerups and rank upgrades, making the experience noticeably different strategy-wise to the standard Hypixel layout. Also, they have well-sorted anti-lag and anti-cheat which makes their server stand out. Players can form their guild can participate in ranked matches, adding a fun layer of competitiveness to the server.
You can also join this server for other gamemode experiences.
Ip: top.pika.host
Tag: Skywars Skyblock Minigames Manhunt Faction KitPVP Prison BedWars Survival PvP Oneblock
Mineland Network
Mineland, one of the well-known servers for its creativity and contests, is also known for its active Bedwars audience. This server is creative from the core. Besides having pre-made maps, it allows players to design their mini-games, Bedwars, and other maps. Talk about uniqueness and experience. They also host regular contests, build battles and also showcase the best builds people make.
Mineland server also has executed a very well-made in-game economy for these modes and shoved the players with many bonuses like kits and other perks. This makes the players more competitive and attractive. Players have a very nice experience in the Mineland server.
Lastly, so much variety and interesting maps make them an excellent choice for players who love to play Minecraft Bedwars.
Ip: hd.join-ml.com
Tag: Prison Survival KitPVP BedWars Skyblock Minigames Creative Skywars PvP
JartexNetwork
JartexNetwork currently has become one of the best Bedwars servers. This is also a Cracked Minecraft server, which means it's open to both Regular and Cracked players. Jartex is a popular place to play Bedwars outside Hypixel and other top Bedwars servers. JartexNetwork is very similar mechanically and stylistically to the version of Bedwars that gives Hypixel experience. This server is also growing more and more since its first release. Also unique to the server are the in-game Bedwars powerups and rank upgrades, making the experience noticeably different strategy-wise.
This server also offers many different Skyblock, BedWars, Minigames, Survival, etc. Users around all over the world playing here have experienced amazing gamemodes and enjoying their time here with their beloved community.
Ip: top.jartex.fun
Tag: Oneblock Prison Skywars KitPVP Faction PvP Cracked Skyblock BedWars Minigames Survival2wsxa wz
Also Read: Top 10 Minecraft Servers in India 2022