While browsing the web or downloading videos, some of you might have come across WebM video format online. This can be spotted on some of the most popular websites due to the format being royalty-free. While it is designed for the web, you might face some problems in this particular format. Here is a detailed guide about how to convert WebM to MP4 easily for free. 
Also Read: Top 5 Youtube to WAV converter 
WebM format is primarily used in HTML5 video and audio elements, people still want the regular MP4 format because it is easy to edit and the quality is much better. The only advantage of having a WebM format is the size. The compression level compared to MP4 is much lower in the WebM format. 
The quality also gets compromised along with the compression and the editing features. When compared in Android, the videos fail to load properly in the WebM format let alone editing the video. Therefore conversion is very important for the editors if they're downloading a video straight from the web. 
Convert WebM to MP4 
There are many tools available in the market that can help you convert these WebM files into MP4 format. Softwares are available for online users as well as offline users. 
Offline Softwares
One of the biggest advantages of an offline converter is they are loss-free. There will be minimal or no loss while converting the videos. Also, there is no size limitation on the offline converters so you can convert a file as big as 1GB or as low as 1MB. Here are some of the best offline converters below. 
VLC
This might hit you by surprise but VLC has an inbuilt converter. It is fast and safe to use with the options easily available at your fingertips. Download VLC from the links below and follow the steps to convert WebM to MP4 easily.
Step 1: Open VLC media player
Step 2: Click on Media in the top left corner and select "Convert/Save". You can also use the shortcut Ctrl+R.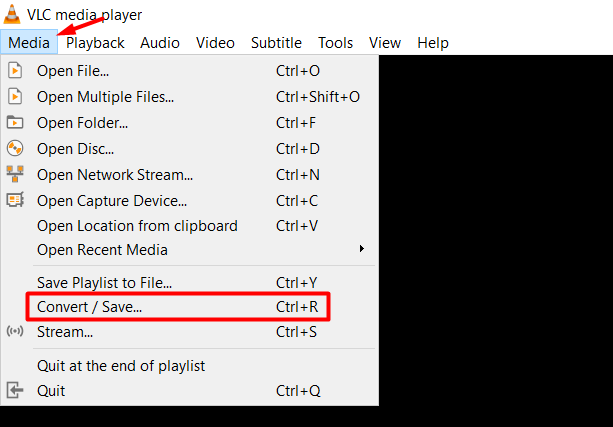 Step 3: In the new dialog box, locate your WebM video which needs to be converted and click on convert.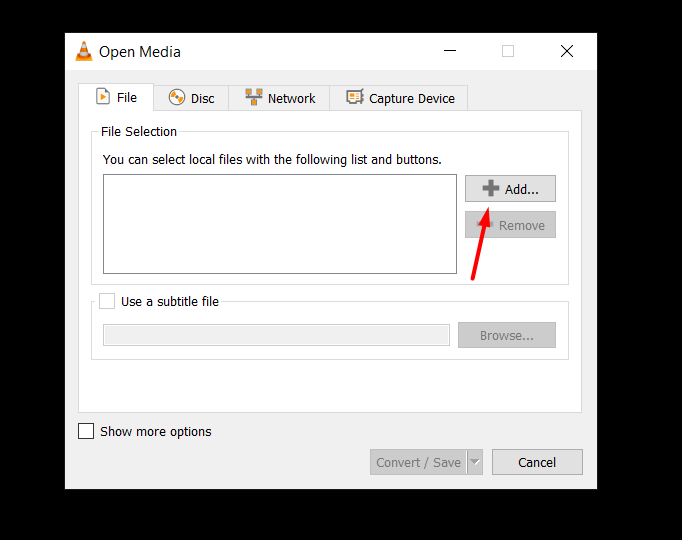 Step 4: Select the MP4 format as shown in the image below along with the destination.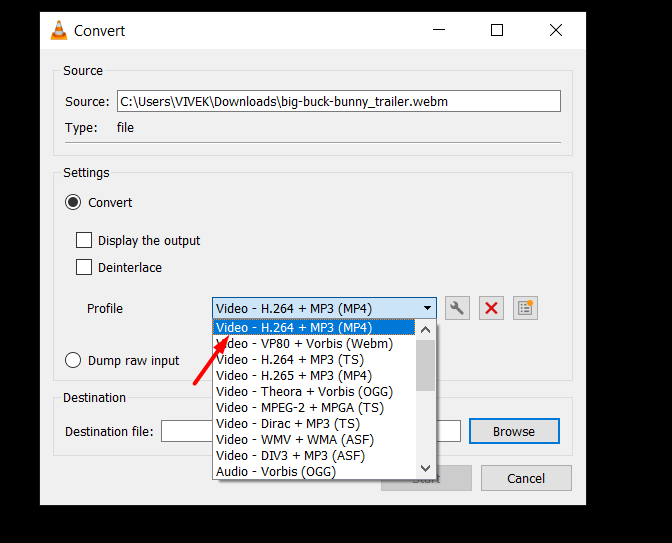 Step 5: Click convert. 
Freemake Video Converter
Freemake is a brand on its in the market right now. With softwares in many categories including downloaders and audio editors, Freemake Video Converters will help you convert WebM to MP4 easily. The only limitation is the free version includes the Freemake watermark after conversion. To use the software without the watermark, you need to buy the premium version.
Another limitation is the non-availability of the software for Mac users. If you're a Windows user, you're good to go but for mac, you need to check the alternatives.
Step 1: Download and install Freemake Video Converter from the link below. 
Step 2: Drag and drop your WebM file onto the tab or click "Video" and select your file.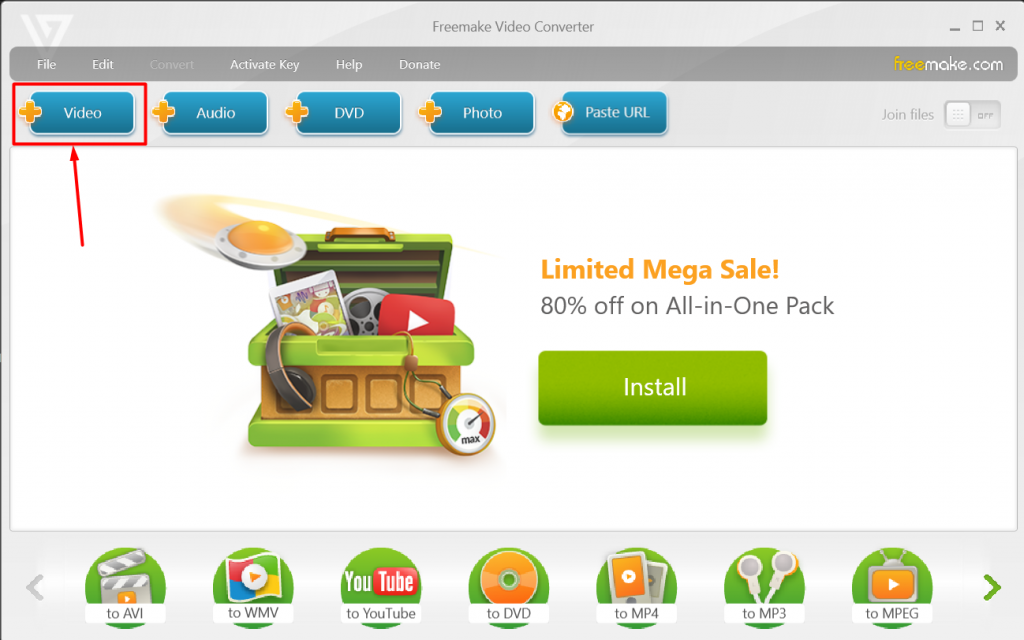 Step 3: From the bottom menu, select "to MP4".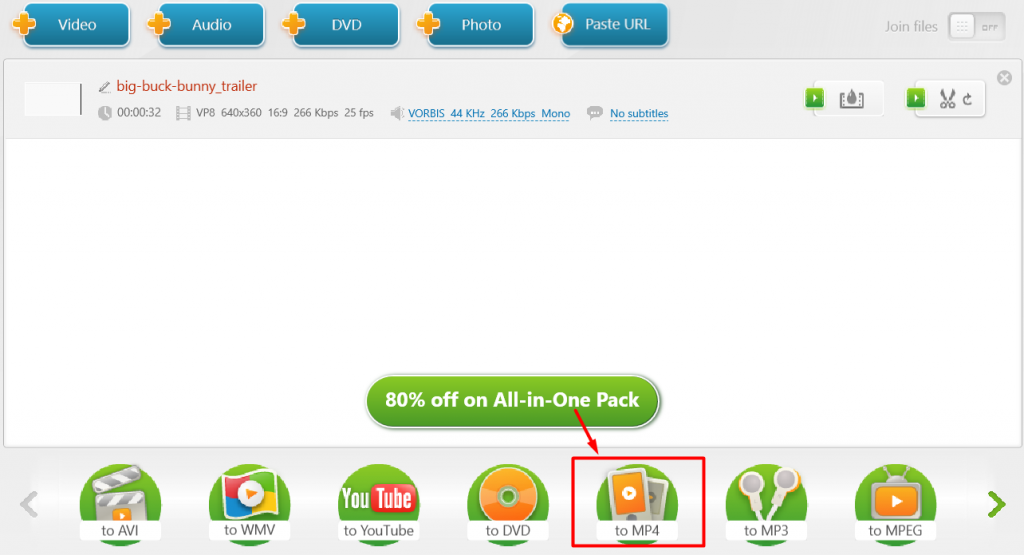 Step 4: You can choose your desired size or reduce it. Click on Convert.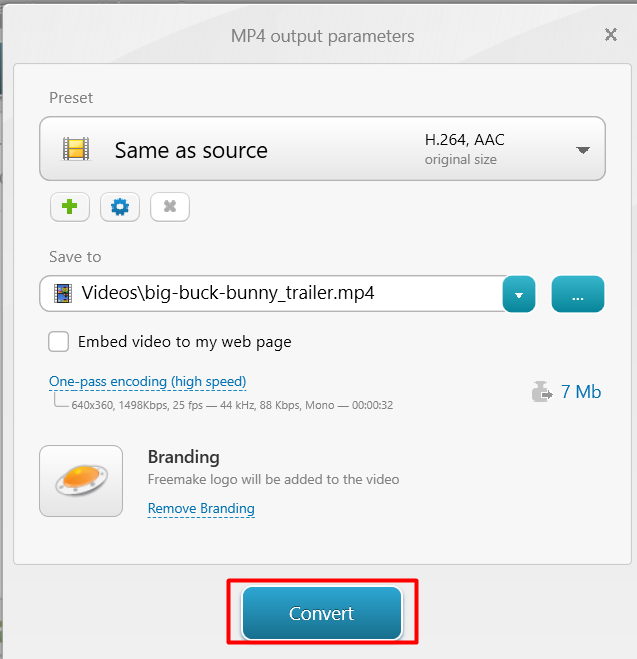 It will give you a prompt about the logo being embedded into the video. Click ok and proceed.
Handbrake
Another open-source and free converter you can download and use that supports various file types including WebM. The software is free to use without any limitations. One of the highlights of Handbrake is preset options. The software has many options you can configure but automatically selects the best ones according to the type of video you're uploading. 
The presets also considers your PC specifications to make sure you get the best output and conversion of your videos. 
Step 1: Download and Install Handbrake from the links above.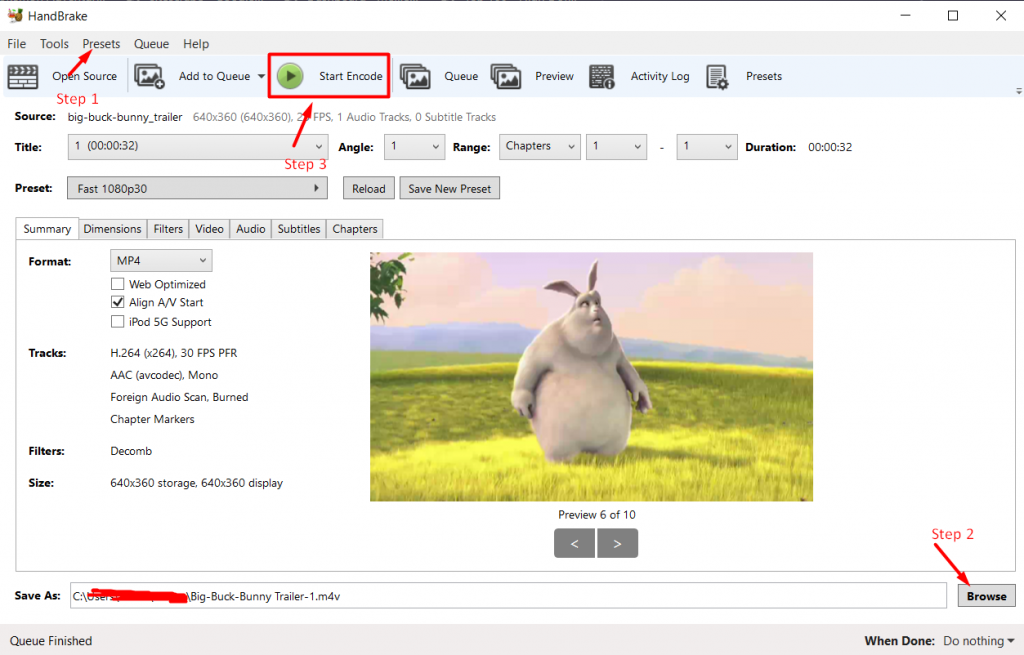 Step 2: Drag and drop your video or click the select file option from the left panel. 
Step 3: Choose the destination and format. 
Step 4: Click on "Start Encoding". 
Online Converters
There many websites offering these conversion solutions for the users. They are fast and quick but they have their limitations when it comes to converting videos. Here are some of the pros and cons of converting WebM to MP4 through an online converter. 
Pros
Useful for quick conversions
Installation not required
Lots of converters to choose from 
Cons
File size limitations
Batch file conversions not allowed
Potential Quality loss
In short, online converters should be used only when you require short conversions. You should use them when the file size is low. 
Steps to convert WebM to MP4 for an online converter is simple while using any service. 
Step 1: Drag and Drop your file onto the site. 
Step 2: Select MP4 format. 
Step 3: Click Convert.
While online converters are fast, we will still suggest you go for the offline options. You will have many other features to choose from and not lose the quality of the video. Some of the best online video converters are Zamzar, Media.io, Convertio, and Cloudconvert.
Frequently Asked Questions
Can VLC play WebM files?
Yes, VLC media player supports many extensions including WebM which can be played smoothly in the player. 
Is WebM better than Mp4?
No, MP4 has better quality than WebM and when it comes to editing, many editors do not support the WebM files and might give you an issue. The only area where WebM is better than MP4 is the size which is quite compressed when compared to MP4. 
Is Convertio Safe?
It's better to use an offline editor which are more trusted than online converters. While companies may claim that they do not steal your information, you have no idea what goes on behind the backend of the website. Still, there were no problems as of yet that we noticed in Convertio. 
Is WebM smaller than MP4?
Yes, WebM is compressed so it's quite smaller than MP4. 
Can VLC convert WebM to MP4?
Yes, VLC has an inbuilt converter which can convert WebM to MP4 easily. The steps are mentioned above in detail.