Hello gamers, for those who are surfing the internet searching for their perfect gaming mouse, we have compiled the list of some of the 'Best gaming mice' to get your hands on right now! There are so many mice in the market with each having new and enhanced features. Which mouse will help me improve my aim? How do I know what are the top mice? Here you go, we have sorted them according to our preference and their reviews. Depending on your game, play-style, and usage, you will have to see what suits you because not even 'The best mouse' might actually suit you.
All dimensions are in LxWxH.
Razer Viper Range:
Razer has made so many insane gaming mice so far that rocked the whole industry. With its recent release, Viper has been welcomed very well by our gamers and reviewers.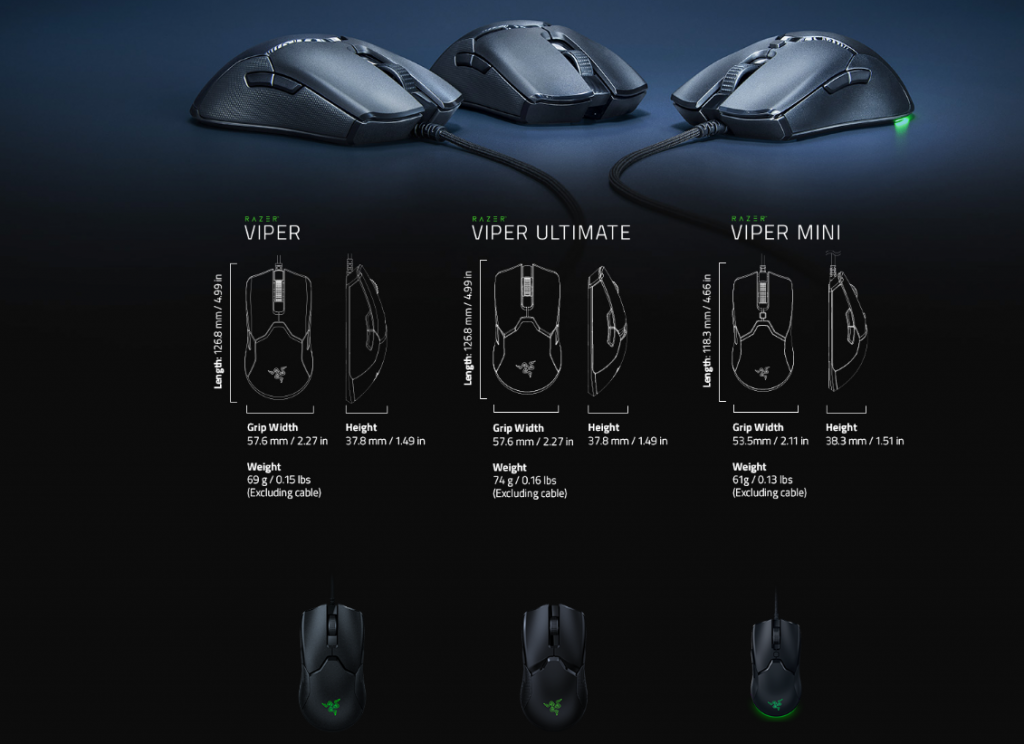 There are currently three mice in the Viper series.
Razer Viper
Razer Viper Ultimate
Razer Viper Mini
The Razer Viper Range mice are entirely esports peripherals meant to boost your aim and accuracy in games like Valorant and CSGO. It's quick and responsive, everything you might just need to be a pro.
Let us see the difference between the three mice,
Razer Viper:
Razer Viper is recommended for medium to large hand sizes. Even though the mouse is pretty light, it is quite big.

Weighing about 69 grams, which is just the lightweight mouse u might need with its dimensions being

4.99 x 2.61 x 1.49 inches.

It only has the Razor Chroma RGB on the logo.

Razer Speedflex wired gaming mouse.

It has about 8 programmable buttons to play with.

It has a 16,000 DPI optical sensor which is more than good.
Razer Viper Ultimate:
Similar to that of Razer Viper, the razer viper ultimate is also pretty big, hence it is suitable for players who have a medium to large hand size.

It weighs about 74 grams and its dimensions are

4.6 x 2.8 x 1.5 inches.

RGB lights are just the same as the original Viper, only for the logo.

A wireless mouse(Hyperspeed) which rivals the dominant wired mice out there and holds up to 70 hours of non-stop gameplay 

Has 8 programmable buttons.

Offers a humongous 20,000 DPI optical sensor.

Since it is a wireless mouse it comes with a wireless dock.
Razer Viper Mini:
The Razer Viper Mini is one of the lightest mice that you can lay your hands on. With a weight of 61 grams, it is meant for players with small to medium hand size, rivaling that of the famous model-o. 

Its dimensions are

4.66 x 2.11 x 1.51 inches.

Unlike the previous two versions, this offers RGB lights for the logo and the Underglow.

Has 6 programmable buttons.

Offers only an 8500 DPI optical sensor.
Pros:
✔️  Very accurate and responsive
✔️   Fast clicks
✔️  Ambidextrous(for both left and right-handed)
✔️  Exceptionally light
Cons:
❌  Design isn't for everyone
❌  DPI button is off-putting
Overall, depending on your requirements, the Razer Viper Series is without a doubt, a must-buy one.
Note that these 3 mice are recommended for Claw and Fingertip grip style users.
Logitech G502 Lightspeed : (Best Wireless Gaming Mouse)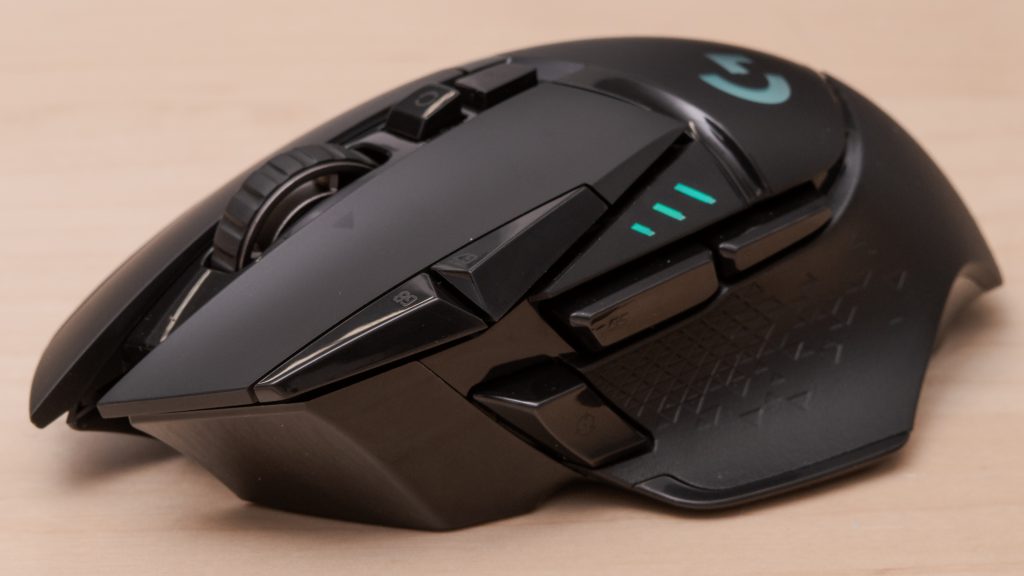 Logitech has never ceased to amaze us with its new releases. Even though Logitech has an insane arsenal of mice, the G502 Lightspeed remains a top tier pick for gaming. Here's why,
The lightspeed version of the G502 is a wireless mouse with a 'Lightspeed' sensor which is incredibly accurate reaching up to 16,000 DPI.

It has a massive 11 programmable buttons and the fastest scroll wheel in the market.

It has the Lightsync RGB lights similar to the other Logitech ones.

60 hours of continuous gameplay with just after 2.5 hours of charging.

This includes six adjustable weights (2x4g and 4x2g) which can be arranged in any order to offer you the perfect weight balance. 

Its dimensions are

5.17 x 2.96 x 1.62 inches

and it weighs about 121 grams without any extra weights.
PROS:
✔️ Perfect Weight Balance
✔️ One of the best sensors
✔️ Wireless
✔️ A very good and aesthetic build for gamers
✔️ Great for MOBA since it has many programmable buttons.
CONS:
❌ Only for right-handed players.
❌ The grip might not be suitable for everyone.
❌ Not suitable for small hands.
❌ Extremely pricey
Logitech G502 has another version called the HERO 16k. Both are pretty much the same with HERO being a little heavier and having a wired connection.
Steelseries Rival 600: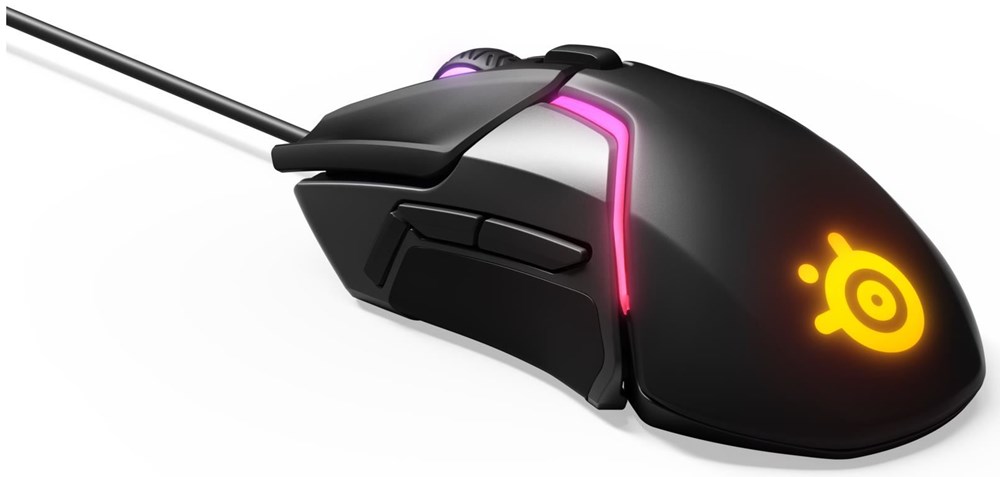 Steelseries has always been on the top of the peripheral market with its Rival 300 being a massive hit in the gaming community. Its recent release, the Steelseries Rival 600 is a mouse to definitely look out for. With its pleasing design and gorgeous colors, the mouse stands out from the crowd.
Its dimensions are about

5.1 x 2.7 x 1.6 inches

with its weight being about 96g which is adjustable up to 128 grams with extra weights.

The mouse has 4x8g extra weights, with 4 on each side.

It has a

12,000 CPI TrueMove3+ Dual Optical Sensor.

The mouse offers 7 programmable buttons to set macros.

The best feature of the mouse is its 'lift-off system', which lets you lift the mouse 0.5mm above the mouse mat, and never again will you have

unnecessary movement when you pick up and put down your mouse.
PROS:
✔️ Very attractive RBG lights
✔️ Good 'lift-off' system
✔️ Good for any style of mouse grip
✔️ Aesthetically pleasing
✔️Perfect Weight balance.
CONS:
❌ Very pricey
❌ Not suitable for left-handed 
❌ Slightly awkward shape
Glorious Model O
:
(Best Lightest mouse) 
The Glorious Model O is our pick for the Best Lightweight mouse on the market as of now. Lightweight mice have become a recent trend in the gaming industry with the release of Glorious Model O. The mouse offers perfect accuracy as you don't even have to worry about the weight. The mouse has a great look with its HoneyComb design and a crisp matte or a clean glossy finish.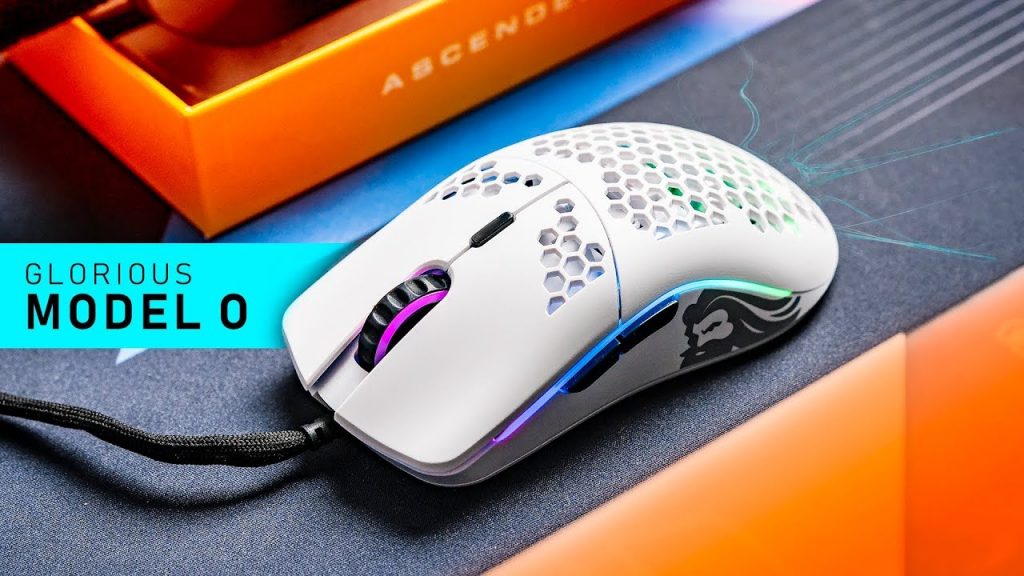 The mouse weighs only 67 grams and its dimensions are

5 x 2.6 x 1.4 inches.

It has 6 programmable buttons like any other gaming mouse.

The mouse has a Pixart 3360 sensor that offers zero acceleration and less than 0.7mm lift-off distance.

Up to 12,000 DPI.

HoneyComb design for a lighter mouse.

Great mouse for claw and fingertip style players.
PROS
:
✔️ Best lightweight mouse
✔️ Very precise and accurate
✔️  Smooth gliding and tracking(due to G-Skates)
CONS:
❌  HoneyComb design – Not appealing to many
❌  Expensive
❌  Holes might need cleaning
Razer Naga Trinity:(Best MOBA mouse)
Razer's Naga Trinity is the best mouse that you could think of when playing a MOBA or an MMORPG where you require 10+ programmable side buttons. These are not only comfortable but can also be extremely handy.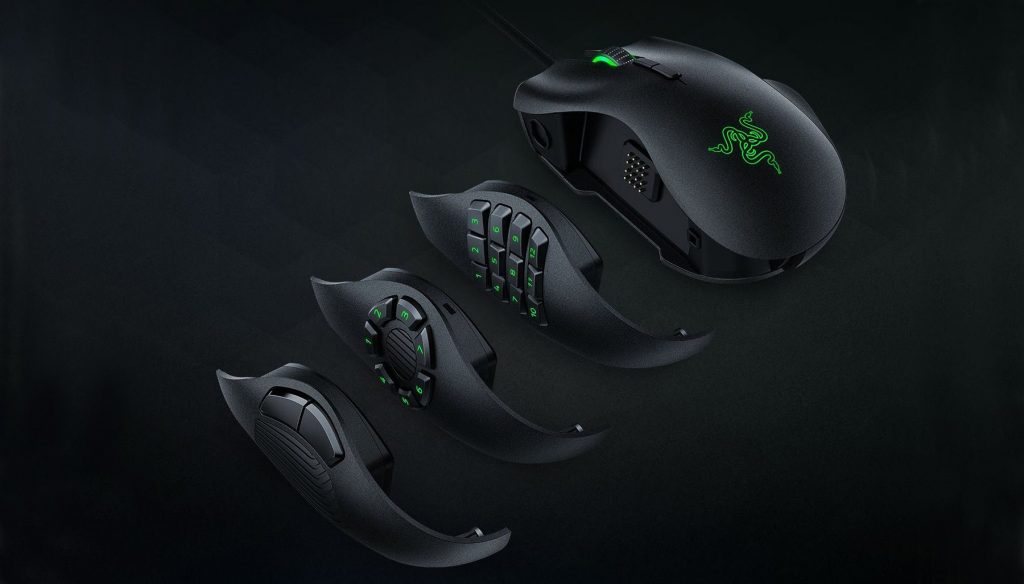 The dimensions are

4.69 x 2.93 x 1.69 inches

and it weighs 120 grams.

The mouse has 3 interchangeable side-plates with each having its own configuration, a 2,7, and 12 button configuration. You can swap them whenever you want, depending on the game. 

It has an advanced 5G sensor offering up to 16,000 DPI.

Ergonomic right-handed design with an enhanced rubber side grip.
PROS
:
✔️ Very good for MOBAs and MMORPGs
✔️ 3 interchangeable side-plates, hence can even be used for other games.
✔️ Great side grip
CONS:
❌ Quite heavy
❌ Pricey
❌ Not ambidextrous
Zowie EC series:
Zowie mice being the official Esports mouse, are used in many official tournaments and majors. That's how good their mice are. Zowie mice are definitely one of the simplest and ergonomic mice you'd ever see.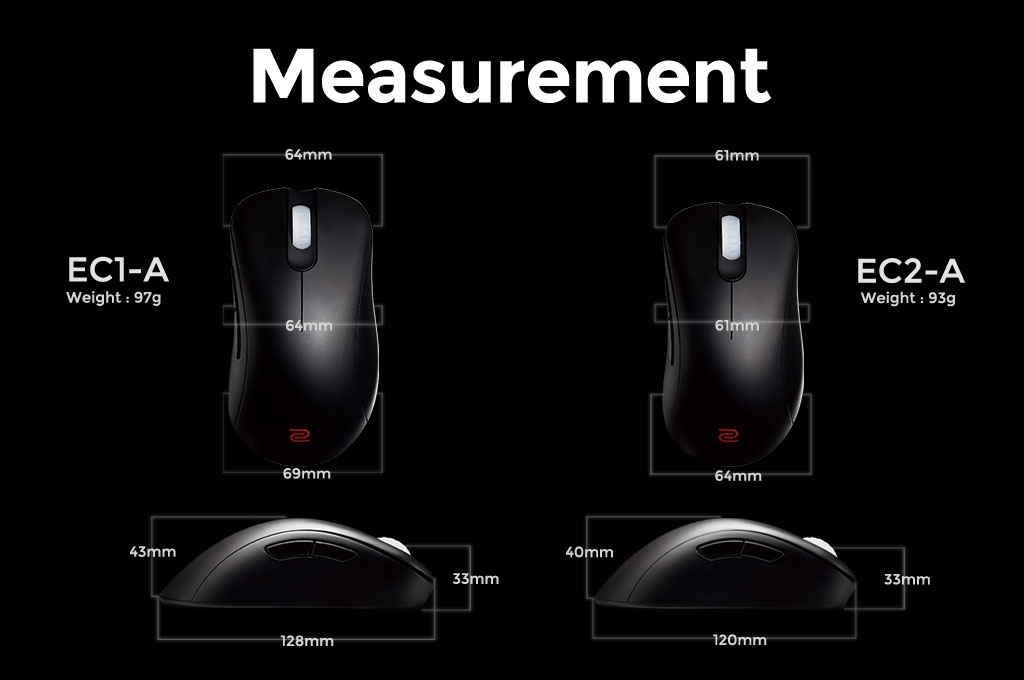 The best part about the Zowie mice is that they are ergonomic and visually and physically appealing to hold. 

They come in varying sizes basically, the EC-1(large) and EC-2(medium) to further push for the player's personal preference.

400-3200 DPI adjustment.

It uses the 3360 Sensor for perfect precision.

The EC-2 is good for small to medium hand size while the EC-1 is good for medium to large hand size.
PROS:
✔️ Light
✔️ Multiple sizes
✔️ very simple yet ergonomic design
✔️ Very good for palm/claw grip users
CONS:
❌ Fewer features than similarly priced mice
❌ Limited DPI range
❌ Lack of proper attractive RGB lights
HyperX Pulsefire Surge:
HyperX continues to live up to its reputation with this one in the high-level peripheral market. It is a well-specced, well equipped RGB gaming mouse.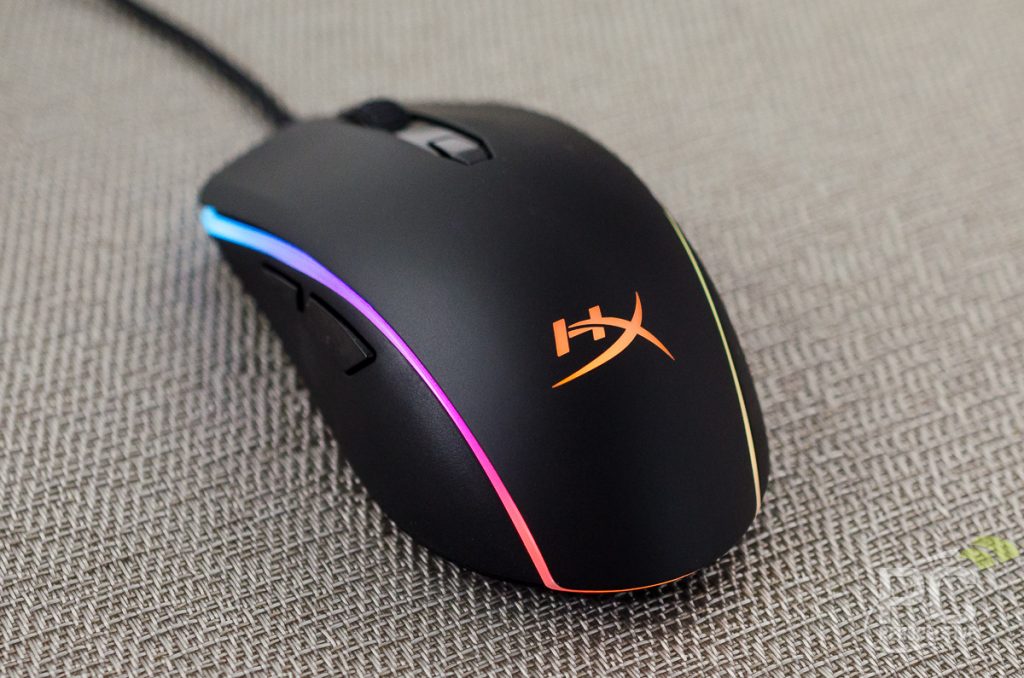 Dynamic 360 degrees RGB effects called the 'Light ring'. 

Pixart 3389 Sensor with native DPI up to 16,000.

Large skates for smooth gliding.

6 programmable buttons with a good side grip.

Its dimensions are 4.72 x 2.48 x 1.61 inches weighing about 100 grams without the cable. With the cable, you could add about 30 grams on the scale making it heavy.

Pinpoint accurate ambidextrous mouse.
PROS:
✔️ Looks classy with the 'Light ring' RGB
✔️ Very good Omron switches and skates
✔️ Good for claw/palm grip style
CONS:
❌ A bit pricey comparing the other mice in the Pulsefire series.
❌ Comparatively a bit heavier.
These mice are in no particular order and are purely based on personal preference. They are all best in their own rights. 
Hope this helped, to know more about how to choose your ideal mouse, click here!
Let us know what you think in the comments below.