Are you looking to get a new internet connection at your home during this pandemic? Well, ACT Fibernet in Chennai has some good plans that can get your internet problem sorted. I have been using ACT since its launch in Chennai when they had the basic 20 Mbps plans to now where the basic plan is 50Mbps and the max is at 1000 Mpbs.
ACT Fibernet Chennai Speed test –
Before I show you the ACT Fibernet Chennai speed, let me share with you the plan I use along with it's cost.

The plan I use is the ACT Blast Promo which costs ₹1075 + taxes which totals to ₹1,268.50 per month. This plan gives 2500GB per month after the recent ACT plan upgrade that happened last month.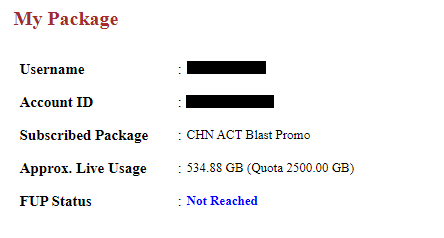 ACT Chennai Blast Promo plan speed test :
Speedtest.net Speed test results –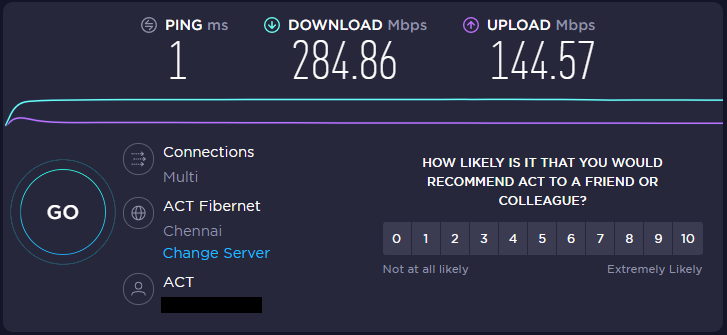 Fast.com Speed test results –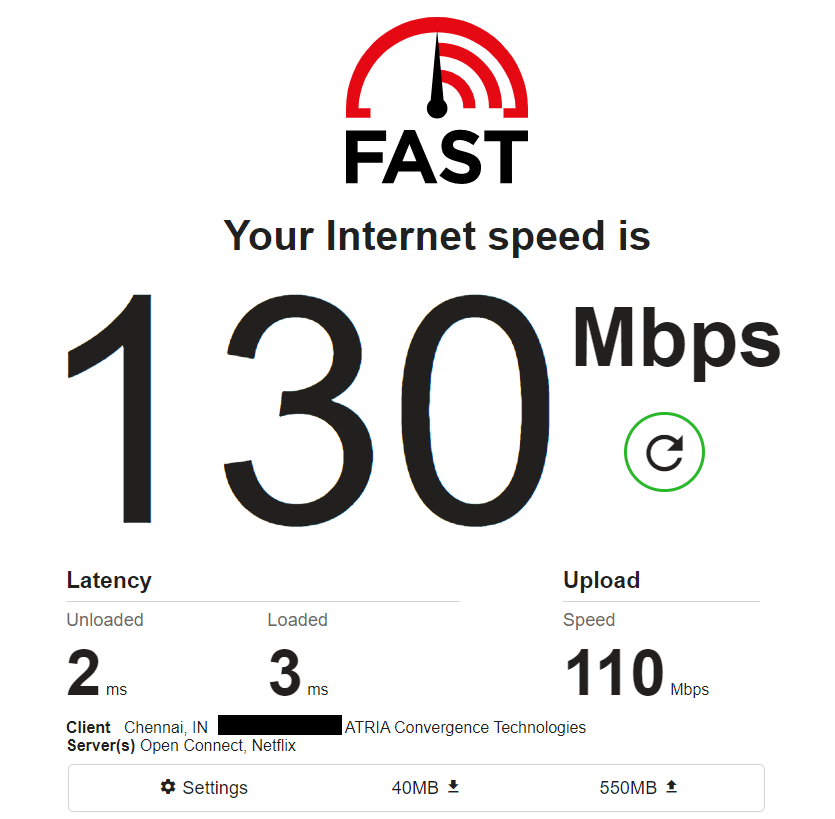 Netspeed.one Speed test results –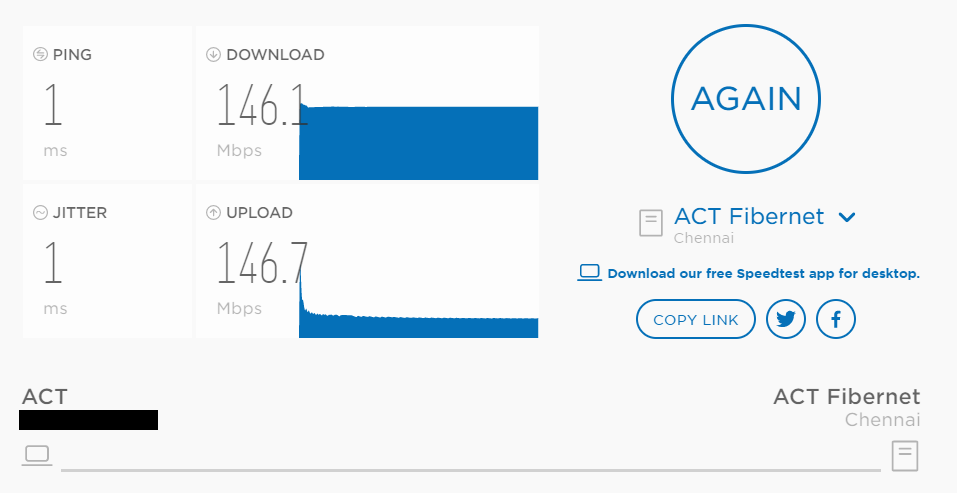 Projectstream.google.com Speed test results –

The reality check – ACT Fibernet SmartPhone speed tests –
The speed test was noted from a room that is 10 feet away from the provided router by ACT Fibernet Chennai. They provided with the Archer C5 which is a dualband router with 4 antennas. The smartphone used to test the speed is a Realme X. Below are the screenshots for the ACT WIFI Speed test –
The screenshot on the left side shows is connected to the 2.4GHz and the one on the right is connected to the 5GHz network. The WIFI router is more than enough for my house which is spread across 1200 square foot with three bedrooms. Irrespective of where I am, the WIFI signals are strong and speeds are good enough to stream media on my smartphone or laptop.
ACT Fibernet Plans in Chennai –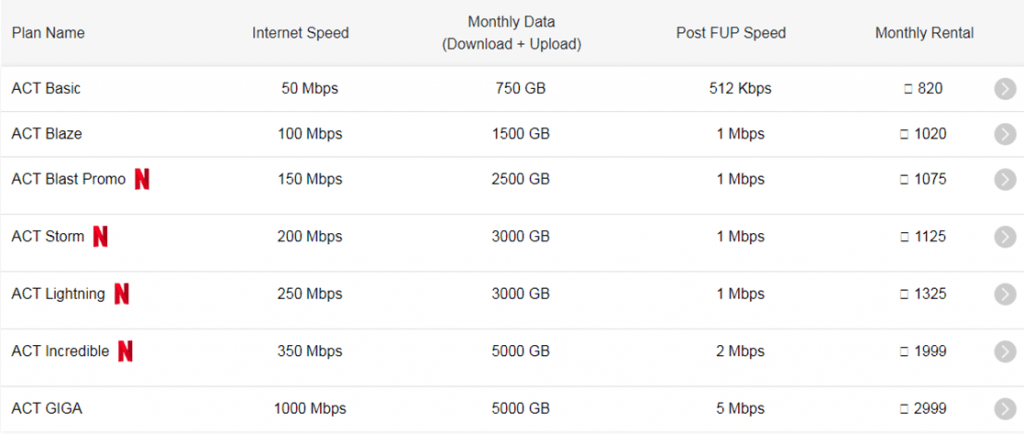 Apart from the above mentioned plans, ACT Chennai also provides offers. In my case, I got my two months at the cost of one (plus security deposit) as an offer was going on. Here's a screenshot from Chennai ACT website which would give you a better idea –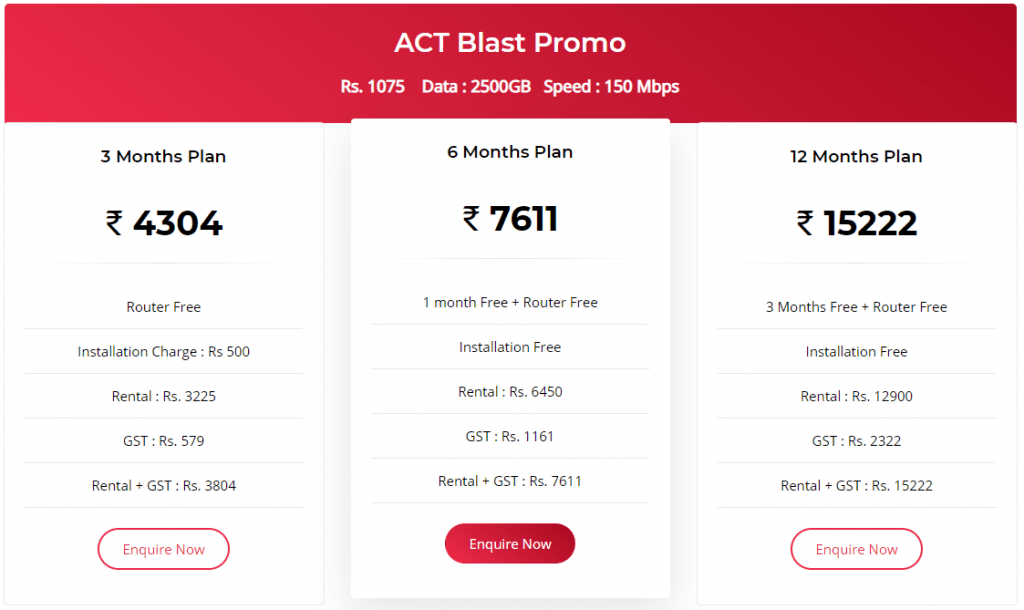 Conclusion –
ACT has been in Chennai for over 5 years now and has been one of the best Internet providers ever since. There are lots of other internet providers in Chennai like Hathway, Cherrinet, Airtel, Jio fibernet and more. But many people have complained about the packet loss or the service and many other different problems. But personally being a tech savvy person who uses the internet for media, gaming, streaming, and downloading content, ACT has been seamless at most at all times. Their timely response (at least in my area) has been really helpful when any problem occurs.
How to Increase Internet Speed in Windows 10 Using Command Prompt

Is your internet still slow? Then click on the above link and increase your internet speed!
ACT Fibernet Chennai FAQs
Is ACT Fibernet good in Chennai?
Absolutely, ACT Fibernet has been super stable with very less problems and speed drops. It is perfect for tech savy persons who would like to game on low ping without any stutters or packet loss. Same way for media consumption, there won't be any buffering even on 4K streaming.
Which ACT Plan is the best in Chennai?
The best ACT Fibernet plan honestly depends upon your usage. The cheapest plan in ACT costs 820+GST and has a FUP limit of 820 GB which would be ideal for a work from home scenario with less streaming. If you are a heavy internet user, ACT Blast Promo would be ideal with 2500GB limit at 1075+GST.
Which WIFI is best in Chennai?
ACT Fibernet in Chennai and has some pocket friendly internet plans along with free WIFI model plans. As of November 2022, ACT Fibernet in Chennai provides Archer C5 WIFI Router which is super good and gives decent speeds on 2.4GHz & insane speeds on 5GHz.