Xiaomi launched their new MIUI 12 latest update to their smartphones with millions of users, Xiaomi is staying up to date in pushing android update just six months only when they launched their MIUI 11. Now Xiaomi added revamped features in MIUI 12 protrude from other ROM's with enhanced Android ten performance to their older device support through MIUI to intact the latest features. In this MIUI 12, Xiaomi added a new User Interface, Animations, Control Center, Gesture System, Floating Window, Super Wallpaper, Privacy Protection, Dark Mode 2.0, Focus Mode, Earthquake Warning, New Battery Indicator and Network Diagnostics, AI assistant.
1. User Interface
MIUI 12 has more elegant and minimal instinctive and more refreshed new UI apart from other MIUI 11 from last year; This year, Xiaomi brings a dynamical architect UI and adds a new athwart animation device, including icon deletion, opening, and closing of apps, so on.

This time, Xiaomi added the buttons a bit more extensive and made it user-friendly to access the device; you can always adjust the device's text size if you feel overwhelmed with the largest text. In this period, there is more elegant visual design rather than text.
The new weather and battery animation added these animations where pop-outs the real interface of the device. This time Xiaomi consider new android animations in precisions and balance between the framework.
2.Super wallpaper
Xiaomi added the live wallpaper in MIUI 12 after the google live wallpapers from the trends, Xiaomi said the super wallpaper with more dynamic interstellar wallpaper of mars and earth. This wallpaper has more climactic animation.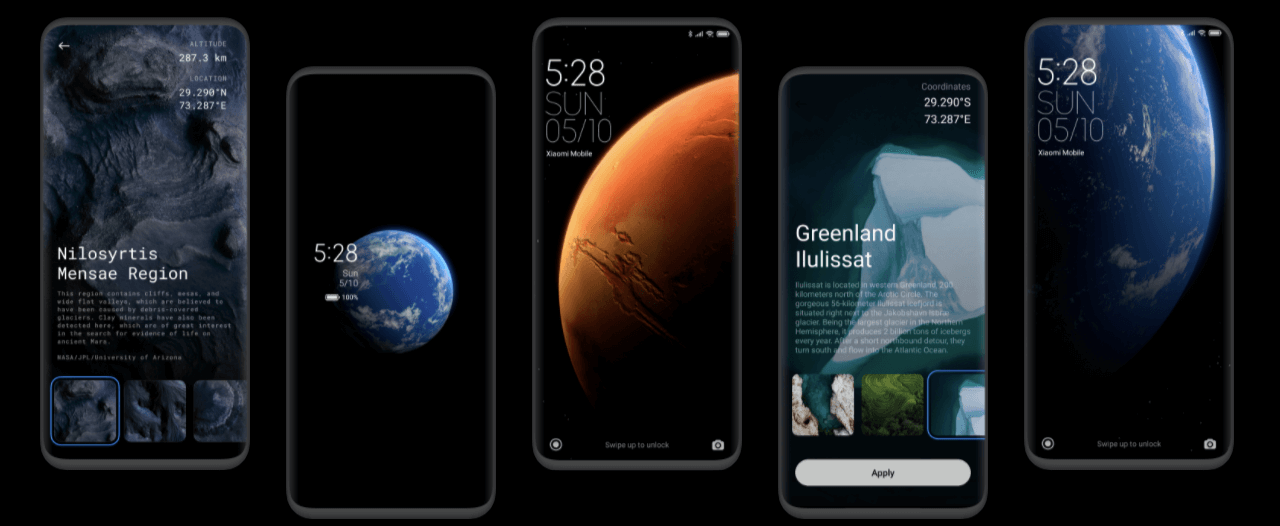 When you unlock the phone wallpaper lead closer to the planets with splendor animation, you swipe across the display show's planet surface move according to the touches. The device will become part of nature. Now with always-on display options, you can create your own customized always-on display themes with font, artwork, and text.
3.Control Center
Xiaomi has now separated the notification center and quick settings into two separate things to access the quick settings. The quick settings panel is now renamed into the control center to access the control center with a quick swipe from the top-right side will bring down the control center. To access the notification center, you can now access the top-left side to do the work, and if you want the old quick settings menu, you can disable the new control center from the settings menu.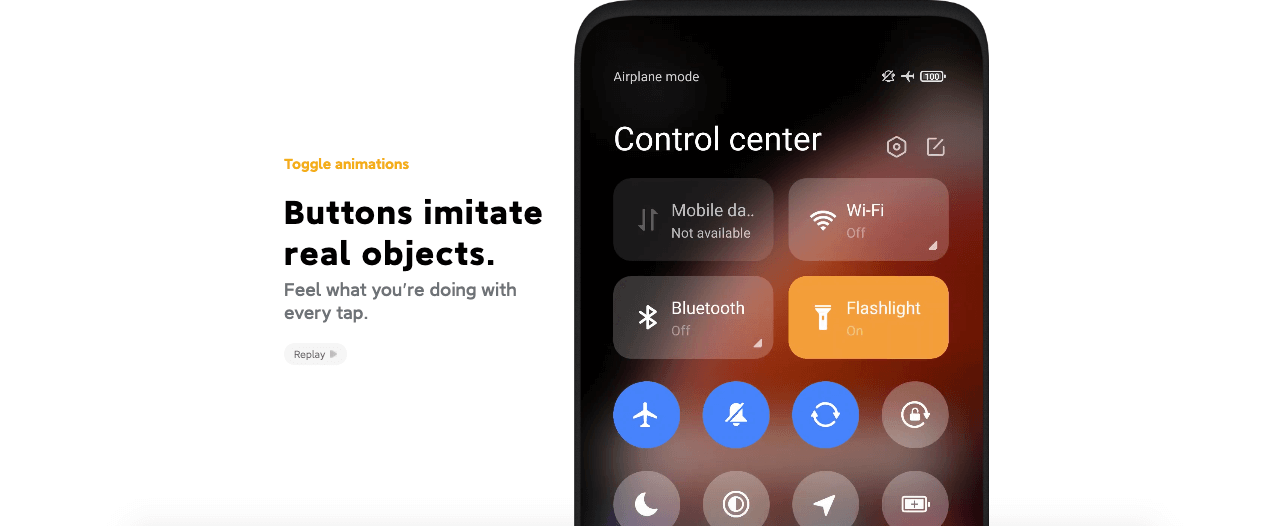 4.New Gestures
Xiaomi packed this MIUI 12 with new Android ten gestures like a stock android gestures were replacing the last year MIUI gestures is a bit confusing to navigate through Android.
If you swipe from the edges of the screen to go back, to open a recent app, a quick swipe from the left and right bottom of the screen will do the work, swiping from the bottom center of the screen will bring you back to the home screen. 
5.Dark mode 2.0
Xiaomi already has a dark mode in MIUI 11 this time they added some progress in dark mode color. Colour consistency, when dark mode 2.0 is turned on, the system-wide dark-mode is applied along with dynamic wallpaper, which changes the wallpaper according to a dark-mode, which is more useful for OLED display devices, which helps to save the battery life for the device. Now you can add a dark-mode for specific apps too, and you can schedule dark mode.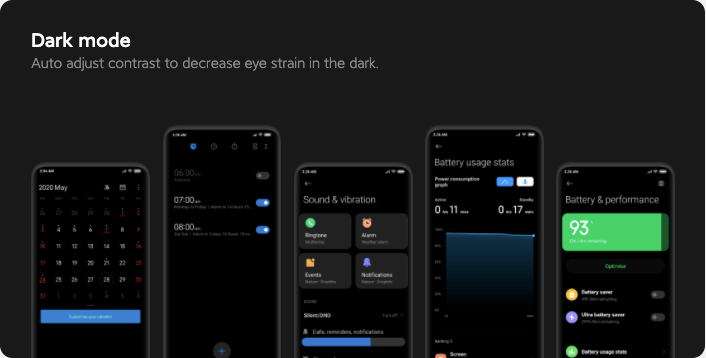 6.Floating window
Xiaomi added the new multitasking features to make multitasking easier between two apps with a floating window, which will float around your display.
You can take full control of the floating window, making it larger or smaller whatever you are comfortable with, these floating windows only support a few apps. You can access the floating window in a recent menu.
7.Privacy protection
Against all data collection suspicious activities about the Chinese company's business, Xiaomi added extra protection and privacy in MIUI 12 along with Android ten Xiaomi tweaked the privacy protection for better security.
When an app needs to access the files or location, the alert pop up message will notify you that you can either deny it or accept it to provide access. And you can now monitor the app, which does need your permission; it shows the detailed report fo the app which using those permissions.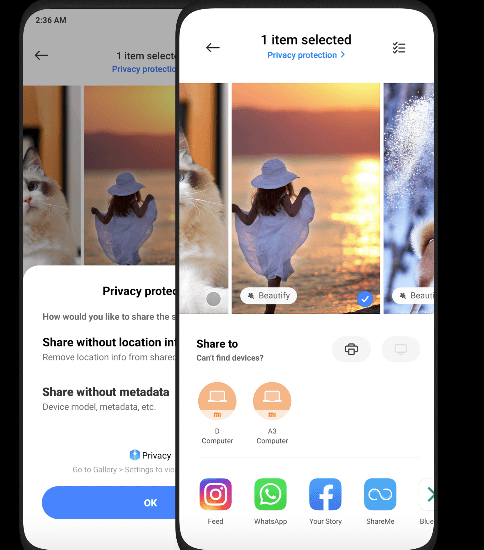 8.Focus Mode
The oxygen os famous zen mode like feature "Focus Mode" now has been added in MIUI 12 after the long request from customers Xiaomi finally fulfilled the consumers need, This focus mode will lock you out of your phone for 30, 60, 90 minutes and you can set your custom timer within the period of focus mode you can make and receive call other than there is on other option this mode will help you to focus work, study .etc you can turn on focus mode under digital wellbeing in settings.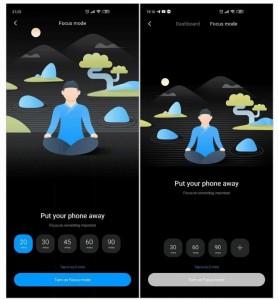 MIUI 12 rollout schedule
Xiaomi started rolling out OTA updates for every five devices across worldwide, This time Xiaomi giving new life to 2018 smartphones new look here in the list every batch single phone will receive updates.
you can also sideload the MIUI 12 Beta version from Xiaomi global community app there will be some bug and minor issues in the Beta version, so here the list of devices that will receive the OTA update.
Mi 9
Mi 9T/ Redmi K20
Mi 9T Pro/ Redmi K20 Pro
Redmi Note 7
Redmi Note 7 Pro
POCO F1
Mi 10 Pro
Mi 10
POCO F2 pro
POCO X2
Mi 10 Lite
Mi Note 10
Mi 8
Mi 8 Pro
Mi MIX 3
Mi MIX 2S
Mi 9 SE
Mi 9 Lite
Redmi Note 7S
Redmi Note 9
Mi MAX 3
Mi 8 Lite
Redmi Y3
Redmi 7
Redmi 6 Pro
Redmi Note 6 Pro
Redmi Note 5
Redmi Note 5 Pro
Redmi Y2/ Redmi S2
Redmi 6A
Redmi 6
Mi Note 3
Mi MIX 2
Redmi Note 8T
Redmi 8
Redmi 8A
Redmi 7A
Redmi Note 9s
Redmi Note8
Mi Note10 Lite
Redmi 8A Dual
Redmi Note 9 Pro
Redmi Note 9 Pro Max
Image source:Xiaomi