Google Lens dates back to 2017 when it was launched in the featured Google Pixel 2. Brings a lot of memories from the pixel series and Google Lens which made many of our tasks easier by just searching from the image. 
When Google Lens was announced, it could do many simple tasks like connecting to your wifi just screening the id and password from the back of the router. This is was a huge accomplishment from Google and its high-end Algorithms. You can also search for a particular product just from the photos app which has the Lens Integration in it. Apart from that, it had other cool features but let's move on to the new updated version which can make your heavy tasks easier. 
Copy/Paste Handwritten content. 
This can literally save you ample time when you just want to copy your content into the computer. For students, this does half of their work and now you can just copy someone else's notes without having to go through the big deal of photocopying or typing it yourself on the computer. 
Its quite easy to use, all you have to do is click the image from the Google Lens application and it will automatically read the text and give you a slider to select the text. Then you can copy it and paste it onto any Google Docs or notepad. Yes, it's that simple! A demonstration from Google is given Below.

Keep in mind it works fairly well for people with good handwriting and for bad ones, there might be some typos so watch out for that. We're hoping that too would be improved in the upcoming updates from Google.
New Concepts
Stuck onto a topic? Helping your kids with something you don't know? You can search for the particular term directly from the Google Lens Application by clicking an image. You get the inline results although there's no point in opening the Lens app if you can directly type or voice search on Google.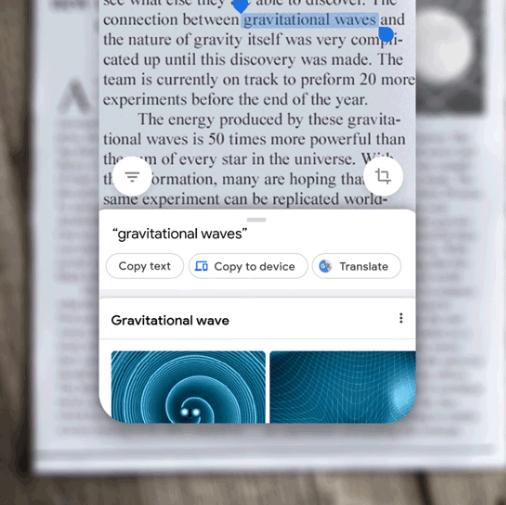 Pronunciation
Lens will now support a pronunciation tool which lets you recognize how to pronounce new words and languages. The process for all these tasks is fairly simple. You head over to the Lens application and click the image of the text you're looking to translate. Then highlight the text and click on listen. Google will read out all of the text aloud. This also helps together with the Google Lens Translate feature. Now you can translate and learn the pronunciation of the text at the same time.
The Lens module of Google is where the company focuses a lot on improving people's day to day problems. We can't say that we can do everything right now, but at least it's a start now.  Currently, the Lens App is for Android and will launch for IOS devices very soon.
Also Read Google's own Debit card coming soon on Google Pay?