Instagram is one of the fastest growing platforms even now and content discovery is way better than most social media sites. we've noticed Instagram cater towards their website recently when they introduced DMs via web , and enabled watching IG Live via Web , but they missed one thing , going live directly from PC . This Third-Party App lets people do it from their preferred Streaming Software , be it OBS Studio , Streamlabs OBS or Xsplit and let's even take it further by saying any RTMP supported app / web based streaming solutions.
You've always wondered how to stream from your PC to Instagram and would've tried multiple solutions, but this is the easiest one yet if you've used OBS / Any RTMP supported Streaming App.
Yellow Duck isn't associated with Instagram and is a Third-Party software. not to mention there's also another way to get Stream Key and RTMP URL, but it's pretty long and confusing , so for now , let's stick with this one
If you don't have any RTMP accepting software like OBS , You have options like Loola.tv which lets you use their site for 3 hours per month for free and paid one can unlock this restriction , if you're in paid territory , you have Restream.io , which is way more reliable and one of the most used online RTMP sites. now we've got that out of the way.
Good time to note that Yellow Duck DOESN'T support Two-Factor Authentication , even though Password / Username won't be saved and process is done right from your computer, It's safe to be cautious and Change passwords quickly or I'd suggest turning back Two-Factor authentication On as soon as the livestream is done. it's never wrong to be safe.
Now that's out of the way , Let's see how this works
Remember , Instagram only let's you stream for an Hour  (mostly)
Step 1
Go to Yellowduck.tv and download the app on PC ( Supports Windows and
Mac) and install the app on your computer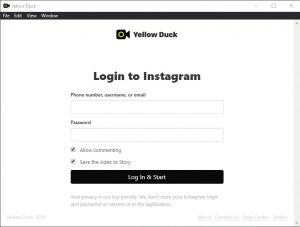 Step 2
Setup your OBS / Any Streaming software in PORTRAIT mode , resolution should be 1080×1920 or 720×1280 and add your Camera to the main scene
Step 3
Open YellowDuck app and Login ,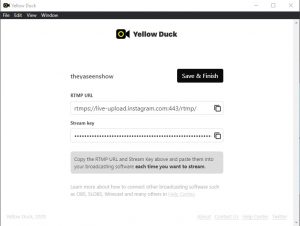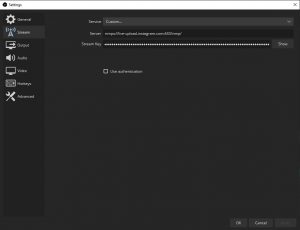 Once you login , it'll IMMEDIATELY Go Live on your account
So quickly enter your RTMP URL and StreamKey on your preferred Streaming Software and hit Start Streaming Button ( on OBS , It's Settings > Stream > and now you copy paste the values ) , If you don't do it quickly, It'll stop , so you'll have to Login Again and get your new Stream Key and do it all over.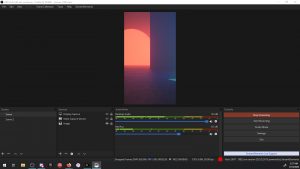 Step 4
Once you're done with all these steps , You're Live.
When ending the stream , click "Save and Finish" on Yellow Duck app to stop streaming and be sure to also stop stream from your preferred software
You can find app specific Instructions from this link here
Hope this helped , Be sure to comment / contact if you have any issues.
Happy Streaming.