At first, phones invented to make phone calls and then evolved now as smartphones. They have fantastic features and more advanced user interfaces dialer app for android. Still, we have the same old android default dialer app; some people don't like the stock Android Dialer app. So if you are searching to change the old dialer pad to a modern look and to customize your Android experience, you came to the right place.
However, in the Samsung note 8 contact app freezes up by default, so if this happens to you, this is a great example to use some decent contact app to make work done with it. You can replace the default Dialer app with some more reliable and snappy third-party app.
Play store offers you more Contact and Dialer apps, so we help you to choose which one is the best for you in a cluster of the app. We sorted the best dialer app for the Android 2022 list with refreshing calling experience and features customization.
What is a dialer app?
The dialer app is the part of the android which help's you to make phone calls and it has contacts along with stock dialer number pad stock dialer have a limited number of functions with the third party dialer app you can make your own customization dialer app and it has a lot of function's than stock app here we listed the best dialer app for android.
1.Drupe
Drupe is one of the most famous dialer apps for android on the mobile platform, and it has the unique modern user-interface
It contains the popular features like call recorder, call blocker, caller id, quick call dialer, and you can quickly manage your duplicate contacts; the Drupe app covers the most basics features. Also, it provides the best option than the stock dialer app; with the simple swipe from the contacts you can message, call, email even set remainder and many more features.
Most elements are free in this app for some features that require the premium app you can unlock via in-app purchases; you can send gifs and emoji to each other people. Still, it needs to install the Drupe app for that feature to work. This app contains some occasional bugs, stutters and it also included some security issues in 2018 it fixed now, you can use this app without any problem.

 price – free / Up-to ₹950.00
Rating – 4.3
Total Downloads – 1,00,00,000+
Developed by – drupe – Contacts & Caller ID
Released date – Mar-23-2015
Download(Drupe)
2.Simple Contacts pro
Simple Contacts the names it-self defines that It's just like the stock dialer app, and it doesn't ask you for irrelevant permissions, and it won't clog up your screen with widgets like Drupe.
It is a simple app like stock contacts. Sometimes simple is better than the most extravagant tricks; it has both contact and a dialer app built in-it that contact app helps you to manage your contacts.
This app didn't contain any ads when compared to other free apps. It's a non-profitable open-source beta app; if you want the fully functional version of this app, you can buy it for Rs.₹59; this app will be the best alternative app for google contacts.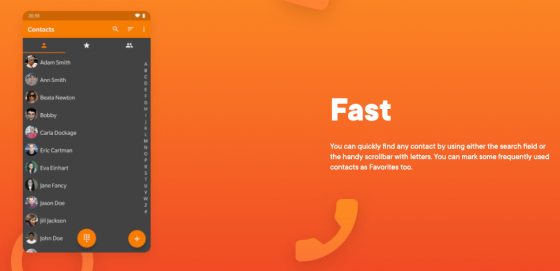 price – free / Up-to ₹59.00
Rating – 4.6
Total Downloads – 10,000+
Developed by – Simple Mobile Tools
Released date – Aug-05-2010
Download(Simple Contact pro)
3.Contacts +
Contacts plus app is the multifunctional app it contains contacts, dialer, and SMS built-in with the app it gave the advantages for the user to access to the desired screen within a second's quickly
This app also contains contact's management, merging, call blocker, fast dialer, and duplicate merger.
This app will provide you a dark mode to save your battery. You can also sync your contacts with other devices like pc, mac, ios, and android. But the basic version is free for everyone; only if you want to sync with more than one platform, you have to pay monthly to store more than 1000 contacts, and this also supports the android wear.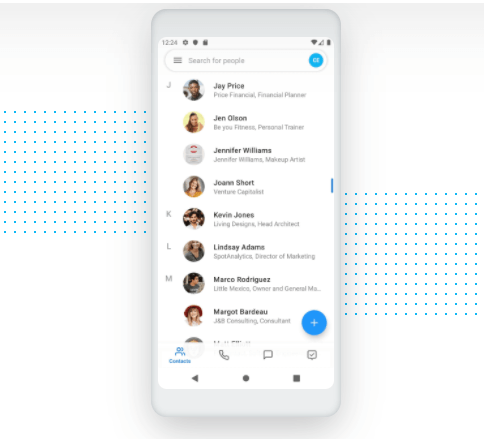 price – free / Up-to ₹10,000.00
Rating – 4.0
Total Downloads – 10,000,000+
Developed by – Contacts Plus team
Released date – Nov-03-2014
Download(Contactplus)
4.Simpler Caller ID
Simpler Caller ID app has the same features that contain all other app isn't other as separate app's, This app includes enhanced Caller ID. You can choose a different theme for your dialer app, and you can backup your contacts offline and online as well.
This app is entirely free for users. You can also connect with your group of friends by instantly sending text or mail by this app; it will help you with the unused and incomplete contact to delete when you aren't using it for an extended period. It also has a minor bug to worry about.
The Simple caller id app has the simple material design to interface with the UI, which makes this quick and snappy you won't feel any lags.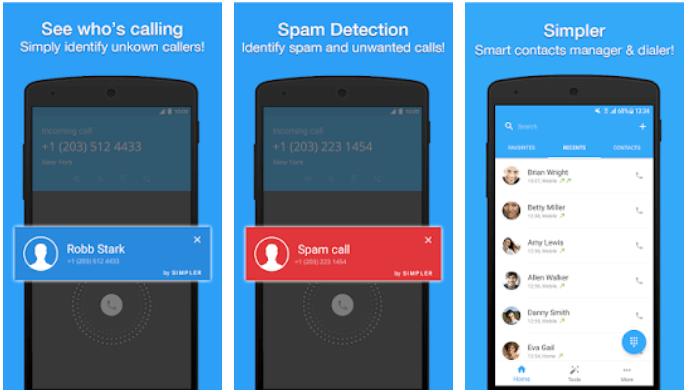 price – free
Rating – 4.6
Total Downloads – 5,000,000+
Developed by – Simpler Apps Inc
Released date – Jun-24-2014
5.Truecaller
Truecaller is one of the most popular tools for caller id this one of the best dialer apps for android once you search for particular call detail; it provides you an accurate call tracking features for the users. It is also a powerful dialer, SMS, and contacts app for ensuring reliable and organized info. No other app can't able to perform this job that is well providing the bests reliable results.
This app also contains the unique features call blocking is the main power of this app, spam filter this helps you from the most spam calls and telemarketing calls, and you can choose various themes of your taste for this app, and it also has the everyone favorite feature dark mode this app provides you the most reliable call log list to quickly understand that who called you the major disappointment of this app is cost ₹5000 rupees pre-year for a premium feature where one other app doesn't cost you this much for the simple dialer and contacts app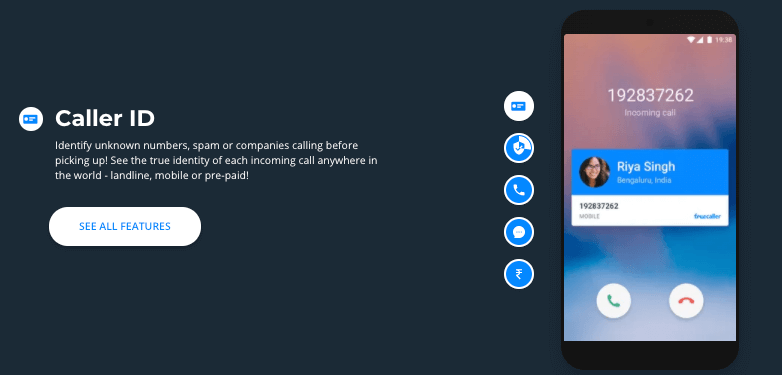 price – free / Up-to ₹5000.00
Rating – 4.5
Total Downloads – 500,000,000+
Developed by – True Software Scandinavia AB
Released date – May-31-2012
Download(Truecaller)