It's 2021 and gaming headphones are getting better and better. One such headphone is the XPG Precog and that's exactly what we are going to check out in this article.  XPG is a sub-brand of Adata which is a very well-known brand for RAMs, Storage, and other PC accessories.
Coming back to the headphones review, gaming headphones are evolving and XPG Precog is definitely a key player in the next-gen gaming headphones providing tons of flexibility and features that you might have never seen in any of the headphones before. A good gaming headset for a user might vary from people to people, for some people, good gaming headphones means the sound has to be accurate & loud enough to hear your enemies, and the mic has to equally be good to give proper & crispy callouts to your teammates.
But while choosing a headphone, the quality of the headphones directly varies to the cost of the headphones. Basically, put more money and get the best quality headphones. Unfortunately, that's the sad truth for any audio products you purchase, the more money you invest, the better the quality & the feature gets. The XPG Precog is one such headphone that is expensive but with some unbelievable features that you might have never seen on any headphones before.
XPG Precog – Unboxing and first impressions
The headphones themselves come in a gigantic box and the first thing you get to see is the XPG Precog gaming headphones case itself. The case is super strong and is made up of a strong synthetic kind of material that can take up anything you throw at and will keep the headphones safe at any cost.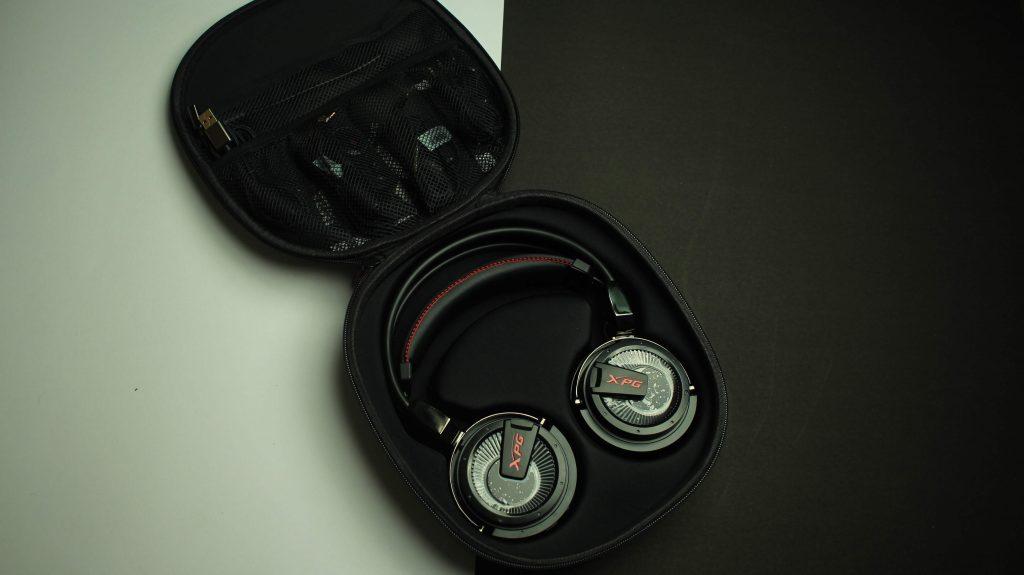 And upon unboxing, you will find a gigantic headphones case with everything you need. Inside the box, you can find the following items :
Detachable microphone
Y cable splitter
3.5mm audio control box
USB Type C audio control box with DSP sound card
USB Type-A to USB type C cable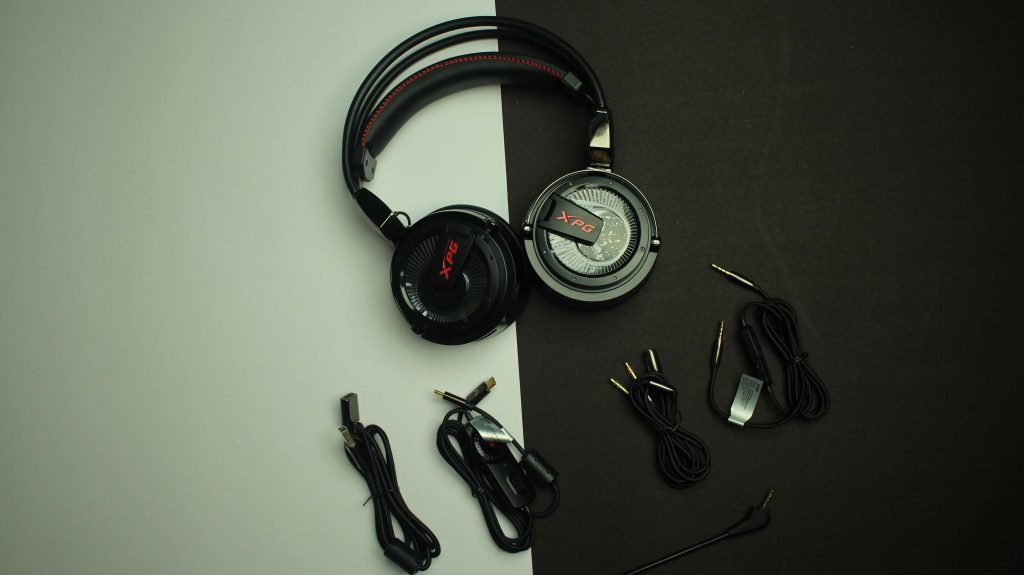 The XPG Precog comes at anywhere between $119 to $146 (Rs. 8,600 to Rs. 10,700) in the online retail stores and for that price, the headphones have plenty of features that you might have not seen in any of these headphones before. For a small comparison, let's take HyperX Cloud II as a comparison, its a $120 headphone here in India which is few years old, but a classic headphone with 53mm drivers, a 7.1 sound card, braided cable, and a good quality microphone. But the downside of the HyperX  Cloud 2 is that there are no detachable wires. This means, if you happen to break or damage the braided cable, getting it fixed isn't easy.
XPG Precog – Features
Now when we compare it with the XPG precog, it is a headphone that has close to everything you need. To start off, there's no fixed cable to the headphones, everything is detachable. So, one less headache of losing your wires. Now let me share with you the top features of the XPG Precog gaming headphones –
Dual drivers – The headphones are packed with high fidelity dual drivers to give you the best audio experience. The different modes give you the best experience while using it for entertainment along with positional accuracy while gaming.
 ENC – Irrespective of where you are at, you will experience the best sound quality with the electronic noise canceling feature. This feature is can be enabled & disabled with a switch in the Type C sound card that comes along with the headphones.
Virtual 7.1 surround sound – A high-end gaming headphone isn't a headphone with a 7.1 surround sound feature. But however, 7.1 surround sound isn't personally recommended for competitive gaming. It's not only for these headphones but for any headphones.
Detachable cables – Detachable cables gives you complete freedom to remove and attach cables. So, if you damage it, you can find a replacement easily without any worries.
Type C connectivity – This makes the headphones future proof by giving the compatibility to literally connect to any of your Type C devices. However, if you have a 3.5 mm jack which makes it super flexible.
XPG Precog – Specifications
Headset Specifications
| | |
| --- | --- |
| Color | Black |
| Headset Weight | 362g |
| Dimensions(LxWxH) | 69 x 237 x 198mm |
Headphone Tech Information
| | |
| --- | --- |
| Drivers | Electrostatic/dynamic dual-drivers |
| Frequency Response | 5 Hz – 50,000 Hz |
| Impedance | 32Ω±15% |
| Sensitivity | 102±3dB/mW@1KHz |
Microphone Tech Information
| | |
| --- | --- |
| Noise Canceling Technology | ENC (Environmental Noise Cancellation) |
| Mic Directivity | Unidirectional |
| Mic Frequency Response | 20Hz – 20,000 Hz |
| Mic Sensitivity | -38db±1.5db |
General Information
| | |
| --- | --- |
| Interface | USB type C / 3.5mm |
| Audio Modes | Music mode / Virtual 7.1 mode / FPS mode |
| Lighting Effect | Red LED |
| Type-C Wired Controller Cable Length | 1.3m |
| 3.5mm In-Line Wired Controller Cable Length | 1.25m |
| Type A to C Cable Length | 1.25m |
| Y-cable Splitter Cable Length | 1.36m |
Accessories
Accessories
Carrying case
Type-C wired controller w/ DSP sound card
3.5mm In-line wired Controller
Type A to C Cable
Y-cable splitter
Warranty
XPG Precog – Review
The first impression when I got these headphones out of the box was the build quality and the way it was presented. It simply blew my mind. If you haven't checked the unboxing experience, scroll up and check the contents of the box. The headphones are built like a tank with comfy AF ear cups with a future tech ear cup finish. The XPG logo is prominently visible on both sides of the headphones and has a subtle branding over the headband.
The headband is super sturdy and flexible, thereby you won't have any issues while wearing it. Apart from that, the expandable bars in the headphones let you adjust the headphones the way you want to. Thereby, it ensures maximum comfort while you are grinding on those long gaming sessions. I've worn these headphones for over 7 to 9 hours in one go and you never get the feeling of discomfort.
The inline audio controller allows you to switch between three modes of sound mode – Virtual surround sound 7.1, Music mode, and FPS mode. Each mode has its own sets of features where the FPS mode cuts out low frequency noises thereby letting you hear the enemies clearly, the music feature lets you listen to a wide range of frequencies to give you the perfect audio experience, and lastly, the 7.1 surround feature gives you a virtual surround sound experience. How's the sound you might wonder, well well well. These headphones go really loud and I'd personally suggest you keep them low.
Lastly, coming to the microphone. The microphone is just usable I'd say. There was nothing phenomenal in my case. I frequently faced issues on discord where my teammates kept hearing my background noises and it was so sensitive that it even picked up my mouse clicks.
Conclusion – If you are an audiophile who is looking to get a sassy looking headphone that has both Type C and 3.5mm connection, the XPG precog is the way to go. The microphone in my case was close to useless for me as it picked up lots of background sounds. Either way, if you are here to get high-end headphones, you are one of the people who will have a separate recording setup.
You can grab the XPG Precog here – Amazon Bestbuy link