Xiaomi is continually launching new products in recent weeks and the new 30000 mAh power bank is one of them. This product is another one in the Xiaomi Power Bank Series which has seen quite a growth in the market.
The new 30000 mAh power bank is a lot powerful with quick charge support. Xiaomi claims the device is capable of charging iPhone SE 10.5 times. Supported by 18W charging, you can charge all the devices that support quick charge technology without any issues. The company also claims the power bank can charge the Mi 10 or Redmi K30 4.5 times. The fast charging can charge the iPhone 11 in just 1.5 hours which is a lot faster than the charging provided by the 5W Apple charger.
The company claims that the device is anti-scratch and slip-resistant finish. The 30,000 power bank weighs 657.9 grams and is bigger than usual power banks considering the power it holds. 
Coming to the ports, it has two USB Type-A ports, one Micro USB port, and a USB Type-C port. Apart from the quick charge it supports, the 30000 mAh power bank can be used to charge the other electronics too with the normal charging mode in the three ports. Which means you can charge your smartwatches and headphones too with the power bank. The two Type-A ports and Type-C port can be used for the fast charging of the devices. While the output is 18W for the fast charging support, the 30,000 mAh power is powered by a 30W charger that can fill it up in 7.5 hours.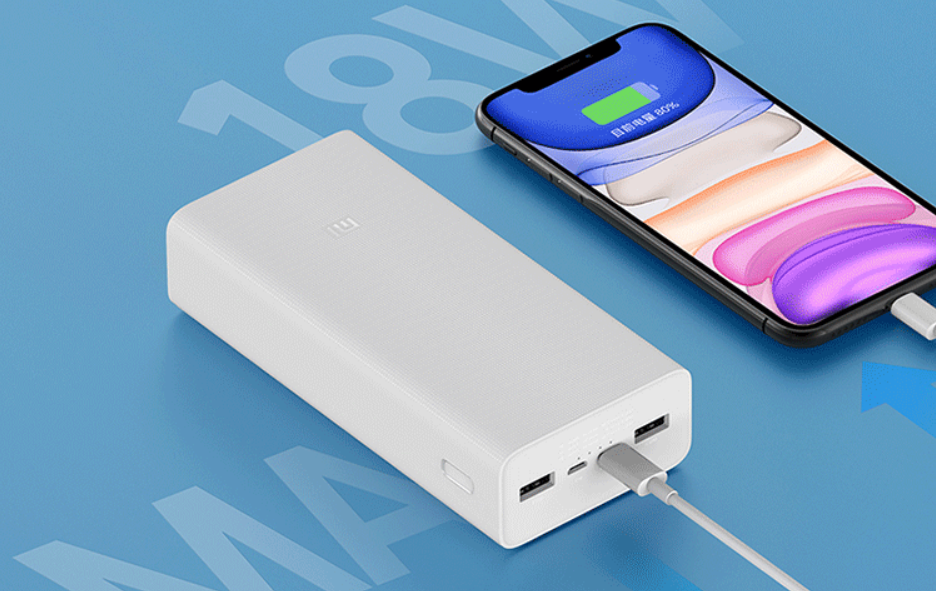 Coming to the price, the30000 mAh power bank is available on the Chinese store website Jd.com for ¥169.00 which is roughly around 1800 rupees. The device should be interesting considering the price point and coming from a trusted brand like Xiaomi. This is not the first time we're looking at a new innovation from the brand but we've seen products like these in the past. The official launch information is not provided yet but we can expect it to launch soon in India. This happened after Xiaomi announced its Display om the Chinese store a few days ago. 
We will keep you notified once the product actually hits the market or gets announced by the company. Till then follow us on our social handles for regular updates.