A reader often prefers books in physical form. But we can get hold of books anywhere with just our phones. We now have applications that help readers connect and read books on the go. We have come a long way with ebooks, audiobooks, etc.
Here is a list of eBook applications that every reader must know about.
 Amazon Kindle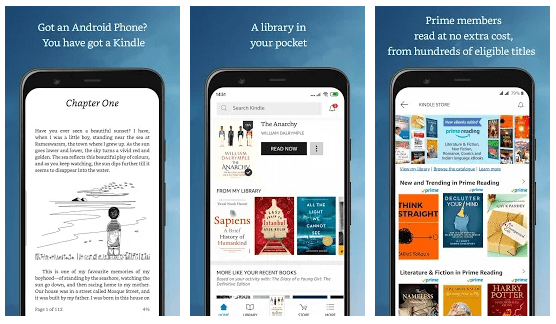 Amazon Kindle developed by Amazon is one of the leading e-book reader apps that you can easily download for free on your device (Android, IOS). The Kindle app provides users with a vast choice of books. Your Kindle library can hold up to 1400 audiobooks and ebooks. There are nearly 18 different Genres of which you can pick your favourites.
In-app purchases –
Kindle offers thousands of books for free. Although you have to pay for books that not free and has a price on it. If you have a Kindle Unlimited monthly subscription you can download up to ten books a month from millions of choices. Kindle Unlimited offers a monthly free trial for the first month. The users can also buy a half-yearly or annual subscription.
Features – 
Kindle allows you to choose the theme you prefer – Light or Dark. There are various other features like – highlighting, syncing to the last page, placing a virtual bookmark, an in-built dictionary and the word wise feature gives you definitions for complex words. 
Overall, Kindle is a user-friendly app and would be of great use to an avid reader. 
Audible
Audible is the world's largest online library of audiobooks, audio shows and original series. Through Audible, you can download or listen to your favourite book anytime. Audible is worth it to a user who tries to read at least one book a month. 
In-app purchases –
There is a free trial for the first month and you also get two free audiobooks once you sign in. The best part is you don't have to return it and it is yours to keep even if you cancel the subscription. You can purchase books at a discount of 30 per cent. The users can find great deals on a daily and monthly basis.
If you are a monthly subscriber, each time you make a payment, you receive a credit. Collect the credits and redeem books in exchange of those credits. Make sure to use the credit with six months ( Six credits ) or they start to expire.
You are lucky if you are an Amazon Prime member, Audible is completely free. You get to access a collection of over 50 books a month at no cost. 
Features –
There are various features/ benefits like Free exchange if you don't like the book for any reason, sleep timer and once you download you can listen to audiobooks anytime offline.
Wattpad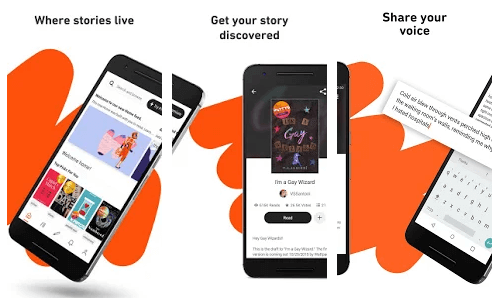 While we all love to read, we can take a step further and also explore our talent in writing.
Wattpad is an internet community where readers can read user-generated stories of different genres. It aims to help amateur writers to showcase their talent. This platform claims to have more than 80 million users, who can directly interact with the writers and share their opinions as readers.
In-app purchases –
Readers don't have to pay to join the app or to read millions of stories in it. The stories are all written by fellow users who use the app. To be a user of Wattpad, you must be 13 years of age or older.
Wattpad Premium, however, offers readers an uninterrupted reading experience and access to exclusive, customisable profile colours.
Features –
Wattpad allows you to have preference over text size, reading mode and navigation controls.
Some stories on this application garnered a lot of popularity that they were made into movies and series.
Writers on this app can also earn through the in-story ads between the chapters. This application is available on iOS, Android as well as web.
Goodreads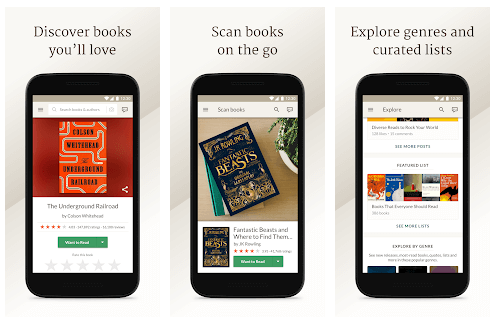 Goodreads is a website that keeps its users informed of the latest arrivals. It allows the users to add a book to their reading list, to view the reading list of the people they follow. It also allows the users to post reviews of the books and to rate them.
In-app purchases –
Some e-books are available for free while a majority of them have a preview of the book. Online purchases of the book can be made through the option given on that page which takes the user to the Amazon website. The user can then purchase paperback or kindle edition based on the preference.
Features –
Goodreads allows its users to discover books, add to their personal bookshelves, rate and review them. It also allows them to see what their friends and favourite authors are currently reading.
Goodreads facilitates interaction between the readers and the authors. It conducts quizzes, giveaways etc.
Goodreads also started the reading challenge – a tracker which is on the homepage that provides a progress bar for every book the reader has completed. The tracker also tells the reader if they are on track, behind or ahead of their schedule to complete a given book.
This app is available on iOS, android and web.
Google playbook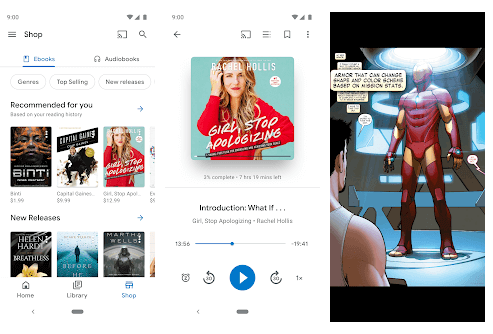 Google Play Books, previously called Google eBooks, is an ebook digital distribution service operated by Google, part of its Google Play product line. 
In-app purchase –
EBooks and audiobooks can be purchased using google pay or other net banking. A sample or preview of the books is available.
Features –
The android app has different reading modes with colour contrasts, support for text highlighting and note-taking, a zoomed-out view with easy page sliding in an effort to improve reading experiences for books not read cover-to-cover, a vertical scrolling mode for comic books, a "Night Light" feature that gradually filters blue light to reduce eye strain after sunset.
It is available on iOS, android and web.
We, gentlepages use Kindle and Goodreads to the maximum extent to read books at and to post reviews on.
We use Kindle as it is easy to go and the features like the theme and bookmark are so helpful. We can jump to a page and then go back to where we left at.
Goodreads motivate us to read more through the reading challenge. It is also very helpful to post reviews at and to be aware of all the new arrivals through their mail feature. It is good to keep track of our reads.
We hope you have benefited from this article as a reader and have discovered new apps to enhance your reading experience.
Thanks to #MeshPie for giving us this opportunity.