MSI GL65 Gaming laptop
In this article, we will be reviewing the MSI gaming laptop GL65 9SDK.
This Laptop has been the cheapest one in the price range compared to other laptops that just have 8GB RAM or GTX 1650, also having the latest intel core i7 9th gen processor.
Of course, this configuration is not a joke, and it needs a beefy cooling solution. By the looks of the device, we would set high expectations, as there are three heat spreaders around the chassis. Moreover, the laptop is neither super thin, or super light, so, there must be a lot going on on the inside.

In addition to that, the laptop comes in a 120Hz 1080p one. Then, there is the Steelseries keyboard,which has a good key travel, and slightly softer feedback, than what we'd like, that can be backlit by either a solid Red color or a Per-Key RGB, controllable from the Dragon Center.
Design
Inside the box, there is a 180W power brick, which is pretty beefy – we've seen smaller 180W packages out there. Next, there are the mandatory paper manuals, as well as the laptop, itself, protected by an antistatic bag, and protective cloth.
When it comes to the quality of build, there are two things – first, the entire body is made out of plastic, apart from the lid, and second, the device feels quite sturdy. You have to keep in mind that the GL65 is not the lightest 15-incher out there, neither it is the slimmest – 2.3 kg and 27.5mm in profile. This makes it significantly bulkier than the Acer Predator Helios 300 (2019) for example, which is some 5mm thinner.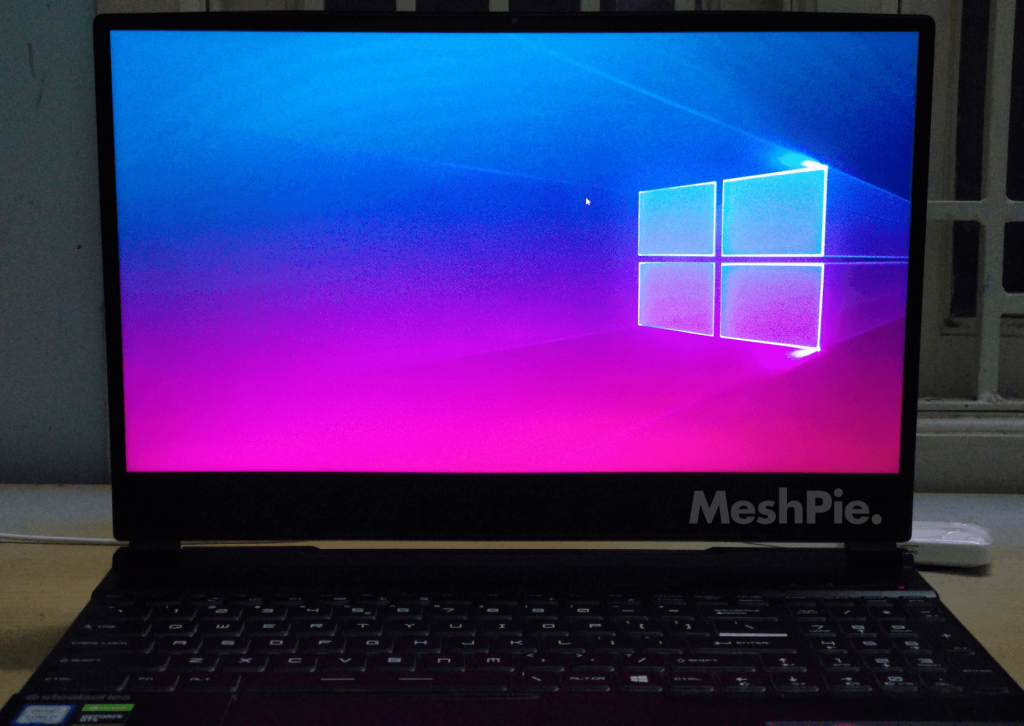 As we mentioned, only the lid is made out of aluminum. This gives it a bit of resistance to flex, and it is incredible how thin this thing actually is. Sadly, you won't be able to open it with a single hand, but on the bright side, you end up with almost non-existent bezels on the sides and at the top, while the bottom is rather big. Not in the last place, is MSI's decision to keep the camera up top.
Then, there is the standard for MSI trio of buttons in the top right corner. They are separated from the rest of the keyboard and are dedicated to the Power button, a Dragon Center quick launch tool, as well as a Cooler Booster switch. This way, you can cool off the internals quickly with just a press of a button.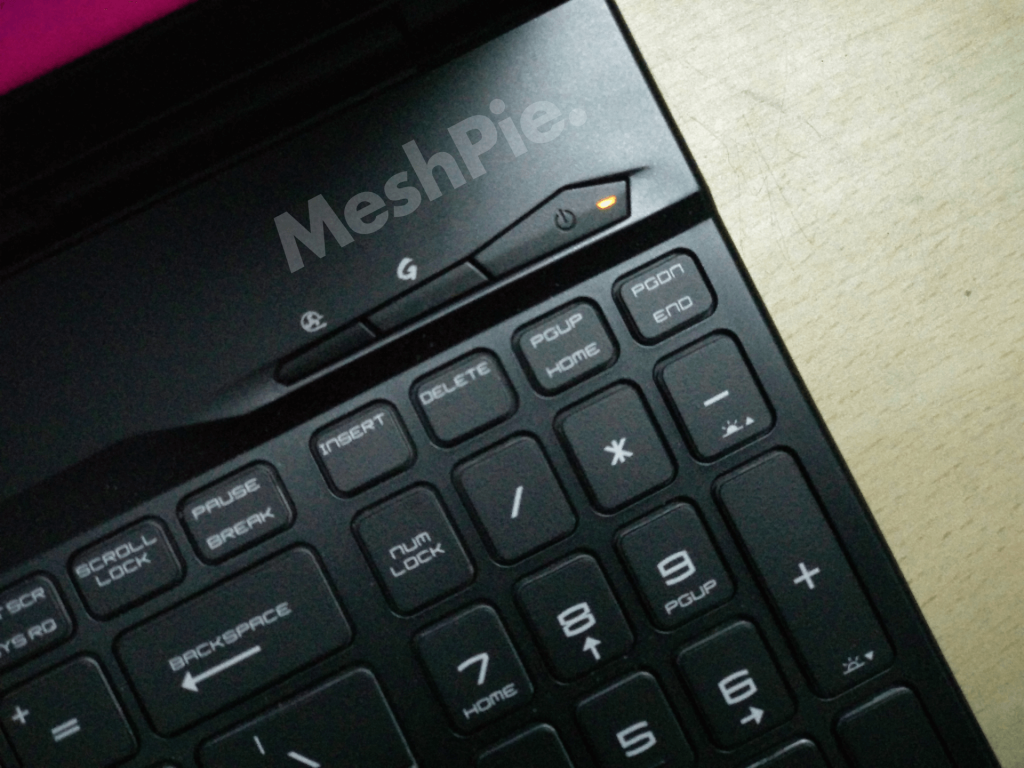 Keeping the good tone, we continue to the touchpad, which works great with the 120Hz display. The experience is smooth and all the gestures work fine. Additionally, it has a good size – bigger than the average, and this is taking into consideration the dedicated keys. Although, they are made out of plastic, and while the click they produce is not very satisfying, it is still better than having embedded keys, beneath the touchpad (at least in our opinion).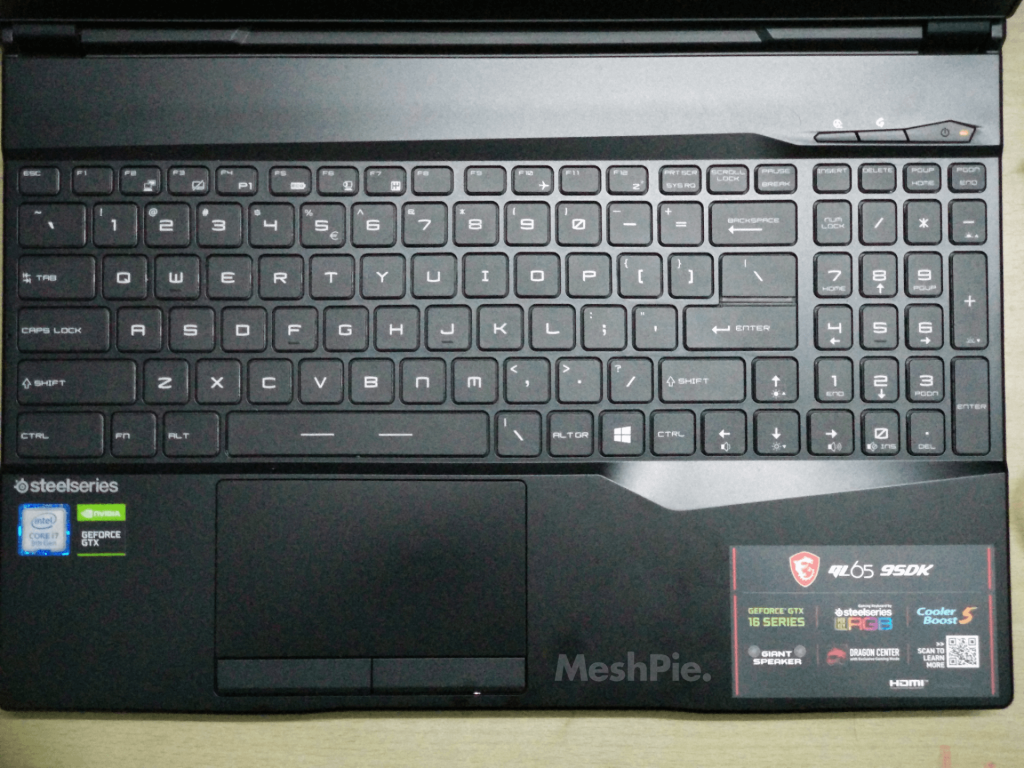 Now, let's turn the laptop upside down, where we can see a huge ventilation grill. It's clear that the GL65 won't have a shortage of breath here. Additionally, there are the speaker cut-outs, while the hot air comes out of the machine from three locations – two at the back, and one on the left side.
On the left, you'll find an RJ-45 connector, an HDMI connector, as well as a Mini DisplayPort, followed by a USB Type-A 3.1 (Gen. 1) and a USB Type-C 3.1 (Gen. 1). Then, swtich sides, and you'll see the beefy power plug, an SD card reader and two USB Type-A 3.1 (Gen. 1) ports, placed directly next to the edge of the device.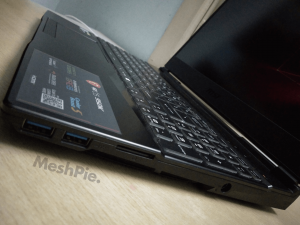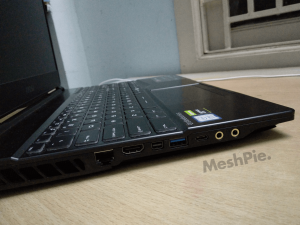 Features
The GL65's display is everything a value-oriented gaming rig's should be. Not only is its 1080p resolution just right for gameplay with the GeForce GTX 1660 Ti, but games are brought to life by its bright and colorful picture, wide viewing angles, and anti-glare surface. It has a 120Hz Wideview with 94 percent NTSC and 100 percent RGB color accuracy.
The Intel Core i7-9750H 9th Gen processor, Hex-Core, with upto 4.5 GHz  and  pre-loaded Windows 10, Home, 64 Bit operating system with lifetime validity is nice.

The Memory consists of 16GB DDR4 RAM (2x 8GB @2666Mhz Memory), with Nvidia GeForce GTX 1660 Ti, 6GB Graphics and the storage of 1TB HDD + 256GB NVMe M.2 SSD is enough to play some cool games. If this is not enough for you, can upgrade the storage easily with an additional Hard Disk or SSD.
The MSI Gaming laptop comes with 2 years Carry-in warranty from MSI covering manufacturing defects and not covering physical damage.
The Laptop includes the MSI Dragon Center 2.0 which ensures to take control of your PC.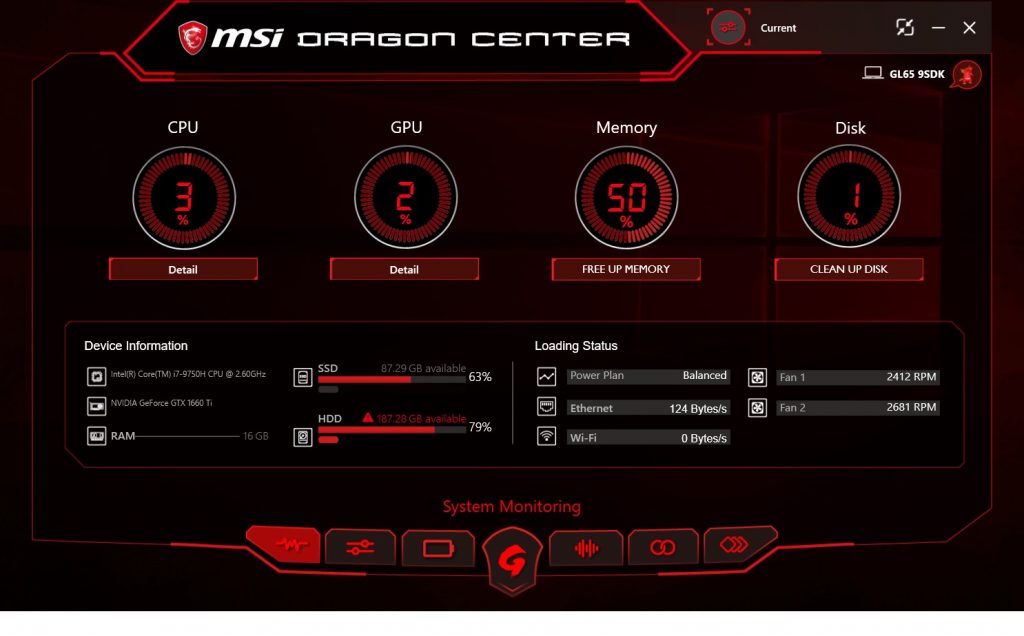 You can view overall statistics of your System in the first tab.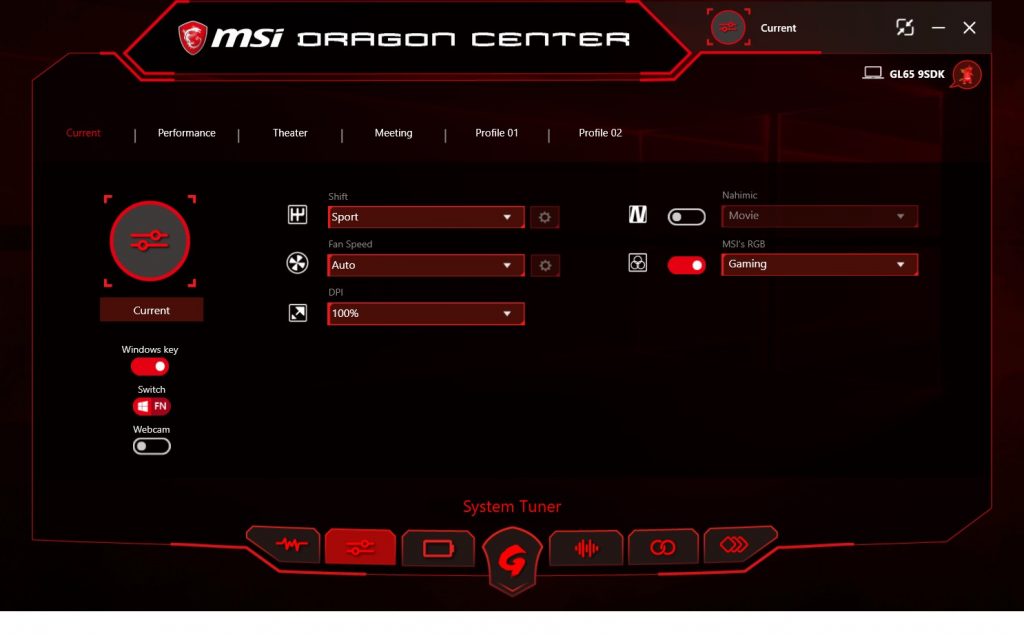 The second tab is where you can control the CPU, GPU performance and the fan speed, along with audio profile and screen color settings. The settings are mostly simplified for a user-friendly approach and I like it!
These are the most two options I use a lot along with the battery profile settings sometimes. The next one to look at is the Nahimic 3 software which takes your listening experience to the next level!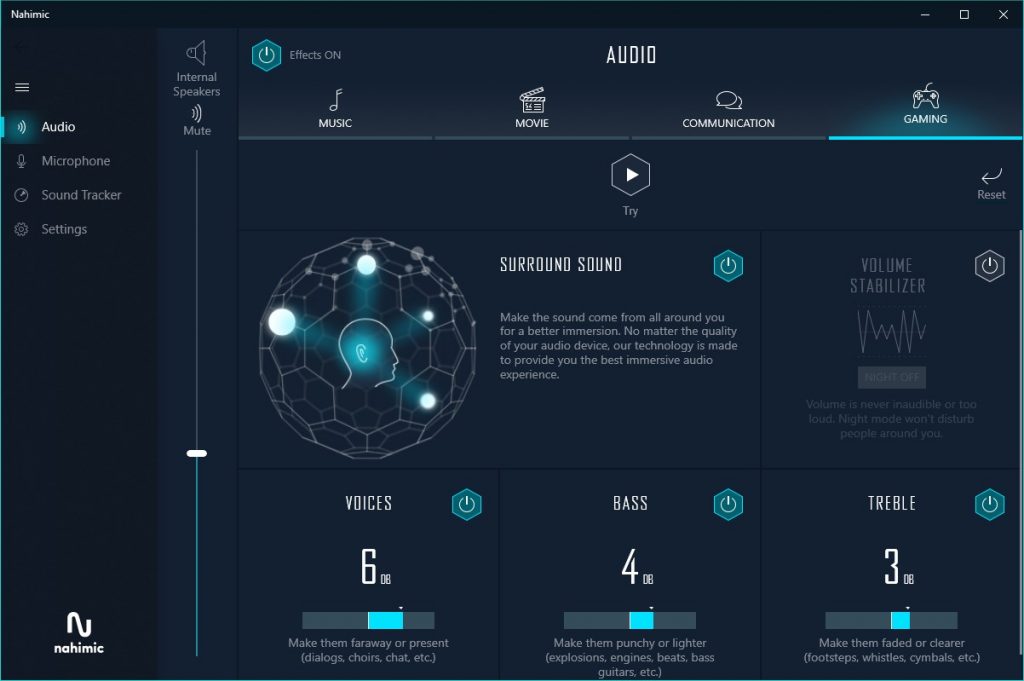 Pre-installed software such as MSI BurnRecovery, MSI Battery Calibration, MSI Help Desk, Norton Internet Security (trail 60days), Norton Studio (Metro) (permanent free), Nvidia GeForce Experience, Microsoft Office 2016 (trial 30 days, 1 year per purchase), True Color 2.0, Creator Center are just cherry on top and very useful too!
The SteelSeries Engine 3 is here to improve on the customization of the keyboard. The changes you make can be viewed real-time in the keyboard with Live Preview, this is very helpful and saves a lot of time in going back and forth in the usability process.
The traditional rainbow backlit transition mode is show in the picture below.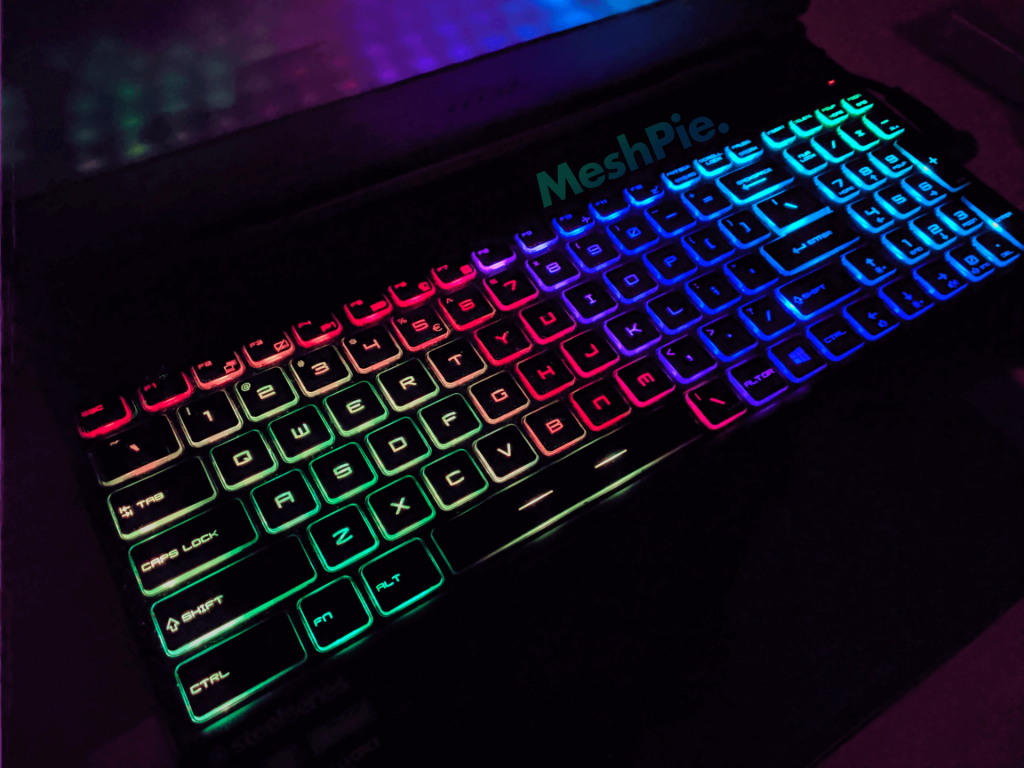 Also consists of PCI-e SSD (NVMe) ready, Silver-Lining Print, Wide-view Display, Matrix Display (Extend), Cooler Boost 5 (2Fans + 7 Heat pipes), Giant Speaker. This enhances the audio detail by 30% with built-in AMP (Audio Power Amplifier) and golden audio jack.

Performance
The laptop is very efficient at playing any games smoothly at high graphics and frame rates. If you find your laptop running hot just press the Cooler Booster button and viola! you'll be greeted with an enormous air flow around you, if you're behind the laptop screen, then you you'd bombed with hot air. (Literally speaking).
Here are the common specifics of the Laptop,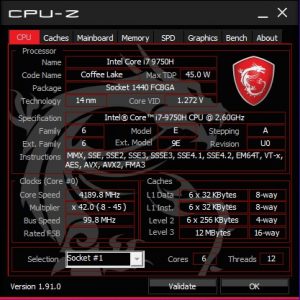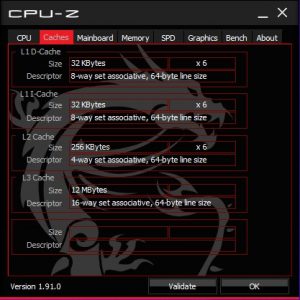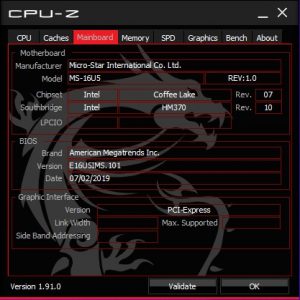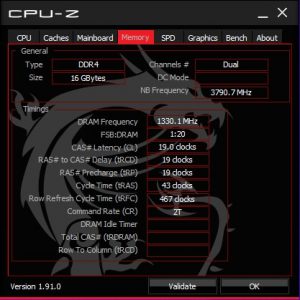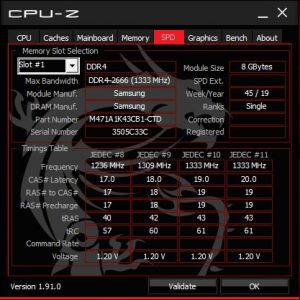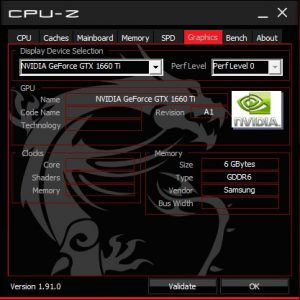 Here are some of the popular titles that has been tested in the system. Note that all the settings have been maxed out as in real-time scenario because that's what I do 🙂
MSI GL65 Gaming Laptop Review
Battery
Generally, Gaming Laptops tend to have very weak battery life, this is the same in our case but the battery life of this laptop is pretty average considering it's performance. 
The laptop comes with a 51Wh battery which is a little let down but considering the thickness of the laptop, it was needed to be done.
The battery life was expected to last around 6 to 7 hours of no gaming and most power efficient mode. While when gaming in battery is not ideal it lasted for about 3 hours. It is an average battery backup.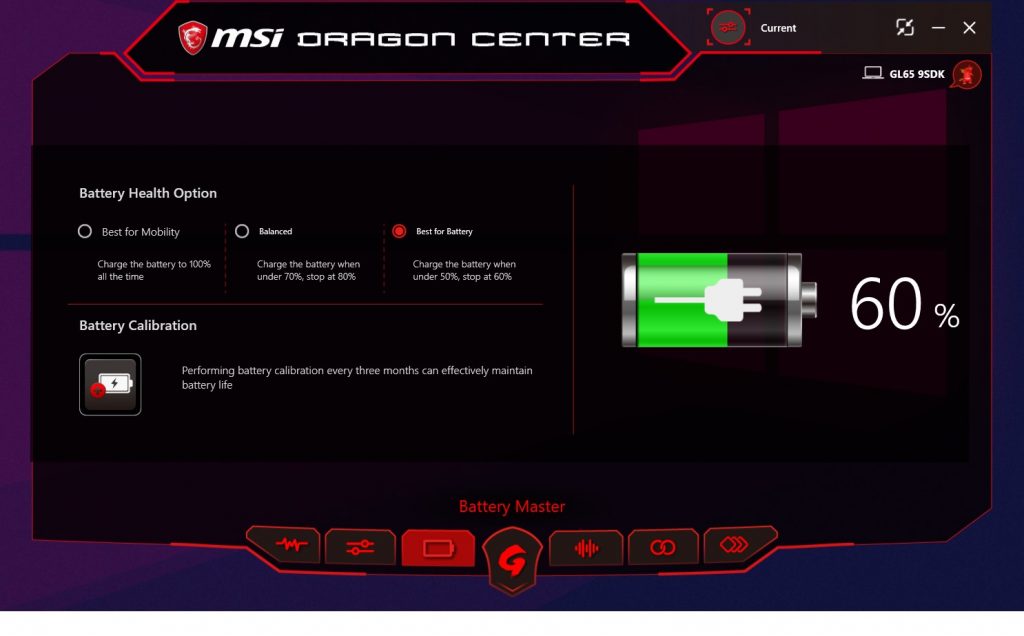 To make a long-term durable battery, MSI has provided a Battery Health option in the Dragon Center which charges the laptop up to the specified level and stops charging, this is very helpful in increasing the life-span of the battery.
There is a battery calibration software in the Dragon Center utility which helps in improving the battery life of the laptop. It is recommended to do it once in every 3 months.
Bottom Line
MSI's 15.6-inch GL65 levels up the mid-level with its 120Hz bright screen, 256GB SSD, and GeForce GTX 1660 Ti GPU. Packing solid 1080p gaming pep, for the money it's hard to top.
Gaming Laptop – Verdict
When we look at the overall picture, we are left with good impressions of this device. Ultimately, GL65 is a good gaming laptop. It offers one of the best performance in benchmarks we've seen on a laptop with an GTX 1660 Ti inside. Moreover, it works cool-enough, given the performance it delivers. The Price to Performance ratio for this laptop is extraordinary!
MSI GL65's display has an IPS panel with a Full HD resolution, 120Hz refresh rate, great viewing angles, and good contrast ratio. Additionally, it covers 94 percent NTSC color and 100 percent RGB.
Now, in terms of upgradability, the bottom plate of this device is not extremely hard to open. Inside, you'll find an M.2 slot that supports both PCIe and SATA drives, as well as a 2.5″ SATA drive bay. More impressive to us, however, is the 64GB of DDR4 2666 MHz support.
Also inside, you'll have a great view of the cooling solution. It features a total of 7 heat pipes, which are thin in diameter, but unlike most of the laptop coolers, are not flat, but actually look like pipes. Our tests proved, that the cooling solution is perfectly capable of dealing with the Core i7-9750H + GTX 1660 Ti combo, and furthermore, you would be able to boost the fans to their maximum with the touch of a dedicated button!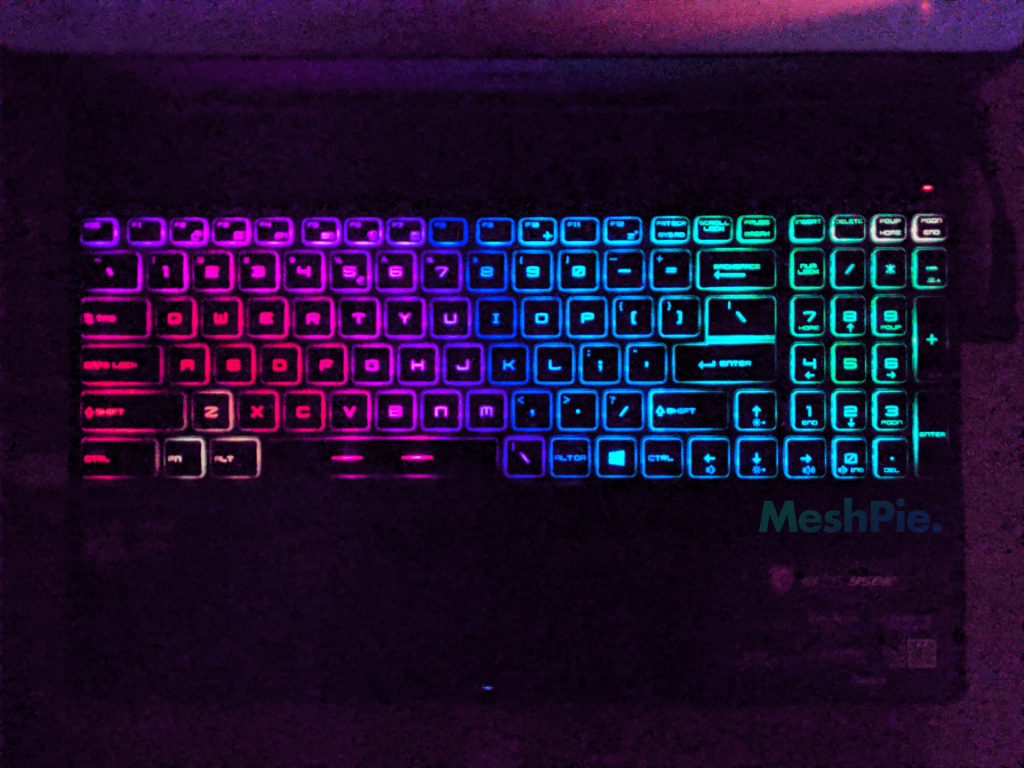 Speaking of input devices, the keyboard is decent, as it features a relatively long key travel, a little bit softer feedback than usual, and an RGB backlight, who can say no to RGB, right? By the way, the GL65 features a great touchpad. Tracking is good, as is the size, which is definitely larger than the average of Windows devices. Moreover, it sports dedicated buttons, that doesn't really give the most premium experience out there, but are better than embedded ones.
Around a price range of Rs. 1,06,499, this laptop is definitely a worthy contender against some laptops that just offer a 60Hz screen, regular backlit keyboard, GTX 1650 and 8GB RAM for the same price.
Buy here –> Amazon Link.
Check out our other reviews : Inno 3D GTX 1660 Super review