Intel's new products
Intel has dished all the dirt about their new chipset i9-10900K which has been developed based on the 14nm 'Comet Lake' architecture. Its lineup comes in more than 32 models right from i9 preferred mostly by gamers, i7 preferred by most of the people to do day to day jobs, i5 the mainstream intel processor,i3 and even in entry-level Pentium and Celeron. Intel hasn't come up with brand new architecture instead they have slightly updated their Coffee Lake series. But the company has said that it has improved the clock-speed which in turn will help run gaming software swiftly.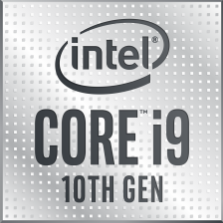 Features
The main product that Intel is about to launch is its new top-end Core i9-10900K.
It offers 10 cores with Hyper-Threading.
It offers a base speed of 3.7Ghz and a maximum boost speed of 4.8GHz across all cores.
Or 5.3GHz for one core
It uses Intel's Turbo Boost Max 3.0 for achieving its highest speed.
The Thermal Design Power(TDP) is rated at 125W and this model is fully overclockable.
Expected price is $488 (Rs. 36,630 before taxes)
Intel also has a non-unlocked version Core i9-10900 with 65W has base and boost speeds of 2.8GHz and 5.2GHz respectively.
Intel has claimed that i9-10900K is their best-performing chip ever when compared to their older model i9-9900K. When compared to i9-9900K, the newer model provides 33 percent better framerates in specific games and i8 percent faster video encoding. When the new model is compared to Intel's i7-7700K the values are 81 percent and 35 percent respectively.
Along with i9-10900K, Intel has also come up with core i7-10700K and core i5 family. The i7 has eight cores and sixteen threads that benefit from Turbo Boost Max 3.0 but not TDP. It is an unlocked 125W version. Whereas the i5 has six cores and twelve threads without both Turbo Boost Max 3.0. And it is a 65W version.
Also read: MSI GL65 Gaming Laptop Review