This Samsung Galaxy folds two specifications leaked by @Ross Young, who is the founder and CEO of Display Supply Chain Consultant's he is the one who leaks the Galaxy leaks in a whole bunch of tweets. It shows us the 120Hz foldable panel, 60Hz front display, and S-pen feature and a series of other features that still in the process of prototyping.
These leaks show that it has an insane 120Hz refresh rate main display equipped with a foldable screen, This Samsung main panel will have the 7.56-inches which use the LTPO Backpanel this technology are used in Iphone's Smartphones, so we have the Dynamic AMOLED foldable main display by the resolution of 2213 x 1689 that offers the ultra-thin glass along with a pixel density of 372 DPI.
While Samsung testing the under-display camera, which is still isn't ready yet, so they will be choosing the punch hole instead of the camera cut-out, and the rumors state that this version of Samsung fold will have the S-pen input support.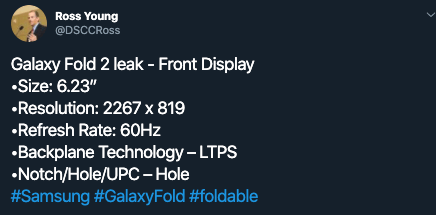 As like Samsung, Galaxy fold is unique for its two display screen smartphone as per rumors the front display have 60Hz refresh rate with 6.23-inches. They used the LTPS back panel technology in this Display, which implies that we get IPS LCD instead of OLED Display resolution of 2267 x 819, which is one of the significant issues in Samsung fold one. On Fold 2, which resolves the display problem with upgrade of a very tall display ratio, for the camera's Samsung go with the cut-out display in the front display too.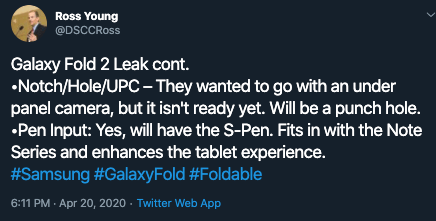 The S pen support will be included as per the leaks, but we yet don't know which cover's both sides of the display or not, and we don't have the info about the cameras and chipset too. We don't know that these specs leaks will be accurate or not, we wish to the leaks turn out t be to correct.