Amazon surprisingly has come up with Amazon Prime Gaming service among the quarantine life of people these days. People are staying at home and need something to get by. 
In the recent wake of COVID-19 spread, many companies have taken initiatives to make life in lockdown productive and entertaining. These involve many companies giving interactive events and launches for the people. A couple of days ago, we saw Instagram's Gibberish game followed by Google Doodles. Also, Google stadia have been refreshing their games list and giving discounts for users.
Coming to Amazon Prime Gaming, the service is available only in India and for Prime users. The E-Commerce giant has yet come up with another service to stick to its Prime services.
How to avail the offer
The offer is available for gaming on Android and iOS platforms. Users get limited titles at the moment but Amazon looks forward to expanding it.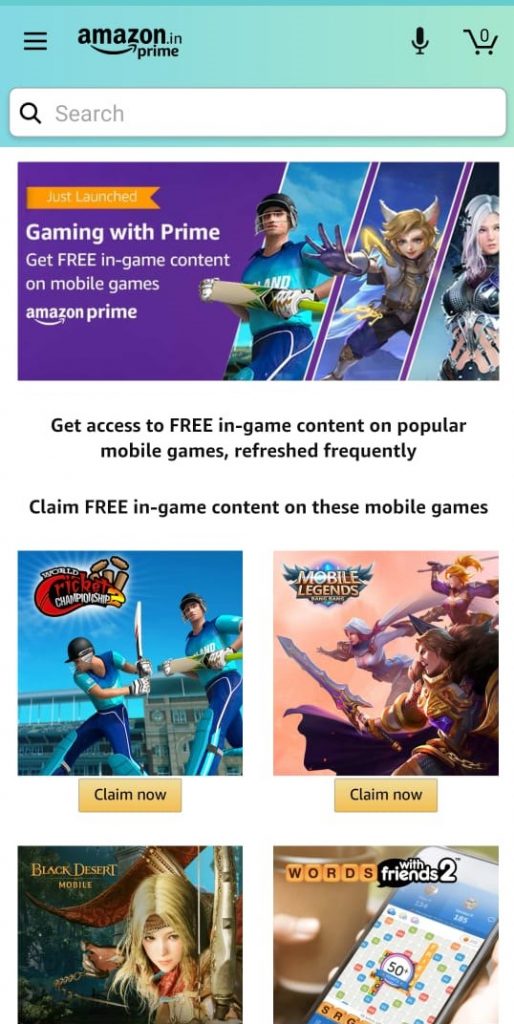 To avail the offers of Amazon Prime Gaming, the Prime users need to download the particular game. After downloading, they need to look for a banner to login with prime. After clicking that they will be redirected and prompted to log in through Amazon Prime. Then they need to click on Claim! to claim the offer for the particular game. Usually, these ingame purchases would cost you money but now being a Prime member, you can avail it for free.
Limited Titles
Currently, the platform has some popular games like Mobile Legends: Bang Bang, World Cricket Championship, Mafia City, Black Desert, The Seven Deadly Sins, Words with Friends 2. Amazon says they will refresh their gaming content every month for new titles for the users.
"We will continue to add new in-game content for other popular games, with frequent content refreshes" Akshay Bahl, Director, and Head of Prime, Amazon India, confirmed.
With everything said, this is an addition for the existing Prime Members and another reason for regular users to switch over to Prime feature. Amazon Prime Gaming was launched earlier in Sept 2019 for the US members promising them one of the most popular games like PUBG. It will be awesome if the support rolled out for the Indian Prime Members too. 
This happened after Facebook Launched its gaming application a couple of weeks ago. Although the E-Commerce Giant is looking to compete with the existing gaming entity of Flipkart, we can expect new features to be announced soon in this gaming section.