Corsair K60 RGB Pro gaming keyboard
When it comes to the Keyboard's market, Corsair has one of the finest keyboards on the market. This also means you can find one right from a pocket-friendly budget to the keyboard which can put a hole in your pocket 😜. Talking about the latest addition to the K60 series lineup, this is Corsair's attempt to bring the best value-for-money keyboard that you can buy in 2021.
The Corsair K60 Pro keyboard comes right at ₹8,399 on Amazon India or $99.99 on Amazon Global. Or you can grab one for as low as $79.99 on Corsair's own website. This keyboard has packed tons of features which we will be covering in this video. Before getting into the main article itself, here's a little tease. This keyboard comes with the classic Cherry MX switches, but this isn't something yall have never seen before.
Corsair K60 RGB Pro specs
| | |
| --- | --- |
| Keyboard Warranty | 2 Year |
| Weight | 0.88 kg |
| Lighting | RGB |
| Keyboard Layout | NA |
| USB Polling Rate | 1,000Hz |
| Keyswitches | CHERRY® VIOLA |
| Matrix | 104 Keys |
| Connectivity | Wired |
| Adjustable Height | Yes |
| Media Controls YN | Yes |
| Keyboard Type Size | K60 |
| Keyboard Product Family | K60 |
| Keyboard Rollover | Full Key (NKRO) with 100% Anti-Ghosting |
| Form Factor | Full Size |
| Wired Connectivity | USB 3.0 or 3.1 Type-A |
| On-Board Memory | Yes |
| WIN Lock | FN Shortcut |
| Media Control | FN Shortcuts |
| Palm Rest | No |
| Keyboard CUE Software | Supported in iCUE |
| Cable Type | Fixed |
| Integrated Touchpad | Wired |
| Keyboard Cable Material | Tangle-free rubber |
Design and overview of Corsair K60 RGB Pro
The first look wise, it looks basic. No macro keys, media buttons, volume scroller, or wrist rest. But hey wait, don't forget this is a budget keyboard. But when you connect the Keyboard to your computer, it's a whole another story. The per-key RGB just pops out and changes the whole overall look of the keyboard. Enough of the looks and let's go to the other aspects of the keyboard.
The keyboard isn't bulky at all even with the brushed aluminum top and the plastic base. The brushed design and the subtle branding give the keyboard a premium look. Also note, the logo isn't popping out here like how other brands usually do. The branding on this keyboard is super subtle, it is present on the top right with a shiny black gaze finish.
Cherry MX Viola Switches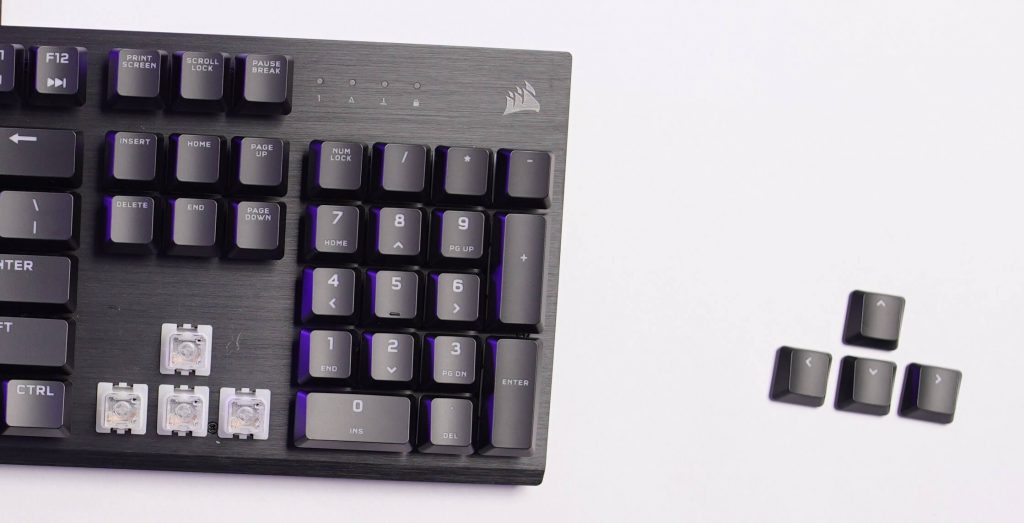 The switches here are the attention grabber. Corsair K60 RGB Pro has gone for the Cherry MX Viola switches which were unveiled at the CES 2020. These switches have similar looks to that of the membrane keyboard but with a mechanical feel. Personally in my opinion after using Cherry MX Reds and blues, these switches give a refreshing feel.
These keys are targeted for the budget range as the Cherry MX Viola switches are made of just 4 parts whereas the other Cherry MX Reds, Blues, Browns, and the others have as many as 7 parts in a single key. And another part of why the production of these MX switches gets affordable is for the fact that the Cherry MX viola switches are having a solder-free design. It is designed in such a way it makes direct contact with the Keyboard's circuit board. Here's the Cherry MX Viola Switches –
| | |
| --- | --- |
| Total Travel | 4mm |
| Pre-Travel | 2mm |
| Actuation Force | 45 cN |
| Characteristic | CrossLinear |
Final words, the Cherry MX Viola switches don't give the mushy and tight feel like the ones in the membrane keyboards.
The typing experience on the Corsair K60 RGB Pro
The Corsair K60 RGB Pro was the first keyboard in our studio to come with the Cherry Viola Mechanical switches. Being a long-time user of Cherry MX Reds, Outemu Blue for years, this keyboard gives a refreshing feel with good feedback.
Being used to tactile-type switches, the Cherry MX Viola's silent and low profile nature took me a bit to get used. When It comes to typing tests, what's the best way to find out other than the TypeRacer Website. Here's my progress.
My journey began with a mere 60 WPM with 94.8% accuracy. After a few races in, I got a decent 80 WPM with a 98.9% accuracy. This is where I wish so bad that the Corsair K60 RGB Pro came with a wrist rest.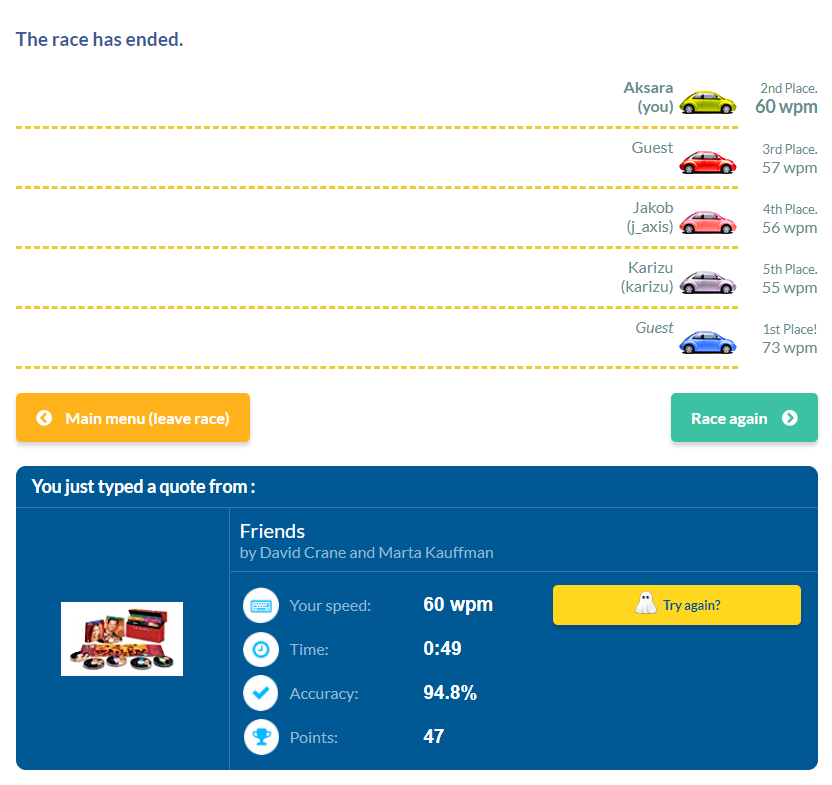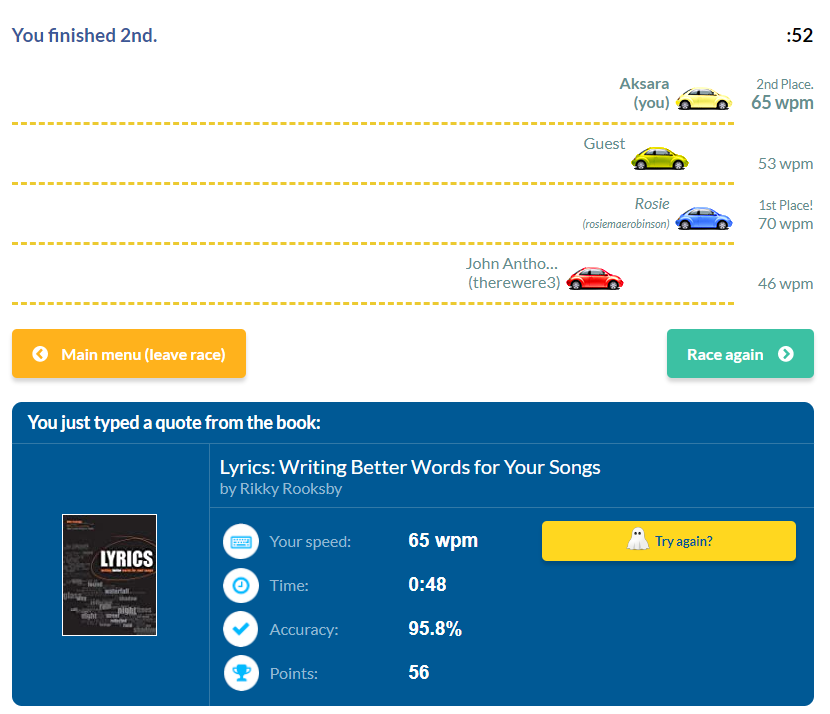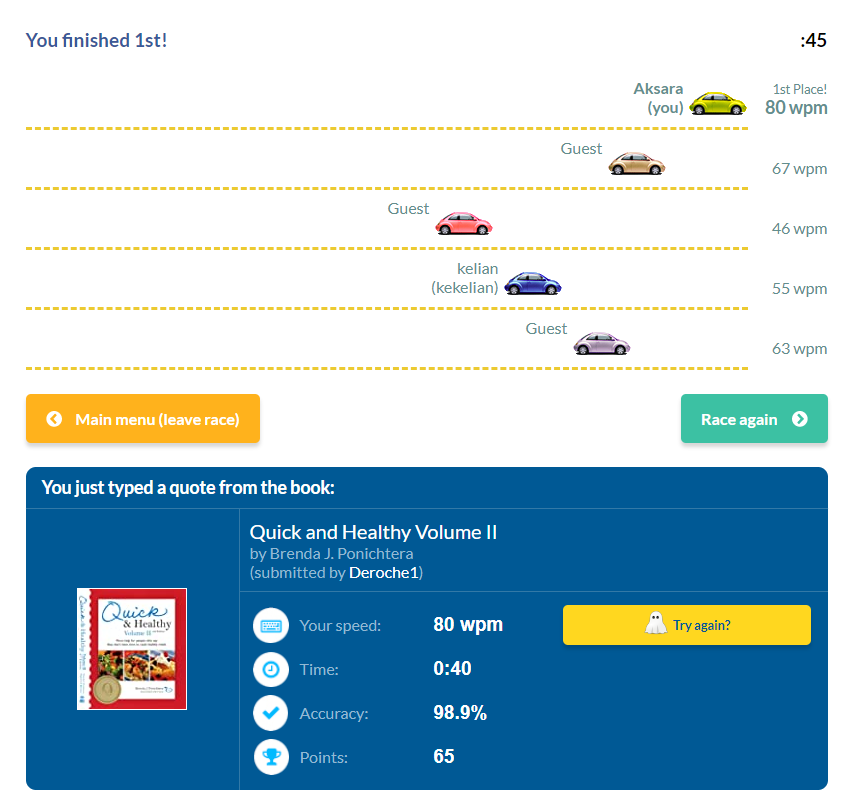 Please note, Corsair has the same exact keyboard with a wrist rest and you can check it out here: Corsair K60 RGB Pro SE.
Software Features of Corsair K60 RGB Pro
If you are a user of Corsair products, you should be familiar with their software Corsair iCue. For those who don't know, it is a well-developed software to control and customize corsair products. Even while being a budget segment-targetted keyboard, this keyboard still gets the full software features just like any other keyboards.
Once you install the iCue software, the keyboard & other corsair accessories are automatically detected in the software. The software further allows you to do a lot of things like :
Key Assignments

Lighting effects


Hardware Lighting

Performance


Device settings

To put it in simple words, you can do anything with the Corsair K60 RGB Pro keyboard and the iCue software. Anything here means you can change the colors of each key to create custom profiles to remap keys, macro recording, and more.
The RGB profile library is basic and has limited yet enough effects. If that's not enough, Corsair's forum has tons of RGB profiles that can be downloaded. Also, the iCue software lets you sync the profile with other Corsair products which gives it a nice little touch.
Pricing and availability of Corsair K60 RGB Pro keyboard
This keyboard retails for ₹8,399 on Amazon India or $99.99 on Amazon Global. Alternatively, you can also grab one for as low as $79.99 on Corsair's own website.
Final Verdict
Honestly, this is a good value-for-money keyboard if you are looking to explore new switches in the market. The typing and gaming experience has been pleasingly good. A braided wire & a wrist rest could have been a good add-on, but what could go wrong with a budget keyboard. This budget segment keyboard has all the software features as the most expensive keyboard from their brand, hence this makes it a good touch to everyone who purchases this.
Happy gaming ❤
If you want to read more reviews from #MeshPie then headover to MeshPie reviews.
Corsair K60 RGB Pro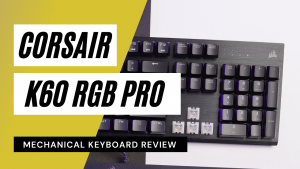 Looking for the best keyboard with Cherry MX Viola switches? Corsair K60 RGB Pro is one of the best options. Click here to read the full review.
Product SKU: B08N5DTKDW
Product Brand: Corsair
Product Currency: $
Product Price: 79.99
Price Valid Until: 2021-05-25
Product In-Stock: InStock