Are you looking for the Best capture cards for PS5 in 2020?
Well, you are in right place to know about the best capture card for PS5. Irrespective of whether you are a professional streamer or a casual gamer who wants to capture the best gaming moments, the Avermedia GC553 has got your back (Quiet literally), you will know why as we dive deep and know more about this game capture card for PS5.
While choosing the best game capture card for PS5 or any other device, the first thing we look out for is the ease of use i.e how easy it is to plug it into your PS5, PC, Switch, or any other gaming console for that reason. And secondly the features it packs because most of the capture cards these days limit themself to 1080p 60fps whereas PS5 can game in 4K HDR which is super cool and advanced. To cope up with the power of the PS5, we need an equivalent beast of a capture card and that can handle that power.
Not to forget, you'd also need a good PC/laptop to plug this into to get started with your broadcast, so keep an eye on our regular PC builds or streaming recommendation to find out the best peripherals for streaming. So without waiting, let's get started with the review of the best capture card for PS5.
Avermedia GC553 – The best capture card for PS5. Here's why –
Product Intro
The ultimate PS5 game capture card with everything you need. Right from 4K60 HDR capture to 120 fps recording, Avermedia GC553 Live gamer ultra is the only capture card you will ever need.
Right off the box, the Avermedia GC553 is a small black box with three ports – 2 HDMI (HDMI in & HDMI out) and a USB Type C 3.0 port. The USB C port acts as both the power source and data transfer when you connect that to your PC or laptop. This tiny game capture card is perfect for the all-new PS5 and here's why –
1. 4K60 HDR passthrough – Enjoy your 4K HDR content & record your gameplay without any hassle.
2. 4K30 game capture – Recording at almost the native resolution of your games? Isn't that great?
3. 1080p 120fps capture – Gone are the days for 60fps gameplay. Behold the 120 fps buttery-smooth gameplay.
4. USB 3.1 Type C connection – Get insane transfer speeds to record your high-quality gameplay off your PS5.
The Avermedia GC553 can record in the following formats – 2160p30, 1440p60, 1080p120 and 1080p60. Thereby you can cover all the aspects of the resolutions that you will ever need to record your gameplay. The passthrough supports a maximum resolution up to 1260p60 signal to your display while you are recording to your PC or laptop in the previously listed recording formats. If your TV or Display supports  HDR, the HDR passthrough is very well possible and can be recorded at 2160p30 on the
AVerMedia RECentral 4 Software suite
.
AVerMedia RECentral 4 Software
AVerMedia's RECentral 4 is the all in one recording & streaming tool. The interface is super simple that you open up the software, plug in the AVerMedia GC553, and you are good to go. As simple as that.
This tool acts as an all in one tool for all your needs, be it recording or streaming, their simple interface allows you to capture as well as streaming to YouTube, Twitch, and other live streaming platforms right of their tool. The included multi-capture mode allows you to create a professional-looking stream with all the overlays, graphics, multiple sources, audio sources, monitoring the audio, and more right from a single screen. This app doesn't pack the features as the
OBS Software
but gets the job done way easier and straight forward.
You can add AVerMedia GC553 as a video source in OBS. To do it, simply head over to the sources section, right-click on your mouse and add 'Video Capture source'. And under the device section, select Live Gamer Ultra Video which is basically the source of the capture card.
AVerMedia GC553 – What's in the box?
Once you unbox the GC553, you will be greeted with the GC553 game capture card itself and under that, you can find the manual, 1 HDMI cable, and a type C cable which is enough to get started with.
How to use AVerMedia GC553 with PS5 or PS4?
Firstly, use the provided USB C cable to connect your AVerMedia GC553 to your PC or laptop and download the AVerMedia RECentral 4 Software suite. This is the first step and to get started next step is connecting your console to AVerMedia GC553.
To do that, take the HDMI that comes out from your console and insert it in the 'IN' HDMI port on the capture card. Secondly, take the provided HDMI cable in the AVerMedia GC553 box and connect it to the 'OUT' HDMI port on GC553. Take that HDMI that comes out from your GC 553 and attach it to your monitor. As simple as that! Here's a small pictorial representation to make it even clear for you –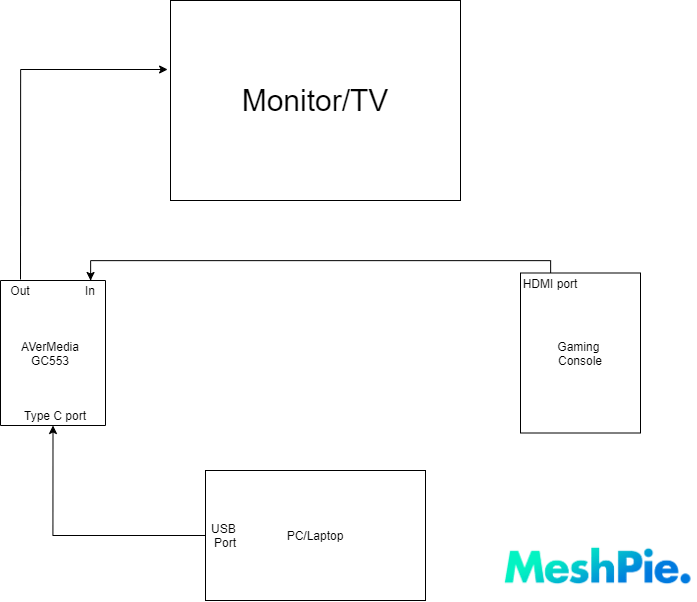 Or you can checkout AVerMedia's video here :
How do I proceed further you'd wonder. Once you have connected everything properly, you can see the video feed of the device/console you have connected as video in the AVerMedia RECentral 4 Software suite or add an OBS 'Video Capture Device' as a source.
Conclusion –
The AVerMedia GC553 is a great go-to capture card for PS5 and would help you record & stream at the highest quality possible. The overall setup is super simple and snappy thereby there's no technical knowledge but the only thing you have to do in a PlayStation before is to disable the HDCP before connecting to the AVerMedia GC553 else there won't be any signal picked up on the game capture card.
To disable HDCP, head over to the Settings > System and clear the checkbox for enable HDCP. (Source: PlayStation Network)
To stream a mobile screen, you have to check whether or not your smartphone supports MHL & HDCP bypass. There are different apps to check that and Android brands like OnePlus, Asus ROG series, Selected Samsung smartphones have this feature. iPhones, iPads, iPod touch also has the ability to connect to this device natively but would require an additional adapter to go along with it.
AVerMedia Live Gamer Ultra GC553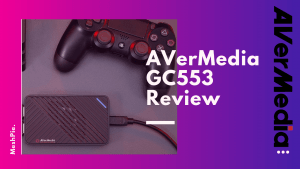 Looking for the best capture card for PS5? Well, the AVerMedia's GC553 can record your gameplay at 4K30 FPS and record 1080p clips at 120 fps.
Product SKU: B07DHV47HF
Product Brand: AVerMedia
Product Currency: ₹
Product Price: 27,000
Product In-Stock: InStock