Dark Mode seems to be hyped these days for most of the apps and looks like Google is finally starting to roll out the feature for the Google Search in both iOS and Android devices. 
While the feature was already launched before for the limited Pixel devices users complained it should be available for all the smartphones. Since then looks like Google has been working on providing the best to their users and rolling out the most wanted feature on their smartphone. There are a couple of limitations to it but the beta users can still get it.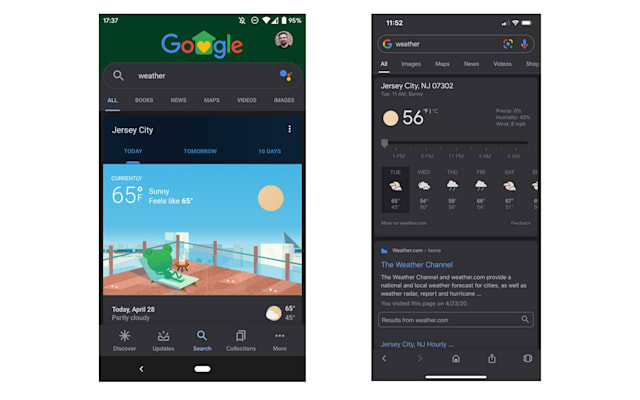 According to the report by Endgadget, the rollout started yesterday and is not yet coming to all the devices. As it was launched earlier for pixel devices running on Android 10, it would currently rollout for other Android 10 and iOS 12/13 supported devices only. This may be a piece of disheartening news for others, Google may soon out the Dark mode for other Android and iOS variants too.
How to Enable Dark Mode
There's no special procedure as such to enable it in your device. If your android 10 has already enabled dark mode, you will notice the change in your Google Search bar. The same is the case for devices running on iOS 13. The users on iOS 12 may have to switch the dark mode on or off. 
Also if you don't like the dark mode and think it doesn't suit the way you look at your device, you can turn it off anytime from the settings menu. 
When is the Rollout?
The rollout started yesterday but it will take time to finally arrive in all the android devices. While the feature is Android 10 limited, we can expect some criticism towards the dark mode from the other Android users too. For users using Android 9 can try out the beta mode if they're out of patience and want to try out the new feature of the Google Search bar. 
The dark mode should give you a new look to the app while helping you by reducing the eye strain normal version of the app causes.